Sturgeon Bay, Wisc — August5, 2019 — Sunshine and summertime was in full-swing for the 82 teams at Sturgeon Bay, WI August 2-3, presented by Mercury. Low winds and bluebird skies made fishing conditions comfortable, but fish-catching a bit more challenging.  For the champions, Matt Vanden Heuvel (Neenah, WI) and Chris Pockat (Gillett, WI), it was conditions their pre-fishing prepared them for.
When asked after their win on Saturday, what was the key to sealing the deal, Chris Pockat said "It was time on the water weeks ahead. We have been on this pattern for a while now and we knew it would hold if it was windy or calm." Walleye fishing is generally thought to be better with a little "walleye chop" and though often that holds true on the Bay of Green Bay, the "Toughest Walleye Anglers on Planet Earth" often find a way to overcome the adversity of the weather.
"We pulled harnesses deep on structure" Matt mentioned after the event. "We stuck to this and didn't know if it was going to be enough after yesterday" On day-one, Matt and Chris handed in a third-place basket weighing 32-15, nearly ten pounds behind the first day leaders of Nick Mills (Whitelaw, WI) and Trevor Gantz (Ashwaubenon, WI). Matt continued "We were thinking with the lack of wind today (Saturday) that the bite would be off for others."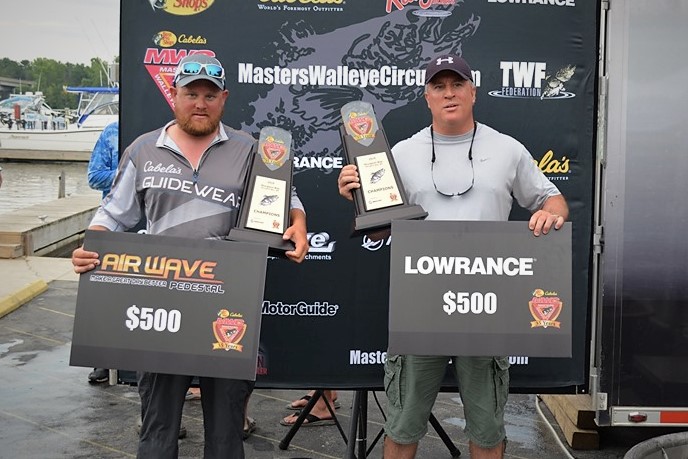 Matt and Chris knew winning in Sturgeon Bay would be a challenge, but their preparation for anything that may come their way set them up for a close, but accomplishing win. Matt quipped while holding the trophy that the next item he needed to be able to win again was the 2020 Ranger 622FS that was nearby. Ranger Boats along with Pamp's Outboards (Green Bay) gave test rides in the much-hyped new multispecies boat during the weekend at the Lodge at Leathem Smith in Sturgeon Bay.
With 69-10 of fish, Vanden Heuvel and Pockat took home $17,200.50 in cash and prizes, including the $11,300 first-place cash payout, $3,900.50 option pot cash, $500 Lowrance Bonus, $500 AirWave certificate and a $1,000 Bass Pro Shops and Cabela's National Team Championship Prize Package, including paid entry into the Bass Pro Shops and Cabela's NTC, travel stipend, team jerseys and plaques.
The rest of the top five teams:
2nd: Dan Woodke & Steve Meyer 69-05, $6,000 cash, $2,700 option pot cash, $1000 Ranger Cup
3rd: Max Wilson & Isaac Lakich 68-03, $3,700 cash, $2,100 option pot cash
4th: Kevin & Eric McQuiod 67-10, $2,750 cash, $1,440 option pot cash,
5th: Mike Hanson & JJ. Debernardi 65-01 $2,250
All together the Bass Pro Shops and Cabela's Masters Walleye Circuit awarded $62,990.50 in cash and prizes in Port Clinton.
544 fish weighed a total of 2560lbs- 08ozs during the event. Team of Louie Apitz and Buck Gehm took home "Big Fish" honors with their 10-01 walleye on Saturday. National Professional Angler Association member Max Wilson presented the NPAA's Youth and Family Fishing Clinic for an enthusiastic group, Friday afternoon, immediately following the weigh-in and gave away fishing rods to attendees.
Under the umbrella of The Walleye Federation (TWF), the Bass Pro Shops and Cabela's Masters Walleye Circuit is North America's longest-running and undisputed leader in team walleye tournaments and as an inductee into the freshwater fishing hall of fame, has set the standard for competitive walleye fishing for 35 years and is open to avid walleye anglers from all walks of life. The 2019 schedule includes eight qualifiers in six states, plus the 2020 Bass Pro Shops and Cabela's MWC World Walleye Championship.
Bass Pro Shops and Cabela's – The World's Foremost Outfitters, are in their 18th season as title sponsor of the Masters Walleye Circuit. Official sponsors include: Lowe Equipment Attachments, Lowrance Electronics, Mercury Marine, Ranger Boats and The Walleye Federation. Associate sponsors include: AirWave Pedestals, Church Tackle, MotorGuide, Okuma, Power-Pole and T-H Marine. For more information, email info@masterswalleyecircuit.com, or call (580) 765-9031.
###