Plautzes Pull Off Cabela's Masters Walleye Circuit Petenwell Win
Presented by Mercury Marine and BOLT Locks
Arkdale, Wisc.—June 28, 2015—Wisconsin's Barb and Danny Plautz scored an exciting come-from-behind victory at the Cabela's Masters Walleye Circuit's Petenwell Lake qualifier presented by Mercury Marine June 26-27.
After bringing four walleyes weighing a total of 5 pounds, 1 ounce to the scale on day one, the mother-and-son team was sitting in third place, just 2 pounds, 6 ounces behind leaders Matt Johannes and Dan Vukovich. The Plautzes knew they were within striking distance, but with a tight race due to a tough bite on the 23,000-acre flowage system, they also realized the rest of the 43-team field was still in the hunt as well.
"Everyone had a shot at it on day two, which made things really interesting," said Danny Plautz, of Lake Mills. He explained that although day one weights were low, Petenwell holds trophy walleyes that could easily push a team's 5-fish daily limit above the 20-pound barrier.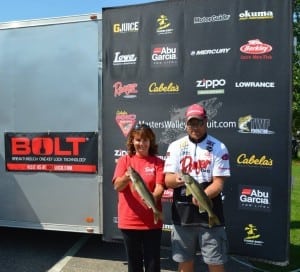 Adding to the drama, walleye fans turned out in force to cheer on each of the two-person teams. Scores of well-wishers lined the take-off area each morning, while afternoon weigh-ins at Petenwell Park drew more than 400 spectators.
As they had on day one, team Plautz focused their day two attack on a stump-covered, 7½-foot-deep flat surrounded by shallower water, where they trolled size 5 Berkley Flicker Shad crankbaits at speeds of 1.9 to 2 mph. "We found the spot during practice and caught a walleye over 29 inches from it, so we knew the fish were there and stuck with it," Danny explained.
The Plautzes' patience and persistence paid off with four more walleyes totaling 6 pounds, 7 ounces. "Our fifth fish, a 19-incher, popped off right behind the boat," Danny recalled. "We thought we needed it to win, so that was tough."
But as their luck would have it, the Plautzes' 11-pound, 8-ounce two-day total was enough to top the leaderboard and claim their second MWC win in 12 years of competing on the trail.
"This is phenomenal—I'm on cloud nine," Barb Plautz, of St. Germain, Wisconsin, said as the crowd's cheers finally subsided. "My son is the best fishing partner I could ask for, and the memories we've shared on the MWC are priceless. I wish more moms could experience this feeling."
Part of a hard-fishing family that includes another MWC veteran, Dan Plautz Sr., Barb and Danny have put together a stellar MWC career. They won the Spring Valley qualifier in 2008 and are perennial contenders on a variety of waters. With the Petenwell win and a pair of additional top-10 finishes so far this season, they're also making a serious run at the prestigious MWC Team of the Year title.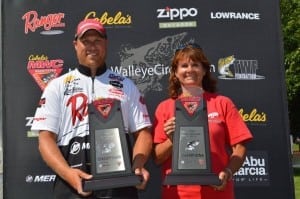 The Plautzes' Petenwell performance was worth nearly $12,000 including $7,200 in cash plus the $1,000 Ranger Cup contingency. They also pocketed $2,730 in cash from the option pot, and a $1,000 Cabela's National Team Championship Prize Package, including paid entry into the 2016 NTC, travel stipend, team jerseys and plaques.
Rounding out the top five were:
2nd: Doug and Michael David, 10-13, $3,600 cash plus $200 Okuma award, $250 BOLT locks Big Bag Bonus, and $200 Zippo Hot Hand Award for big fish of the event, a 2-pound, 7-ounce walleye
3rd: Mike Olson, Pete Geroy, 10-07, $2,500 cash plus $500 Lowrance Electronics bonus
4th: Matt Johannes, Dan Vukovich, 9-15, $2,000 cash
5th: Michael McCardle, Scott Valleskey, 9-12, $1,600 cash plus $1,820 from the option pot
In all, the Cabela's MWC awarded a payback of $31,040 in cash and prizes.
The Petenwell tournament also provided the stage for the Wisconsin State Walleye Championship.
Randy Harwood, of Oshkosh, and Brad Skupas, of Wautoma, claimed the crown by accumulating 277 points between the MWC's Sturgeon Bay and Petenwell qualifiers. Besides Badger State bragging rights, they won a $1,000 prize package including custom trophies, custom State Champions rings by Tight Lines Jewelry, a berth in the Cabela's NTC, decals and a spot on the MWC website's Wall of Fame.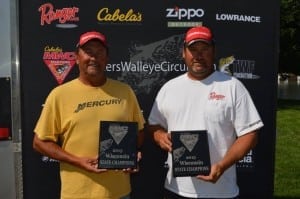 A total of 129 walleyes weighing 169 pounds, 6 ounces came to the scale during the event. As a testament to the challenging bite MWCers encountered on Petenwell this weekend, just six five-fish daily limits were recorded, and no "overs" (trophy walleyes more than 28 inches long) crossed the stage.
Along with the thrill of witnessing such intense competition among the country's top competitive walleye anglers, youngsters in the crowd were treated to a Youth & Family Fishing Clinic after the day one weigh-in, presented by the Cabela's MWC, National Professional Anglers Association, Pure Fishing and Zippo Outdoor Brands. Youths got the chance to meet MWC anglers and received rod-and-reel combos courtesy of the NPAA.
Under the umbrella of The Walleye Federation (TWF), the Cabela's MWC is open to avid walleye anglers from all walks of life. The 2015 schedule spans nine states and includes 11 regular-season qualifiers plus the 2015 World Walleye Championship.
Cabela's, the World's Foremost Outfitter for hunting, fishing and outdoor gear, is in its 14th season as title sponsor of the MWC. Official sponsors include: Berkley Gulp!, Abu Garcia, Lowe Equipment Attachments, Lowrance Electronics, Mercury Marine, Ranger Boats, The Walleye Federation and Zippo Outdoor Brands. Associate sponsors include: Yellow Bird Fishing Products, Okuma, T-H Marine, Tight Lines Jewelry and Bolt Locks. For more information, visit masterswalleyecircuit.com, email info@masterswalleyecircuit.com, or call (580) 765-9031.
###