Bradford, Penn.—June 20, 2015—Pennsylvania's Ryan Rieger and Joe Papalia sacked a two-day, 10-fish limit weighing 15 pounds, 6 ounces to win the Cabela's Masters Walleye Circuit's Kinzua Reservoir qualifying tournament presented by Zippo Outdoors June 19-20.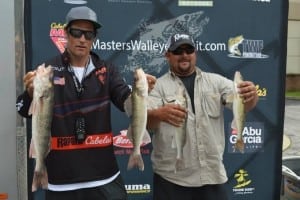 "It's an amazing feeling," Rieger, of Belle Vernon, said of his first MWC victory. The win was worth over $13,000 to the pair including, $7,400 in cash along with the $1,000 Ranger Cup contingency and $200 Okuma bonus. He and Papalia, of Warren, also pocketed $2,520 in cash from the option pot, and a $1,000 Cabela's National Team Championship Prize Package, including paid entry into the 2016 NTC, travel stipend, team jerseys and plaques.
Because all 2015 Cabela's MWC tournaments are designated as "State Championship Qualifying Events," Rieger and Papalia also earned the title of Pennsylvania State Walleye Champions. Besides Keystone bragging rights, they claimed a $1,000 prize package including custom trophies, custom State Champions rings by Tight Lines Jewelry, a berth in the Cabela's NTC, decals and a spot on the MWC website's Wall of Fame.
Rieger and Papalia primarily pulled slow death-style nightcrawler rigs along the tops and edges of offshore humps in 10 to 23 feet of water on day one for a 7-pound, 1-ounce total. They added Berkley Flicker Shads to the program on day two and put 8 pounds, 5 ounces in the basket.
"This is the greatest thing ever," grinned Papalia after the weigh-in. "It was a grind because inconsistent weather made the bite challenging, but all of our efforts paid off."
Rounding out the top five were:
2nd: Mike Maholic, Scott Hotelling, 13-09, $3,800 cash
3rd: Dewayne Cawley, Steve Colley, 13-03 $2,500 cash plus $1,680 from the option pot
4th: Dan Johnson, Larry Rhoads, 11-11, $2,000 cash
5th: Glenn and Matthew Boser, 11-11, $1,600 cash
Big-fish honors and the $200 Zippo Hot Hand Award went to Terry Zampogna and Toney Avenali for a 6-pound, 7-ounce walleye. In 7th place, Jesse and Dylan Nussbaum collected the $500 Lowrance Electronics contingency. In all, the Cabela's MWC awarded a payback of $33,540 in cash and prizes.
Weigh-ins were held at the Richard E. & Ruth McDowell Sport & Fitness Center Arena. The 47-team field brought a total of 210 walleyes weighing 300 pounds, 14 ounces to the scales during the event, including 18 five-fish daily limits. The Cabela's MWC, National Professional Anglers Association, Pure Fishing and Zippo Outdoor Brands presented a Youth & Family Fishing Clinic immediately after the day-one weigh-in, with participating youths receiving rod-and-reel combos courtesy of the NPAA.
Under the umbrella of The Walleye Federation (TWF), the Cabela's MWC is open to avid walleye anglers from all walks of life. The 2015 schedule spans nine states and includes 11 regular-season qualifiers plus the 2015 World Walleye Championship.
Cabela's, the World's Foremost Outfitter for hunting, fishing and outdoor gear, is in its 14th season as title sponsor of the MWC. Official sponsors include: Berkley Gulp!, Abu Garcia, Lowe Equipment Attachments, Lowrance Electronics, Mercury Marine, Ranger Boats, The Walleye Federation and Zippo Outdoor Brands. Associate sponsors include: Yellow Bird Fishing Products, Okuma, T-H Marine and Tight Lines Jewelry. For more information, visit masterswalleyecircuit.com, email info@masterswalleyecircuit.com, or call (580) 765-9031.
###