Peter and Ted's Excellent 2021 World Walleye Championship Adventure
Presented by Bass Pro Shops & Cabela's
Lake City, Minn. — October 4, 2021 — When Peter and Ted Mart (Utica, MN) learned of their qualification for the 2021 Bass Pro Shops & Cabela's Masters Walleye Circuit (MWC) World Walleye Championship (WWC) they went right to work planning, knowing it was going to be on a familiar body of water, the Mighty Mississippi. Lake City, MN hosted the 2021 WWC and only the best thirty-one teams in the walleye world were allowed to take part in what turned out to be a runaway win by the father-son duo.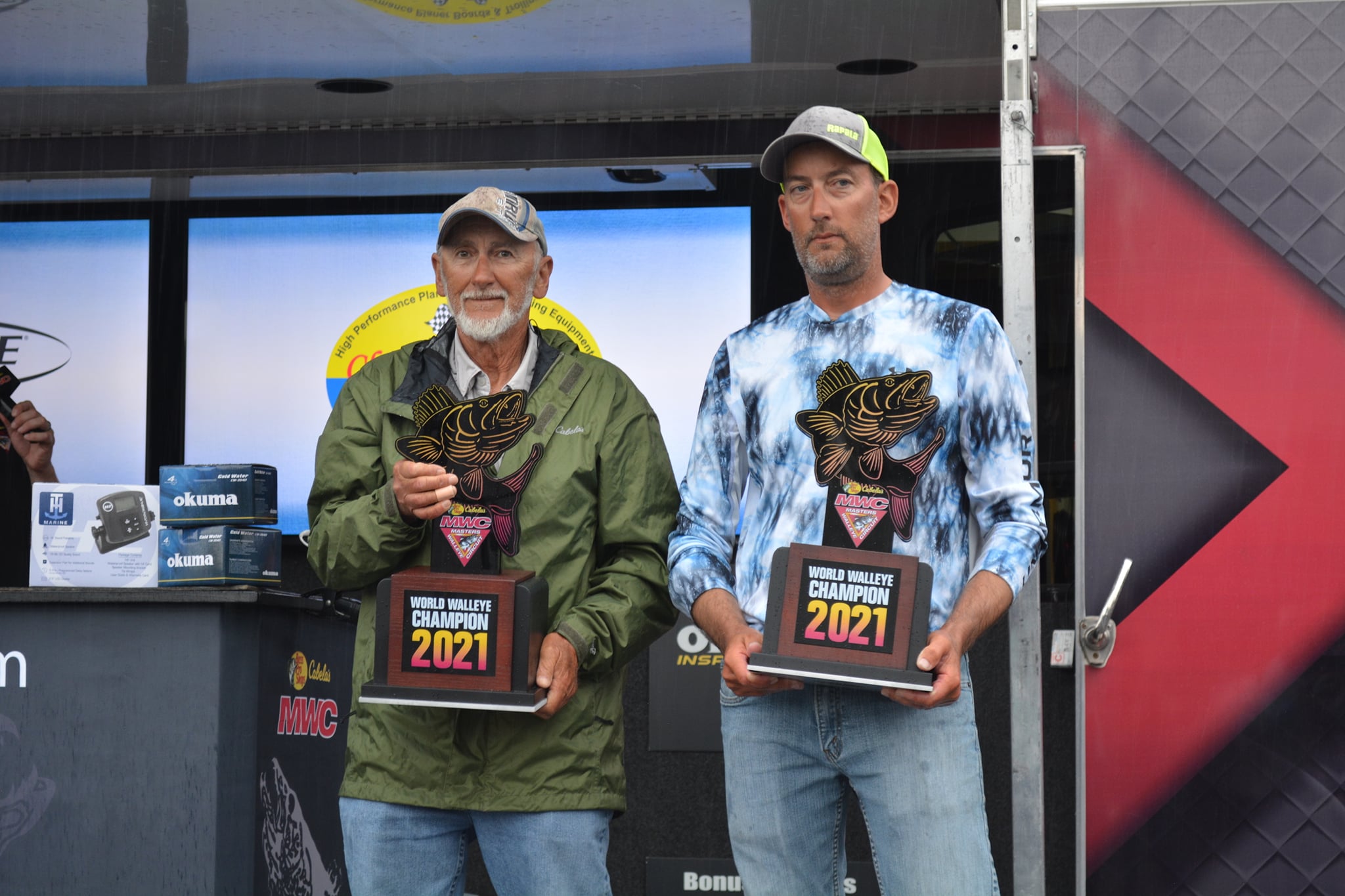 Water levels were lower than expected for this time of the year as the winter of 2020-2021 and much of the summer did not provide significant water runoff, leaving far fewer places to look for the five best walleye or sauger the teams could find. Peter and Ted concentrated on a hole in the southern third of the WWC allotted boundaries. Anglers could choose to fish within Pools 3, 4 or 5 over the course of the 3-day event.
Day one provided a glimpse into what was expected for the remaining competition with the majority of the teams weighing five fish, a mix of walleye and sauger, for around or near 10.5 lbs. The Marts however had a great day, weighing over 16lbs with their five-best fish, solidifying them as the top team after day-one in front of Carl Holten and Marty Stuefen (Harpers Ferry, IA).
It was clear at the scales on the second day that anglers had learned how to catch all the fish they needed to fill out a 5-fish limit with all but one team weighing a tournament limit of fish. Once again Peter and Ted Mart found themselves at the top of the leaderboard, with a weight only one ounce shy of the previous day. Carl and Marty were once again in a position to grab the lead at any moment and Peter and Ted knew they had to fish clean or they would be caught. When the scales closed on the second day, Peter and Ted were almost two pounds ahead of 2nd and only three pounds out from 4th. With Tom Davis (Mankato, MN) and Jim Davenport's (Saukville, WI) 10 lbs. 3 oz. walleye smashing the Berkley Big Fish award, it was clear to all involved that you could be a number of places back, but one fish could catapult you into the lead.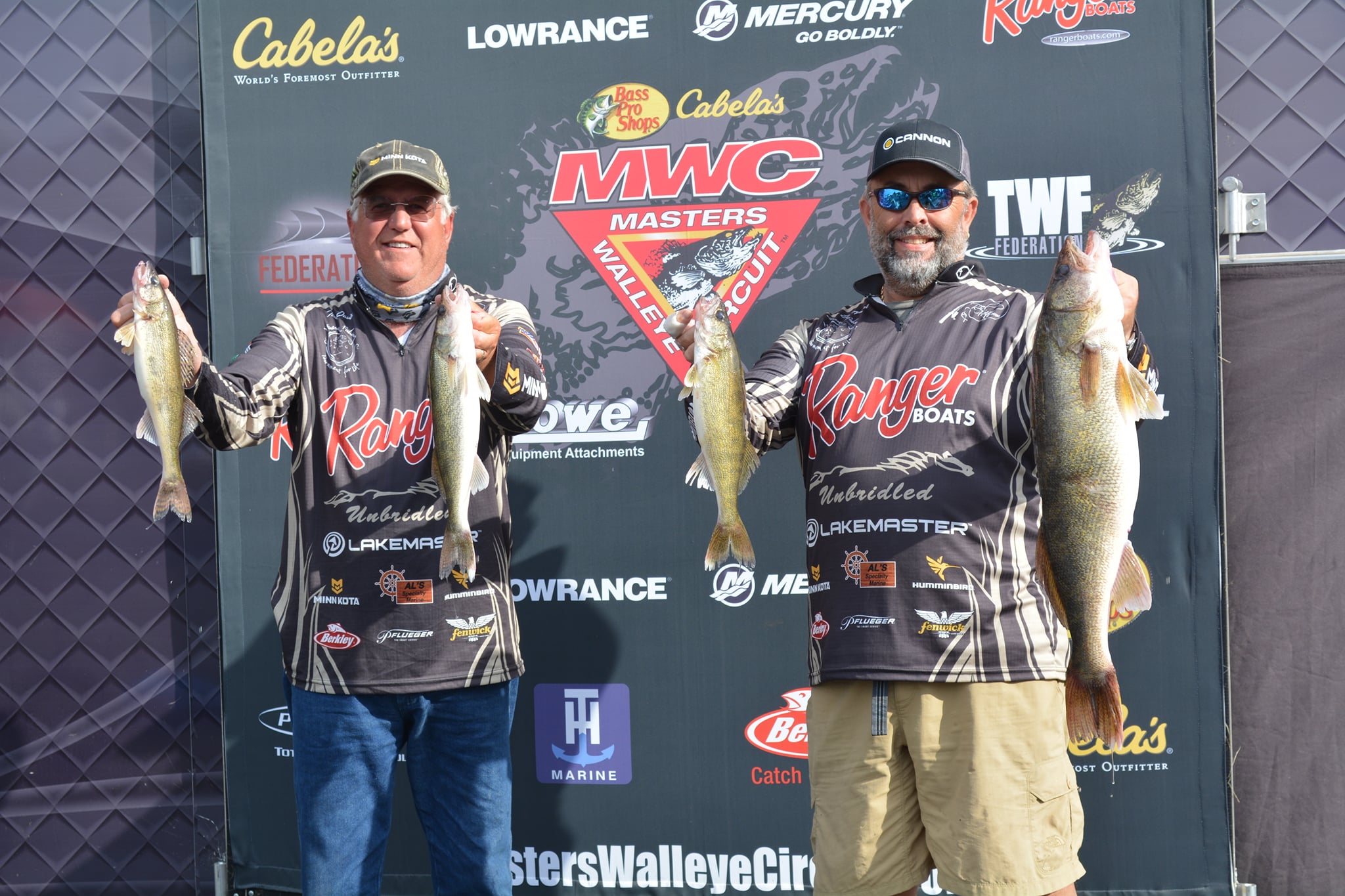 The third and final day, with a mix of cloud cover and sunshine, along with very little to no wind, the father-son team had all eyes on them, anglers and spectators alike. As word grew in the riverside town of Lake City that a team from just down river, a couple of locals, were leading in such a large nation-wide event, everyone had to turn out and cheer them on. Turn out, they did. A large crowd gathered around at Lake City Marina, the weigh-in site for the WWC on the final afternoon, hoping to witness. As the team rolled in and came across the stage for the first time, the rumors swirled, the crowd stirred as teams from all over the walleye world were weighing solid bags of fish, knocking each other out of first place with nearly each basket. Team after team, basket after basket many had the fish to win, if Peter and Ted didn't catch the same weight, they had the previous two days.
Sitting in first after 28 teams had weighed-in was Dan Stier (Mina, SD) and Mark Michael (Princeton, IL), with 44lbs 4oz., they had a great three days of fishing. The 29th team to weigh, Wayne Butz (Abrams, WI) and Scott Cisewski (Stevens Point, WI) fell just shy of the lead, landing 43lbs. 8oz. Then Holten and Stuefen boxed 44lbs. 8oz., enough to lead for the moment. The rain began to fall as the crowd collectively held its breath. Peter and Ted needed over 11 pounds of fish, just over the average size bag to win. When the fish settled and the crowd fell silent, tournament emcee, Jeff Kelm shouted "14 pounds, one ounce!" and the onlookers went crazy. "Peter and Ted Mart are World Walleye Champions here in Lake City!"
The payout for the World Walleye Championship is designed to pay out to all qualified teams that fish in all qualifying days of the event. The total payout in cash and prizes topped $120,000.00, with the first-place family duo, Peter and Ted walking away with over $21,799.99 in cash and prizes, including $15,000 in cash, custom World Championship rings, trophies, a Mercury 9.9hp kicker motor, a Power Pole Pro II, Power Pole Drift Paddle and (2) Okuma reels.  The top 10 teams in the team of the year standings split over $22,000 and the balance was spread throughout the 31-team field. Overall MWC paid back over 135% on entry fees on the full season and over 500% on entry fees for the championship!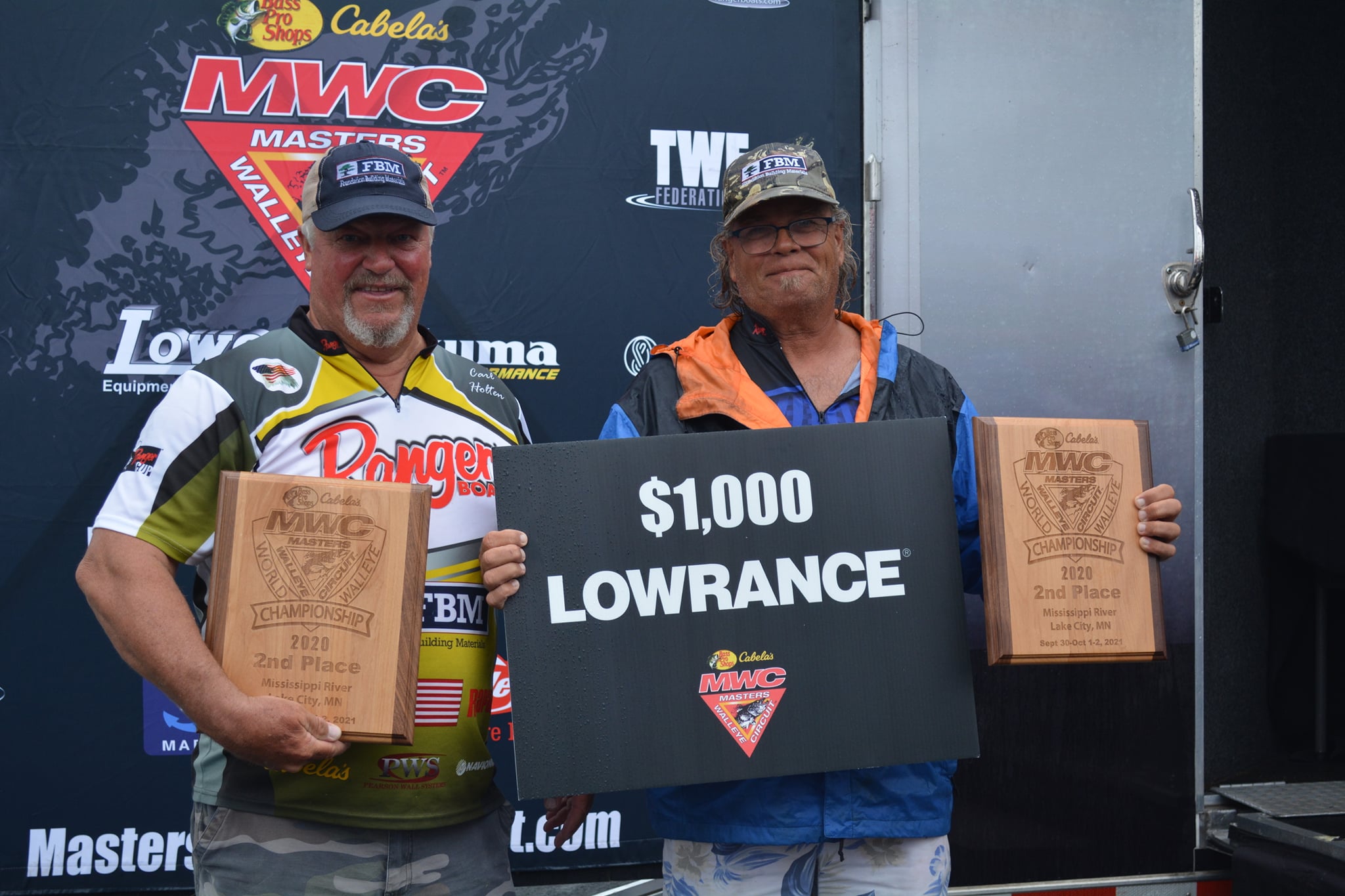 Second and third place walked away with a hefty load of cash and prizes as well – Carl Holten and Marty Stuefen won over $9,700 in cash and prizes which includes $7,100 in cash, $1,000 Lowrance Bonus, a Lowrance 7 LIVE, Power Pole Drift Paddle and TH Marine Gift Pack. Dan Stier and Mark Michael pocketed $3,500 cash and a TH Marine Hydro Wave, valued at $299.99.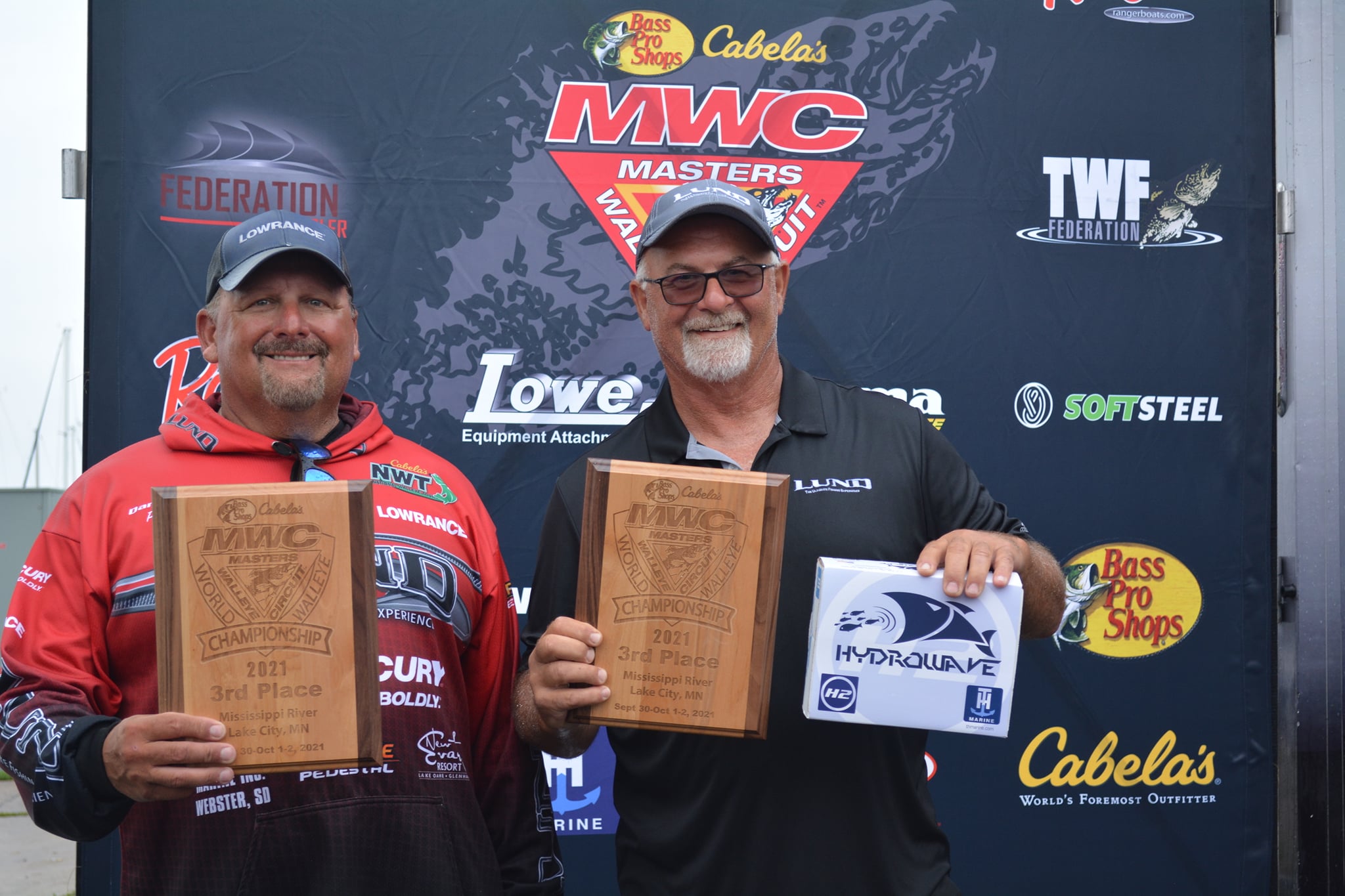 The teams in Lake City caught 428 fish weighing a total of 1019 lbs. 08 oz. during the event. 4th place team of Wayne Butz and Scott Cisewski were the Ranger Cup bonus winners, winning a $1,000 cash bonus thanks to Ranger Boats.
Under the umbrella of The Walleye Federation (TWF), the Bass Pro Shops and Cabela's Masters Walleye Circuit is North America's longest-running and undisputed leader in team walleye tournaments and as an inductee into the freshwater fishing hall of fame, has set the standard for competitive walleye fishing for 37 years. MWC is open to walleye anglers from all walks of life. The 2022 schedule includes seven qualifiers in six states, plus the 2022 Bass Pro Shops and Cabela's MWC World Walleye Championship in Oconto, WI. Visit masterswalleyecircuit.com for full details.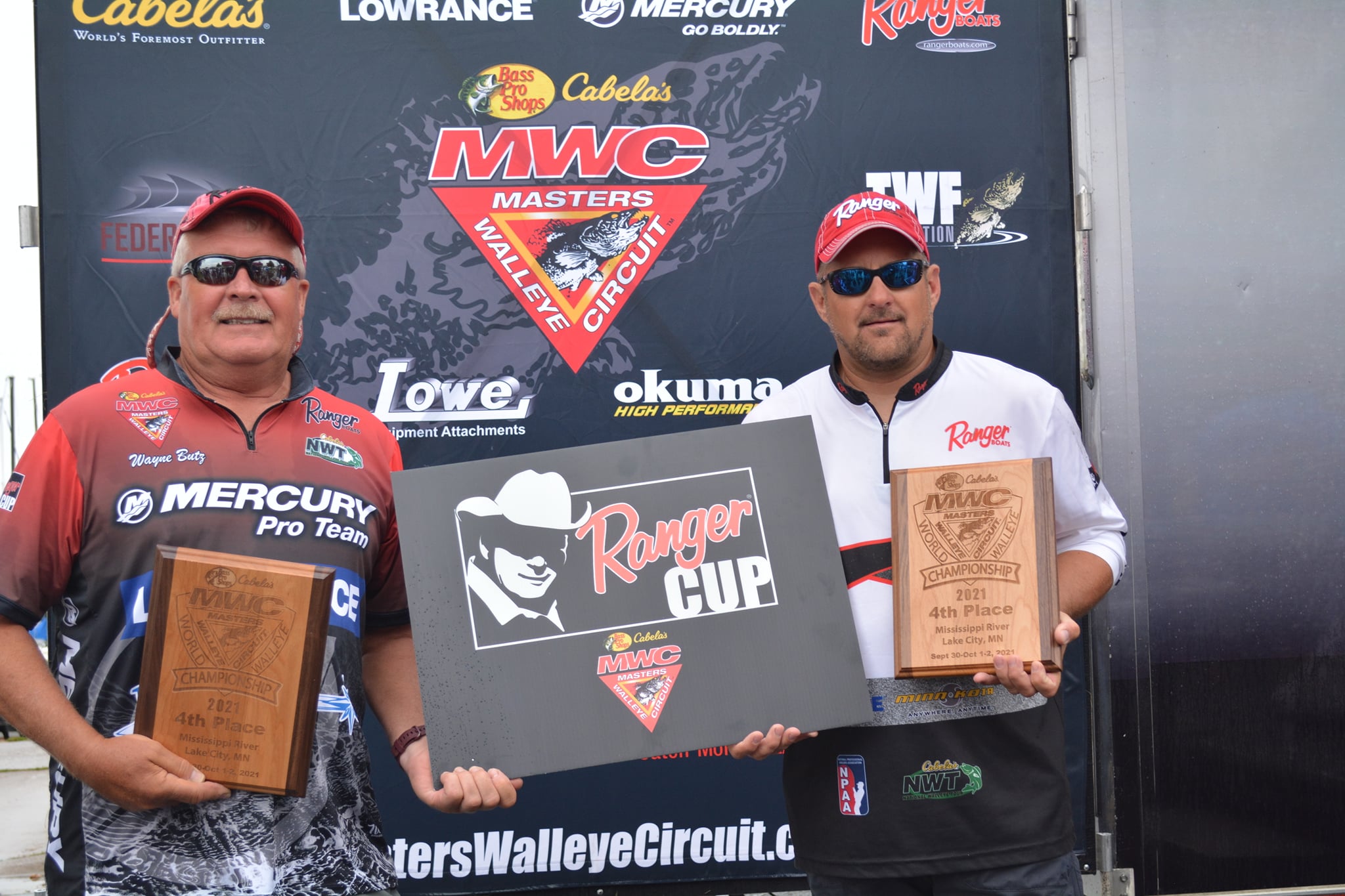 Bass Pro Shops & Cabela's – The World's Foremost Outfitters, are in their 20th season as title sponsor of the Masters Walleye Circuit. Official sponsors include: Lowe Equipment Attachments, Lowrance Electronics, Mercury Marine, Ranger Boats and The Walleye Federation. Associate sponsors include: Church Tackle, Berkley Fishing, Okuma, Power-Pole, Soft Steel and T-H Marine. For more information, email info@masterswalleyecircuit.com, or call (580) 765-9031.
###