Hasse/Topper take Cass Lake Win!  Johnson/Rhoads Seal Team of the Year Honors
Presented by Ranger Boats
Cass Lake, Minn. — September 20, 2021 — From the very beginning of the two-day Bass Pro Shops & Cabela's Masters Walleye Circuit (MWC) event on Cass Lake, Chuck Hasse (Walker, MN) and Randy Topper (Cohasset, MN) had a plan that was going to be a make-it or break-it deal. When the final basket locked in on the scale, and the final weight announced, the crowd roared as Chuck and Randy were announced as victors on Cass Lake. With a total weight of 32lbs. 10ozs., just two ounces over second place, "make-it" had won out and the pair would go home with nearly $17,000.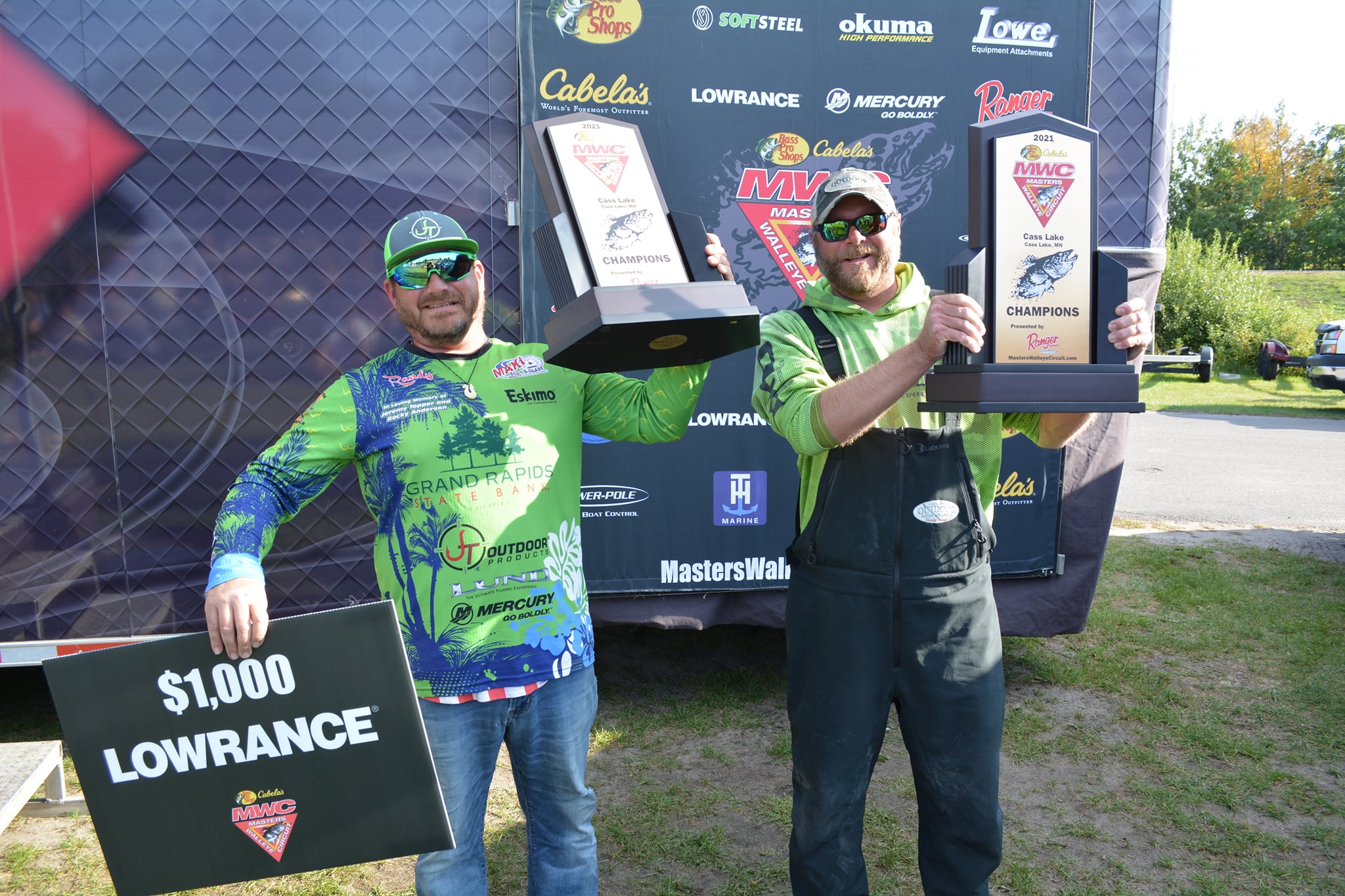 Hasse and Topper concentrated on locating specific fish, using Lowrance's Active Target, moving slowly as to not spook them out of the shallow, clear water of Cass Lake. A simple jig/minnow combo pitched at each fish seen on the electronics produced enough to secure the win. It wasn't a numbers game the duo played, it was more so a methodical execution of each move, knowing they didn't need many bites, but only a few of the right ones.
Giving credit where credit is due, the second-place team of Andrew Soderholm and Ben Hittle (Alexandria, MN) were ounces away from stealing the win for themselves both days. Ultimately the pair came up just short, weighing 32lbs. 8ozs and taking home over $8,800.
For Chuck and Randy, the money they won includes the $1,000 Lowrance bonus and a spot in the 2022 Bass Pro Shops and Cabela's National Team Championship (NTC) in Mobridge, SD. The NTC bonus will include paid entry, custom NTC jerseys, custom NTC qualifier plaques and cash travel stipend a $1,000 value!
Let's have a look at the top-five teams and what they've won:
2nd: Andrew Soderholm & Ben Hittle 32-08, $5,800 cash and $2,850 option pot cash, Okuma Reel bonus
3rd: Tom Huynh & Nate Wolske 31-08, $3,900 cash and $1,900 option pot cash
4th: Jay & John Ross 30-08, $2,800 cash and $1,400 option pot cash
5th: Toby Kvalevog & Zac Christenson 29-13, $2,250 cash and $1,400 option pot cash
The anglers caught 487 fish weighing a total of 1024 lbs. 10 oz. during the event. The Berkley Big Fish of the event was 7lbs. 3oz. caught by Dylan Maki and Joe Bricko. A $1,000 Ranger Cup bonus went to the 7th place team of Nick and Tony Renner.
Team of the Year (TOY) for the 2021 MWC season came down to this event at Cass Lake as well. With the top 11 teams in the running all attending the tournament. A close race for the top four teams in the TOY made for an exciting and finish. When points were tallied from the best of four qualifying events, the duo of Dan Johnson (Fayetteville, OH) and Larry Rhoads (Milford, OH) came away with the crown. The team has accomplished much in their MWC career and this is yet another accolade they can add to their resume. They have been awarded at TOY package valued at over $10,000 which includes paid entry into 4 MWC events in 2022, lodging accommodations, travel stipends and more.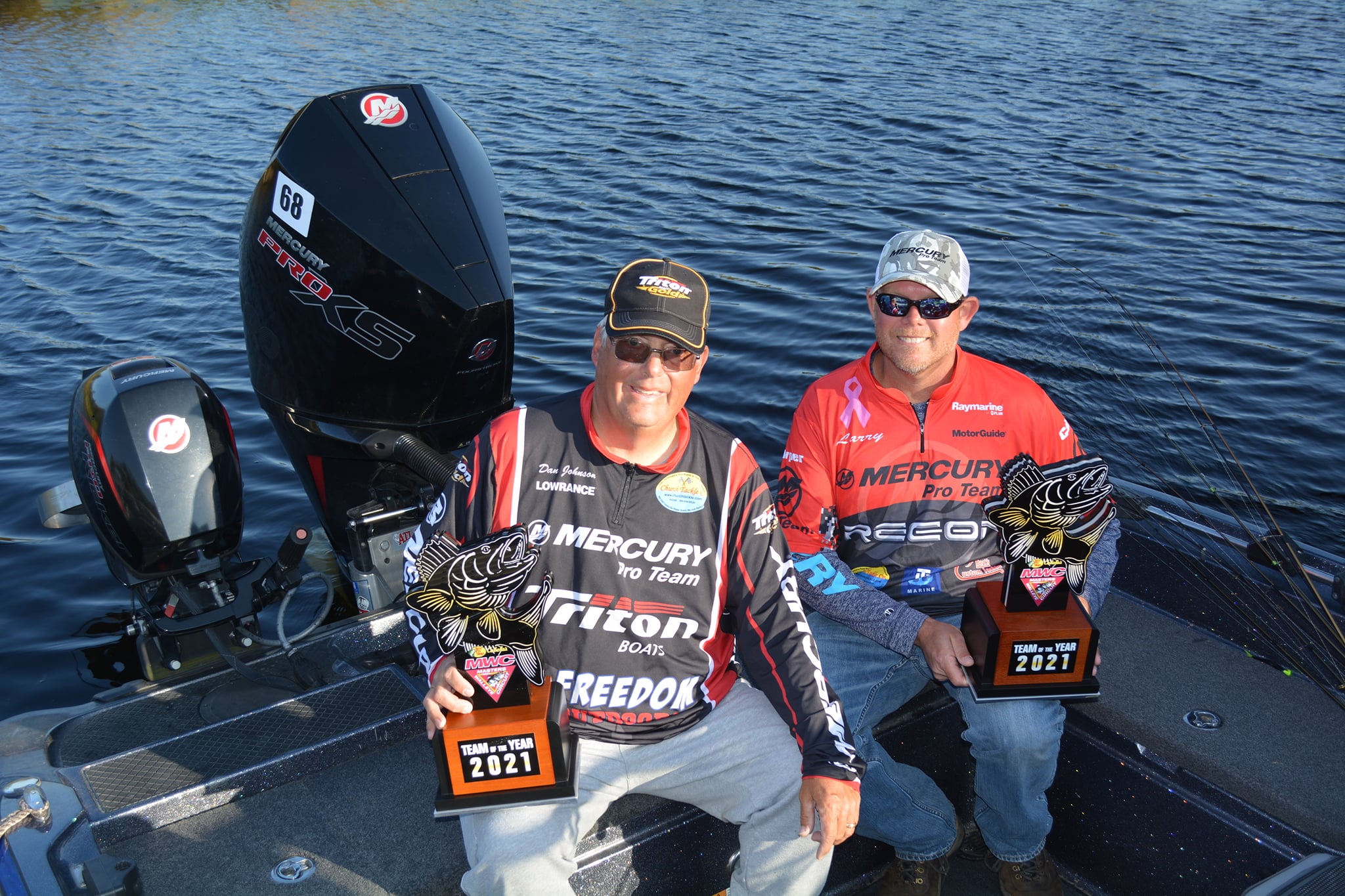 Under the umbrella of The Walleye Federation (TWF), the Bass Pro Shops and Cabela's Masters Walleye Circuit is North America's longest-running and undisputed leader in team walleye tournaments and as an inductee into the freshwater fishing hall of fame, has set the standard for competitive walleye fishing for 37 years. MWC is open to walleye anglers from all walks of life. The 2022 schedule includes seven qualifiers in six states, plus the 2022 Bass Pro Shops and Cabela's MWC World Walleye Championship. Visit masterswalleyecircuit.com for full details.
Bass Pro Shops & Cabela's – The World's Foremost Outfitters, are in their 20th season as title sponsor of the Masters Walleye Circuit. Official sponsors include: Lowe Equipment Attachments, Lowrance Electronics, Mercury Marine, Ranger Boats and The Walleye Federation. Associate sponsors include: Church Tackle, Berkley Fishing, Okuma, Power-Pole, Soft Steel and T-H Marine. For more information, email info@masterswalleyecircuit.com, or call (580) 765-9031.
###