NOTICE ! REGISTRATION FOR THIS EVENT CLOSES MONDAY EVENING JULY 17TH

Ponca City, Okla.—July 6, 2017—Great walleye fishing and exciting, high-stakes competition will be on tap when the Cabela's Masters Walleye Circuit returns to North Dakota's famed Devils Lake for a regular season qualifying tournament presented by Lowrance Electronics July 21-22.
One of the High Plains' hottest walleye fisheries, Devils Lake has long been a favorite destination for MWC anglers—and for good reason. Two-person teams have more than 200,000 acres of water to work with, and a variety of presentations put walleyes in the livewell.
At the 2016 MWC Devils Lake tournament, North Dakotans Troy Morris and Corey Heiser employed a pair of totally different tactics to top the leaderboard with a winning weight of 44 pounds. On day one, they vertically fished hard-bodied swimming jigs in 28 to 36 feet along a steep main-lake breakline. They switched gears on day two, trolling shad-imitating crankbaits in 23 to 25 feet of water.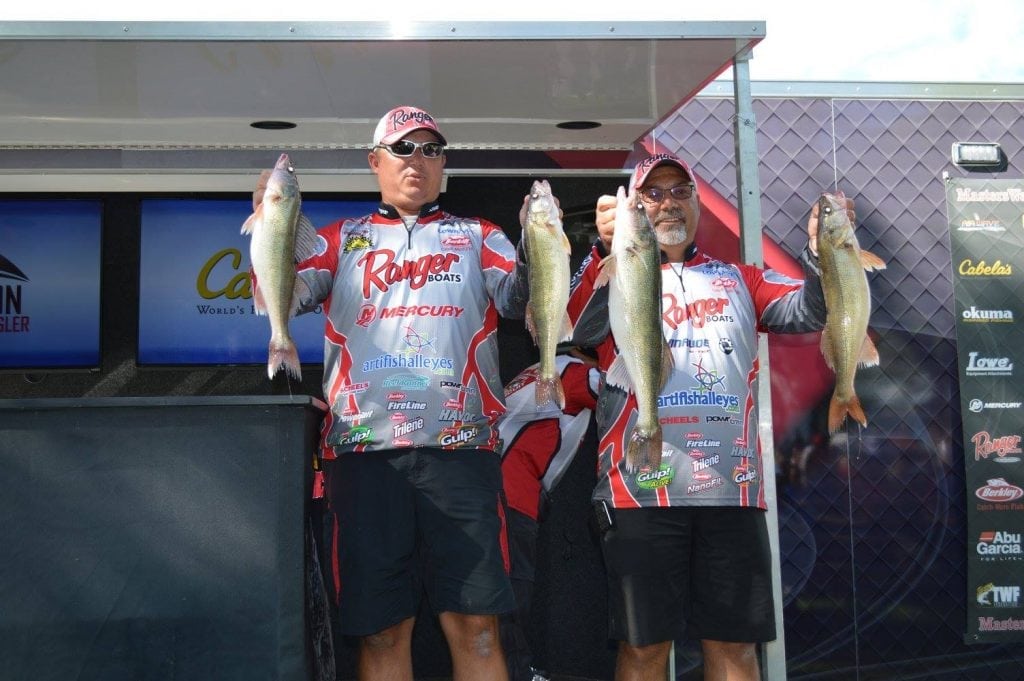 Morris and Heiser also credited their Lowrance StructureScan 3D sonar system for helping them find fish fast on the massive body of water. Among the many key details their sonar revealed were schools of juvenile white bass, which hungry walleyes were following, as well as low-riding 'eyes holding tight to rocky areas.
Teams will compete for thousands in cash and prizes. For starters, the Cabela's MWC's lucrative payouts are based on the number of teams entered in each event. Plus, the MWC Big Fish Pot, MWC option pot payouts, and sponsor bonuses including Ranger Cup, Lowrance Electronics, Okuma and AirWave add thousands more to the total. The first-place team will also win a $1,000 Cabela's National Team Championship Prize Package including paid 2018 NTC entry, travel stipend, team jerseys and plaques.
Such winnings add up quick. For example, Morris and Heiser walked away with nearly $20,000 for their 2016 victory.
The two-day event is hosted by the Devils Lake Chamber of Commerce and Visitors Bureau, with launches and weigh-ins held at the Sivert Thompson Activities Center in scenic Grahams Island State Park. Weigh-ins begin at 3 p.m. As a bonus to budding tournament fans, the Cabela's MWC and National Professional Anglers Association will present a Youth & Family Fishing Clinic immediately after the day-one weigh-in. The first 50 youths will receive rod-and-reel combos courtesy of the NPAA.
Teams fishing three or more MWC tournaments in 2017 also battle for coveted berths in the 2018 Cabela's MWC World Walleye Championship, set for October 2018 on Lake Michigan's Bays de Noc out of Escanaba, Michigan. Teams fishing at least four qualifiers compete for Team of the Year awards, including a $10,000 sponsorship package and thousands more in cash and Cabela's Cash cards, as well as fully paid entries into a full season of great walleye action.
As a bonus, Lowe Equipment Attachments offers all Cabela's MWC anglers a 25 percent discount off the MSRP on all its auger, trenching and grapple products in 2017 available through Midwest Attachments, LLC. For details, visit masterswalleyecircuit.com/tournaments/contingencies.
Under the umbrella of The Walleye Federation (TWF), the Cabela's MWC is open to avid walleye anglers from all walks of life. Deadline to register for the Devils Lake tournament is Monday, July 17 at 4 p.m. For complete details, visit masterswalleyecircuit.com.
The 2017 schedule includes seven qualifiers in five states on a diverse selection of rivers, inland lakes and Great Lakes fisheries representing North America's top walleye destinations.
Cabela's, the World's Foremost Outfitter for hunting, fishing and outdoor gear, is in its 16th season as title sponsor of the MWC. Official sponsors include: Lowe Equipment Attachments, Lowrance Electronics, Mercury Marine, Ranger Boats and The Walleye Federation. Associate sponsors include: AirWave Pedestals, Bagley Baits, Church Tackle, G-Juice, MotorGuide and Okuma. For more information, email info@masterswalleyecircuit.com, or call (580) 765-9031.
###