Cabela's Masters Walleye Circuit Announces 2018 Team Walleye Tournament Schedule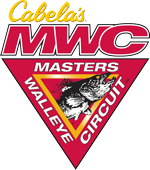 Competitors To Battle For Big Payouts While Enjoying Great Walleye Fishing
On World-Class Destinations At Peak Fishing Times
Ponca City, Okla.—July 22, 2017—Competitive walleye anglers, mark your calendars. The Cabela's Masters Walleye Circuit's 2018 team walleye tournament schedule is packed with an A-list lineup of longtime circuit favorites and angler-requested venues sure to please anyone who enjoys catching fish while battling for thousands in cash and prizes in a professionally run setting.
The Cabela's MWC's 2018 trail includes eight qualifiers in seven states, plus the 2019 Cabela's MWC World Walleye Championship. "We worked extensively with MWC anglers to develop a schedule that hits top destinations at peak fishing times," says MWC president and CEO Robert Cartlidge. "As a result, the 2018 lineup offers anglers the chance to test their skills on a variety of world-class fisheries from the High Plains to the Great Lakes, all when the bite is on."
The 2018 Cabela's MWC tournament schedule includes:
March 23-24               Spring Valley, IL
April 13-14                 Detroit River, MI
April 27-28                 Lake Francis Case Platte, SD
May 4-5                      Lake Erie, Lorain OH
June 1-2                      Lake McConaughy, Ogallala, NE
July 13-14                   Lake of the Woods, MN
August 3-4                  Bay of Green Bay Oconto, WI
Sept. 14-15                  Cass Lake, MN
Oct. 3-5, 2019             MWC World Walleye Championship, Lake Winnebago, WI
The Cabela's MWC offers anglers lucrative payouts that are based on the number of teams entered in each event and paid to the top 20 percent of the field. In addition, the circuit's big-fish pot, option pot payouts and sponsor bonuses including Ranger Cup, Lowrance Electronics, Okuma and AirWave add thousands more to the total. As a result, winners routinely pocket $10,000 to $15,000 or more in cash and prizes. Plus, the first-place team also wins a $1,000 Cabela's National Team Championship Prize Package including paid NTC entry, travel stipend, team jerseys and plaques.
Teams fishing three or more tournaments also compete for coveted berths in the Cabela's MWC World Walleye Championship, which is comprised of the top point-accumulating teams from the previous year's season and offers payouts based on the previous year's participation. Teams that qualify in 2018 will fish the 2019 championship, which is set for October 3-5, 2019 on Wisconsin's famous Lake Winnebago System.
Teams fishing at least four qualifiers compete for Team of the Year awards including a $10,000 sponsorship package and thousands more in cash and Cabela's Cash cards, as well as fully paid entries into a full season of great walleye action.
North America's longest-running and undisputed leader in team walleye tournaments, the Cabela's MWC has set the standard for competitive walleye fishing since 1984.
Operated under the umbrella of The Walleye Federation (TWF), the Cabela's MWC is open to avid walleye anglers from all walks of life, regardless of sponsor or club affiliations. Registration for 2018 events will open in January. Visit masterswalleyecircuit.com for updates, official rules and registration information.
Cabela's, the World's Foremost Outfitter for hunting, fishing and outdoor gear, is currently in its 16th season as title sponsor of the MWC. Official sponsors include: Lowe Equipment Attachments, Lowrance Electronics, Mercury Marine, Ranger Boats and The Walleye Federation. Associate sponsors include: AirWave Pedestals, Bagley Baits, Church Tackle, G-Juice, MotorGuide and Okuma. For more information, email info@masterswalleyecircuit.com, or call (580) 765-9031.
###