Debernardi/Wilson Win at Spring Valley in "Mikey's Spot"
Presented by Mercury Marine
Spring Valley, Ill. — March 21, 2022 — There are moments in life where things seem to happen that were just "meant to be". These are the times when all the items that have to fall into place do and the unbelievable nature of it all isn't realized until one special moment. That moment and those things, all lined up for J.J. Debernardi (Wayne, IL) and Max Wilson (Campbellsport, WI) at the 2022 Bass Pro Shops and Cabela's Masters Walleye Circuit (MWC) event on the Illinois River, presented by Mercury Marine.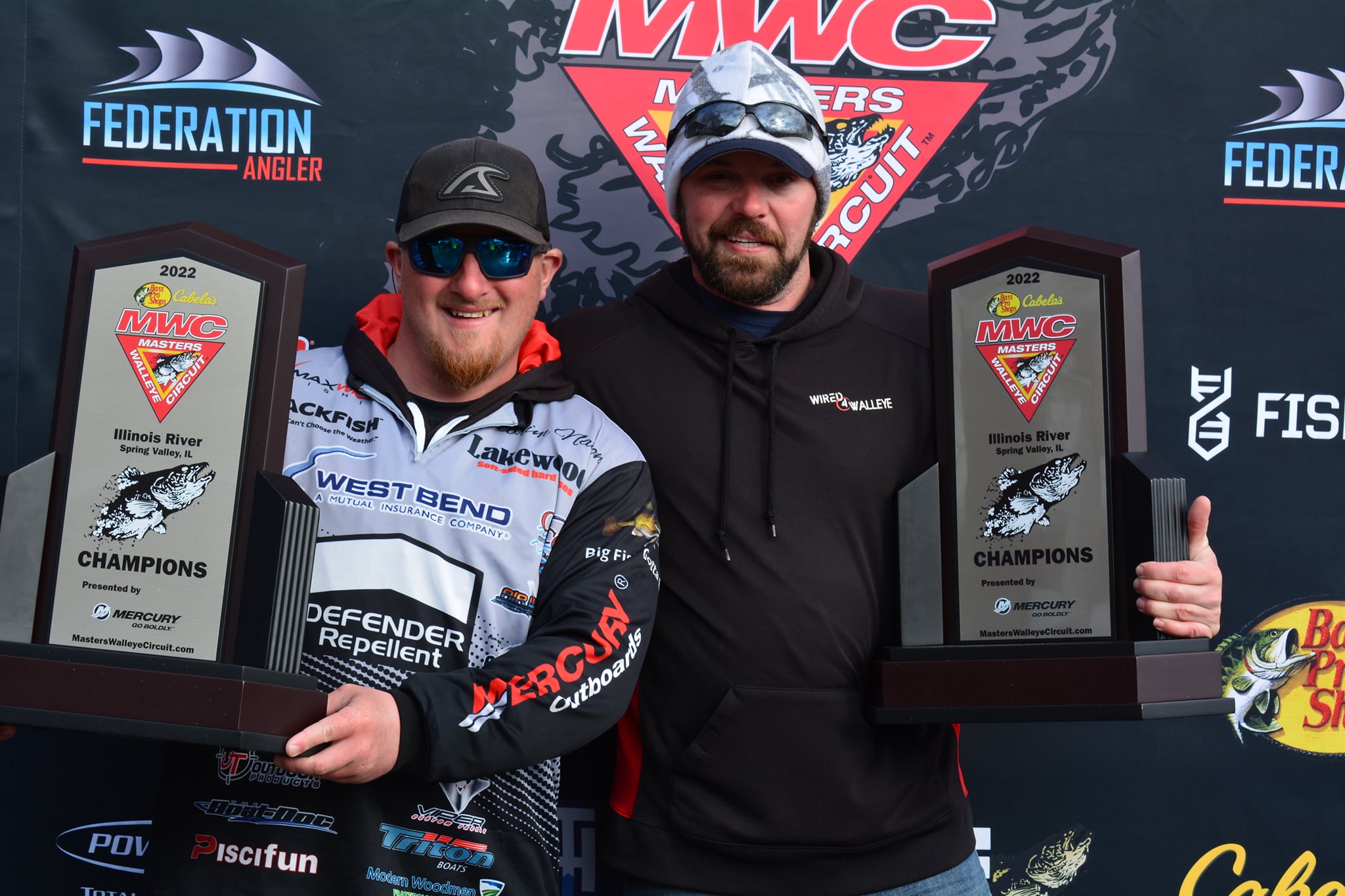 The pair weighed a respectable 10 lbs. and 3 oz. on the first of the two-day event, but faced rapidly changing water levels and stiff competition from others, trailing the leaders by over 3 lbs. The team had made plans originally to fish closer to the launch site, the Spring Valley Boat Club, but something inside told them to head to "Mikey's Spot", the term coined to honor their late friend and former MWC angler, Mike Hanson. An up river spot near Starved Rock State Park that is difficult to navigate to in the best of conditions, let alone low river levels. Dodging rocks and logs like a NASCAR driver dodging "the Big One" at Daytona, the team found themselves in a spot nearly alone, with hungry fish both days of the tournament.
Mike was J.J's tournament partner for years in the MWC.  As a team they finished in the Top 5 multiple times, but Mike and J.J. could never quite find the perfect recipe to win the event on Mike's home body of water, the Illinois River. Mike sadly passed away in early February after an extended battle with Covid 19.
"We did it for Mikey." J.J. said after the event. "He always wanted to win this one. He even has a spot in his house near his fish and plaques where he made room to put an MWC Spring Valley trophy if we won one." That spot can now be filled, J.J. wishes to honor Mike by making sure there is a trophy where it rightfully belongs, in that spot in Mike and Cheri Hanson's house.
Max Wilson decided to fish this event along with J.J. to immortalize his bond with a special friend. "Mike was like a father-figure to me." Said Max through tears on the stage. "I shouldn't be here, I really just want my friend back, but I know he's proud of us and of J.J. for doing what we just did." What they just did was weigh 22lbs 12oz in total and win $19,000 in cash and prizes, including a spot in the 2023 Bass Pro Shops & Cabela's National Team Championship.
As the team hoisted their trophies on Saturday afternoon, one more small sign came from the heavens itself.  After two full days of fishing and weighing-in with cold, clouds, rain and wind, the sun burst through, the wind died down and the temperature climbed. The story writes itself, for those that were there to witness this, no way they'll forget it. The entire field of anglers came together to congratulate J.J. and Max and although no one likes to lose, it's safe to say they were alright with who won.
Let's have a look at the rest of the top-five teams and what they've won:
2nd: Barb & Danny Plautz 21-15, $6,400 cash and $3,023 option pot cash
3rd: Paul & Ted Mathews 21-09, $4,100 cash
4th: Tom Albrecht & Todd Connor 21-07, $3,200 cash and $2,100 option pot cash, $1,000 Lowrance Bonus, (2) Okuma Reels
5th: Joe & Michael Perez 20-14, $2,600 cash and $1,650 option pot cash
With 96 teams competing in this year's tournament the total purse eclipsed $82,200 and paid 19 places along with 10 Option Pot places and $4,400 in the Big Fish bonus. The competitors caught 885 fish weighing a total of 1516 lbs. 02 oz. during the event. The biggest fish of the event was 5lbs. 8oz. caught by Paul and Ted Mathews.
In partnership with the Illinois Department of Natural Recourses, the MWC once again made its annual conservation commitment to this and other fisheries in the area as it has for more than three decades at the Spring Valley event. That conservation donation was the actual live fish from the event that will be used by the hatchery as brood stock and valued at thousands of dollars annually. The Illinois DNR will be utilizing the saugers specifically for their wildly successful sauger stocking programs among other things.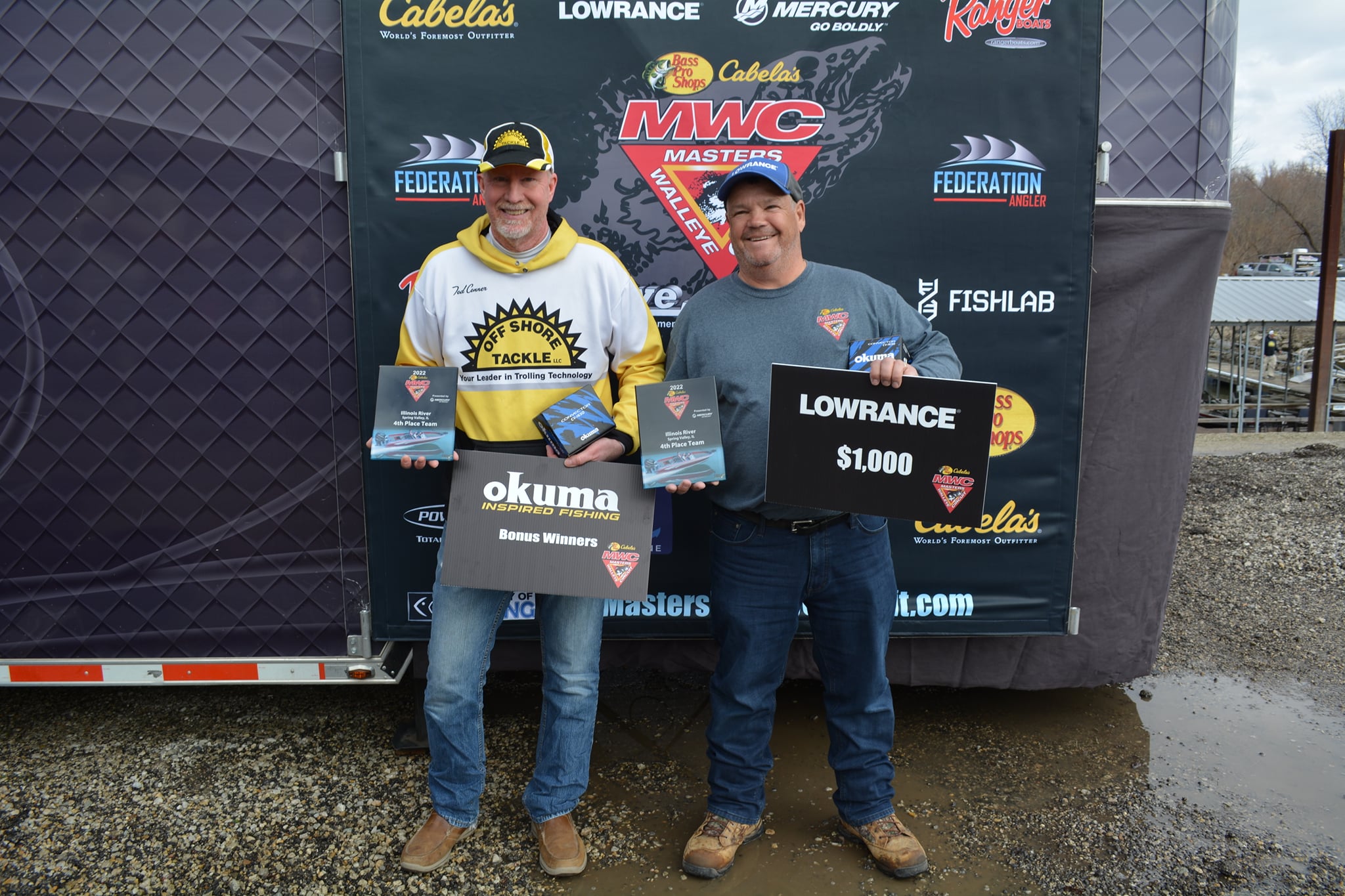 Under the umbrella of The Walleye Federation (TWF), the Bass Pro Shops and Cabela's Masters Walleye Circuit is North America's longest-running and undisputed leader in team walleye tournaments and as an inductee into the freshwater fishing hall of fame, has set the standard for competitive walleye fishing for the past 38 years and has directly donated hundreds of thousands and helped raise millions of dollars to support walleye & conservation programs nationwide. The MWC is open to walleye anglers from all walks of life. The 2022 schedule includes seven qualifiers in six states, plus a berth into the 2023 Bass Pro Shops and Cabela's MWC World Walleye Championship.
Bass Pro Shops & Cabela's – The World's Foremost Outfitters, are in their 21th season as title sponsor of the Masters Walleye Circuit. Official sponsors include: Lowe Equipment Attachments, Lowrance Electronics, Mercury Marine, Ranger Boats. Associate sponsors include: The Walleye Federation, Church Tackle, FishLab, Okuma, Power-Pole and T-H Marine. For more information, email support@masterswalleyecircuit.com, or call (580) 765-9031.
###