Anglers-MWC Ready for the 2022 Season Starter on the Illinois River
Presented by Mercury Marine
Ponca City, Okla. — February 28, 2022 — After what seemed like the coldest, most drawn out winter we've had in decades the anglers, hosts, and staff of the Bass Pro Shops and Cabela's Masters Walleye Circuit (MWC), are ready to get this 38th season started in Spring Valley, Illinois with some jigging, trolling, and hopefully some netting of big fish and a couple high fives! This first event of the season will be held March 18-19, with launch and weigh-ins happening at the Spring Valley Boat Club.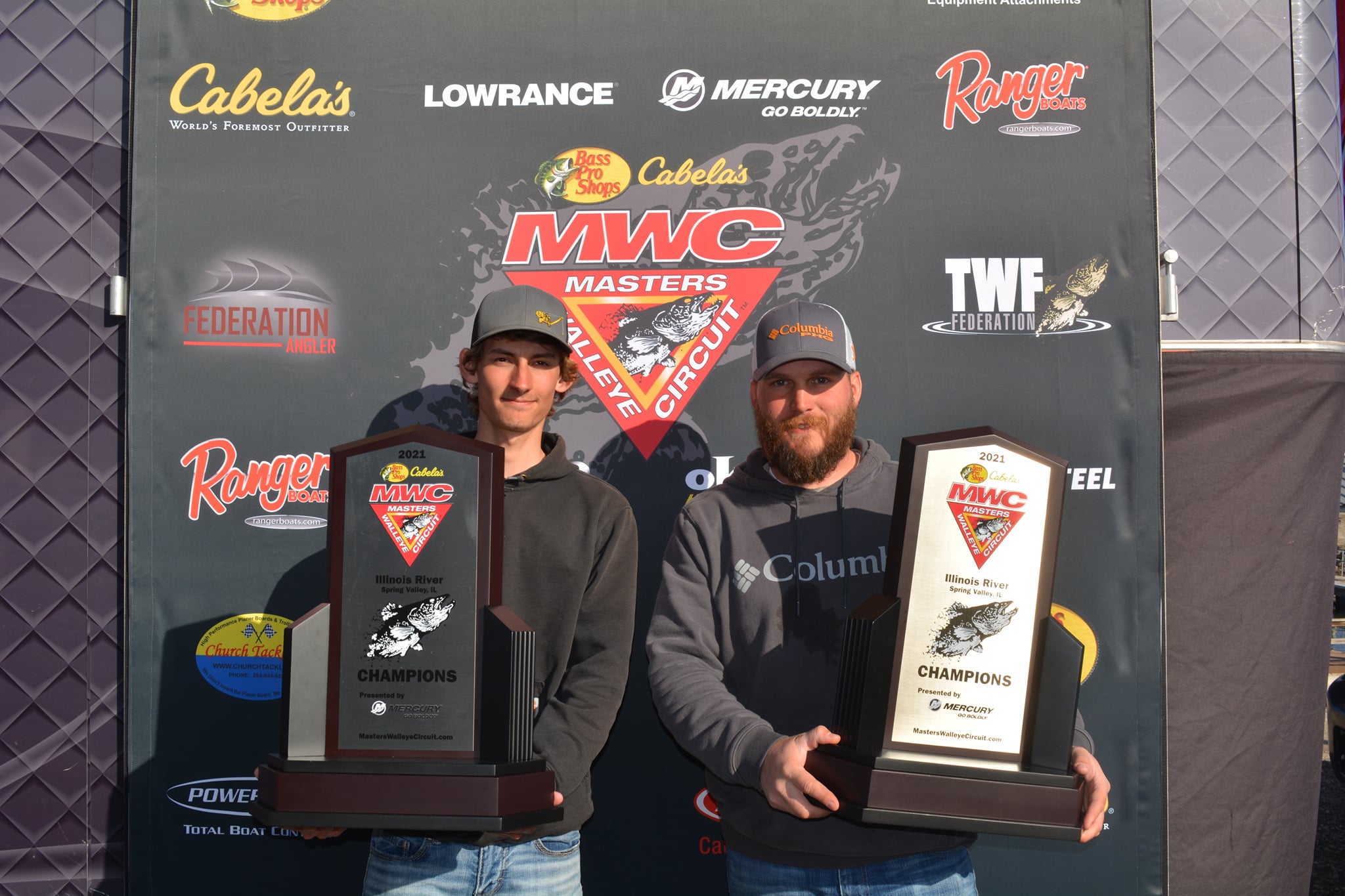 The stretch of the Illinois River by Spring Valley is teaming with a healthy population of saugers, with some of the biggest saugers in the Midwest along with some big walleyes if you can find them! The 2022 kick-off event can expect to see full live wells of saugers and walleyes with some saugeyes mixed in. Teams will have two days to find a total of ten fish, five each day, to bring to the MWC stage and grab a chance at winning the coveted trophy and top prize.
In one of the longest running conservation partnerships in all of walleye fishing each year MWC partners with the Illinois Department of Natural Resources at Spring Valley in a large conservation project. Illinois DNR takes all the sauger caught by MWC anglers back to the state's fish hatchery to be spawned under ideal, controlled conditions to further the brilliantly successful Illinois River sauger stocking program. In just the last decade the MWC has provided over 5,000 fish for the program.
Daily live weigh-ins will be held at the Spring Valley Boat Club beginning at 3:30pm both days March 18-19.  We welcome everyone to watch the weigh-ins live, online, at masterswalleyecircuit.com or on our Facebook page facebook.com/MastersWalleyeCircuit.
Anglers competing in the 2022 MWC season events will be attempting to earn a coveted spot in the 2023 Bass Pro Shops Cabela's World Walleye Championship. We are pleased to announce that in late September of 2023, the city of Pierre and Hughes County, South Dakota is excited to host the "Toughest Anglers on Planet Earth" to their historic city in the center of their state! The 2023 World Championship qualifiers will compete on one of the best the walleye fisheries in the west, Lake Sharpe in Pierre, SD, on the Missouri River system.
MWC Teams may fish as many events as they wish during a season. Teams must earn points in at least three qualifiers to have a chance at earning an invitation to the World Walleye Championship in the final "best of 3" final standing each year.
Those earning points in at least four qualifiers compete for "Team of the Year" honors, including a $10,000 sponsorship package and thousands more in cash and prizes to the top 10 teams in the final "best of 4" final standing each year.
Each MWC event has a lucrative payout which is based on the number of teams entered into that event, and is awarded to 20% of the field, providing more inspiration to sign up and join the fun. In addition to a hefty check, the first-place team also earns a $1,000 Bass Pro Shops/Cabela's National Team Championship (NTC) prize package including: paid entry, a travel stipend, team jerseys, and plaques. Additionally, the big-fish pot, option-pot and sponsor bonuses from Ranger Cup, Lowrance, Okuma, and T-H Marine Atlas Awards will add thousands more for distribution among the field.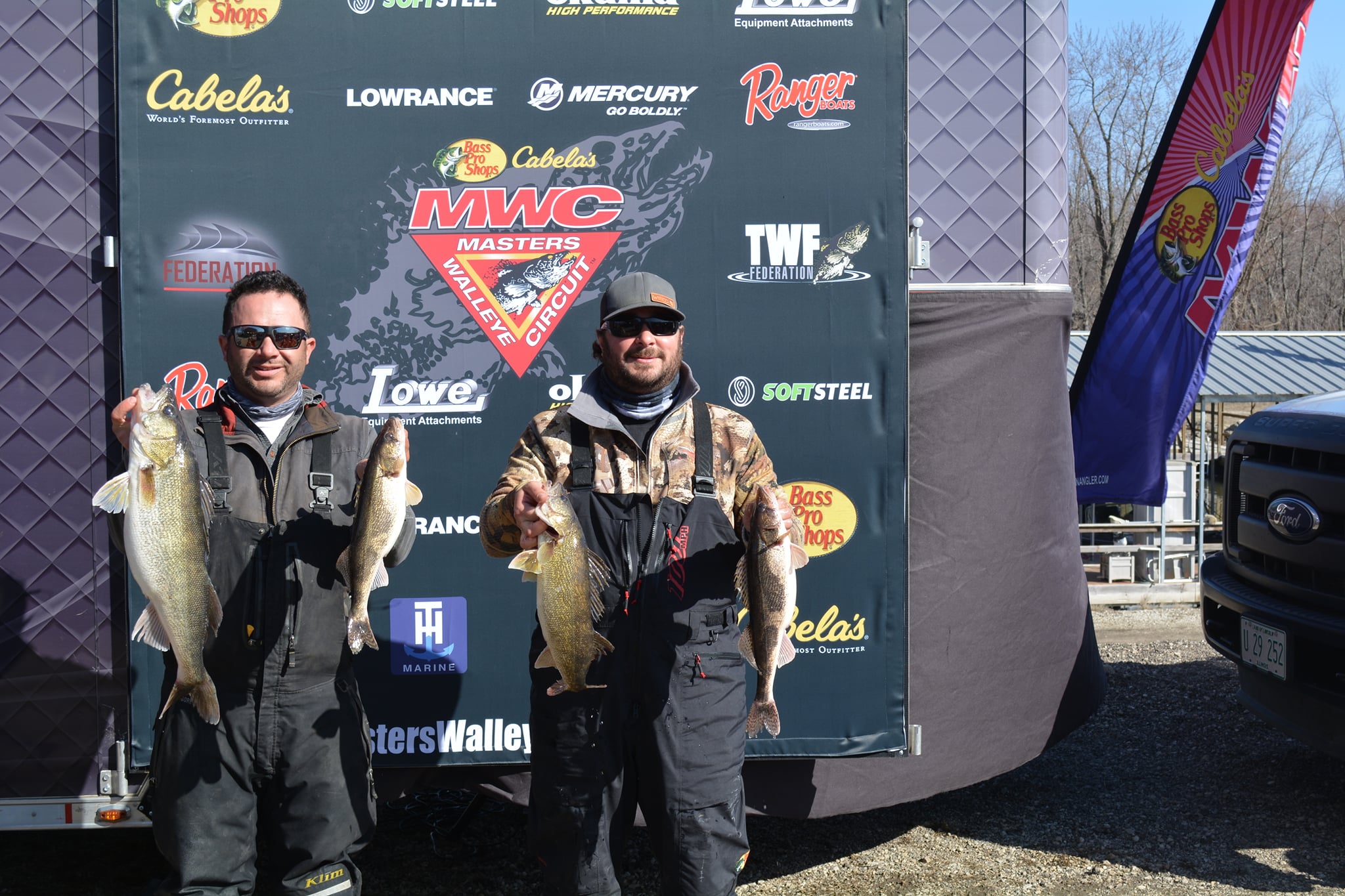 Under the umbrella of The Walleye Federation (TWF), the Bass Pro Shops and Cabela's Masters Walleye Circuit is North America's longest-running and undisputed leader in team walleye tournaments and as an inductee into the freshwater fishing hall of fame, has set the standard for competitive walleye fishing for the past 38 years. The MWC is open to walleye anglers from all walks of life. The 2022 schedule includes seven qualifiers in six states, plus berths into the 2023 Bass Pro Shops and Cabela's MWC World Walleye Championship.
Bass Pro Shops & Cabela's – The World's Foremost Outfitters, are in their 21th season as title sponsor of the Masters Walleye Circuit. Official sponsors include: Lowe Equipment Attachments, Lowrance Electronics, Mercury Marine, Ranger Boats. Associate sponsors include: The Walleye Federation, Church Tackle, FishLab, Okuma, Power-Pole and T-H Marine. For more information, email support@masterswalleyecircuit.com, or call (580) 765-9031.
###