2023 Masters Walleye Circuit World Walleye Championship Winners Crowned on Lake Sharpe Presented by Bass Pro Shops and Cabela's
Pierre, South Dakota – October 8th, 2023 – Just like it has for the last 40 years, the 2023 Bass Pro Shops and Cabela's Masters Walleye Circuit (MWC) season ended with a contest to see who would take home the most coveted and longest running titles and trophies in the walleye world and have their name forever engraved into the history books as World Walleye Champions.  There was money and prizes up for grabs as well and lots of it totaling a staggering $115,622, all 50 individual anglers would earn a prize check, they only question left to decide was how much.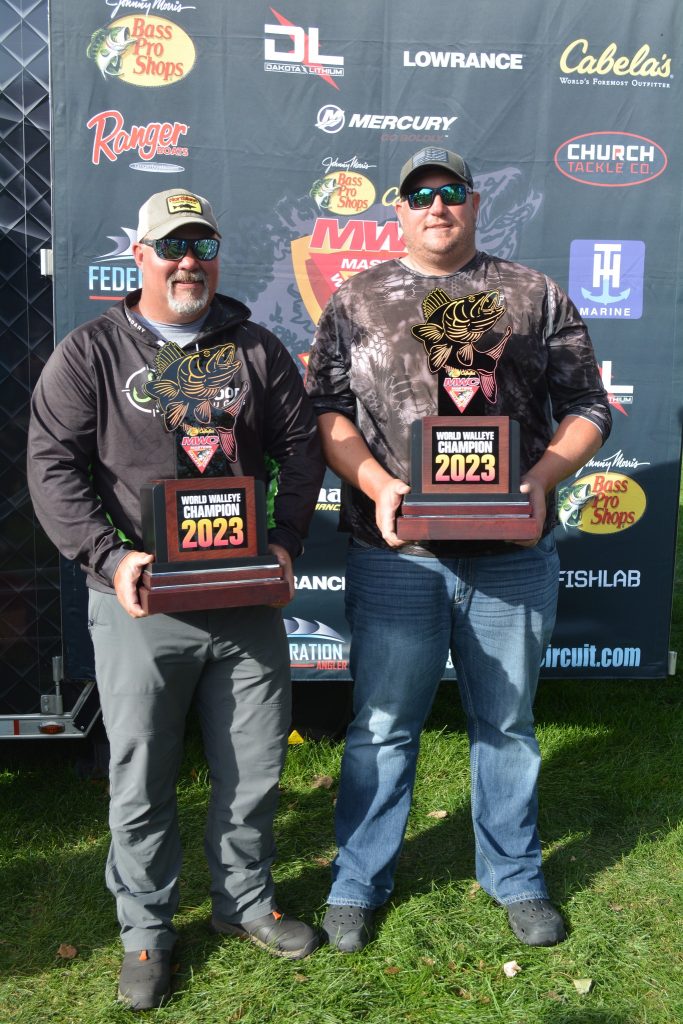 The grand finale, unfolded on the picturesque shores of Lake Sharpe, Pierre, South Dakota. Limited to only the top 25 best of the best teams in competitive walleye fishing, all 25 teams were trying to put their names into the record books by securing the win.
Leading up to the championship, participants were greeted by beautiful weather and gentle breezes. However, mother nature had other plans as the tournament kickoff neared. A formidable cold front descended from the north ushering in winds that would test the mettle of even the most seasoned anglers. Gusts in excess of 30 mph, coupled with steadily plummeting temperatures, characterized the first two days of the event. Undaunted by the elements, the "Toughest Anglers on Planet Earth" embarked on a three-day quest to showcase their prowess on Lake Sharpe. While a cold front typically causes walleyes to slow their feeding, the fall season presents a unique opportunity as these fish senses the impending, harsh winter and they embarked on a feeding frenzy for many of the anglers.
Some teams reported bountiful catches during the tournament, a few boasting over 50 walleyes each day, size was the problem. On the tournament's first day, the Premier team of Kaiden Dorris (Huron, SD) and Mark Schoning (Colorado Springs, CO) distinguished themselves, amassing a commendable bag of 12-15 lbs. to seize the lead.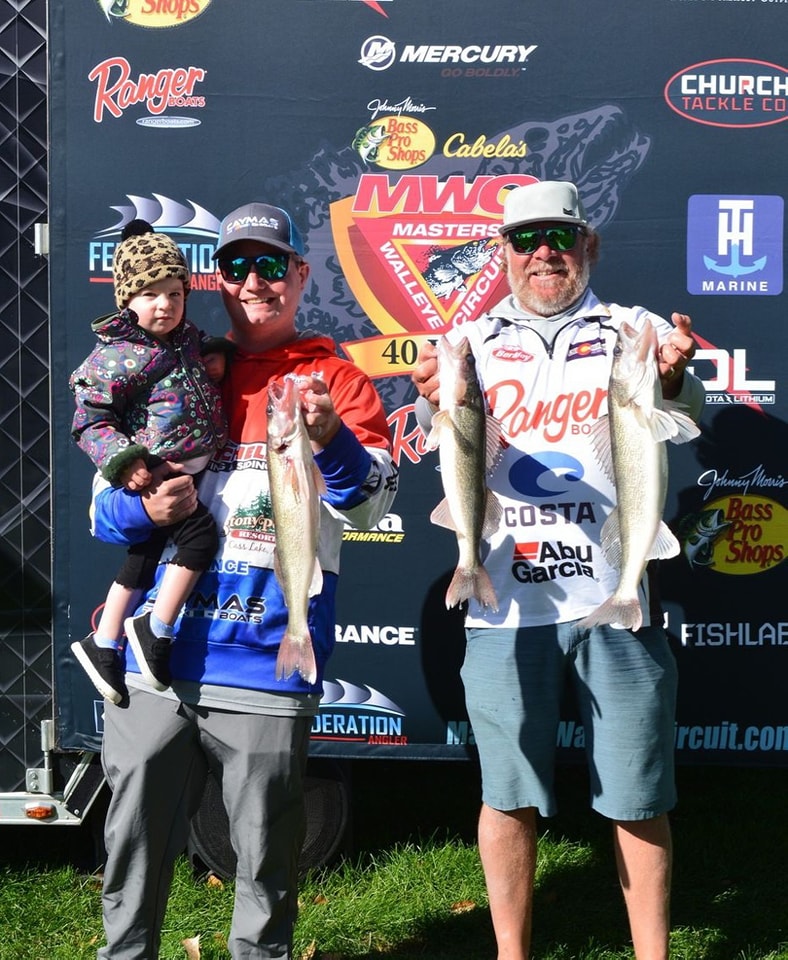 Day two, tested the resilience of the competitors. By day's end, another team of contenders merged. Premier team, Tom Sieburg (Yutan, NE) and Curtis McCormick (Gurley, NE), ascended to the top of the leaderboard on day two, with an impressive 16-09 lbs. which was the heftiest sack of the tournament.
The final day greeted anglers with serene winds and comfortable temperatures, providing ideal conditions for the ultimate showdown. Sieburg and McCormick started the day from Down's Marina and was able to maintaining their lead, clinching the championship.
Tom Sieburg shared his insights on their strategy, stating, "During most of practice, we concentrated our efforts further downriver. After day one, when we fell short on weight, we ventured upriver, near the dam, in search of bigger fish. Although we hadn't practiced much in that area, the changing weather conditions called for a change in tactics. We employed lead-core trolling with big stick baits in depths of up to 30 feet, keeping our baits within five feet of the bottom. We caught a lot of fish on day two, but day three brought a completely different challenge, we on caught about seven fish all day. Thankfully, they were the right fish!"
As the scales settled, the Nebraska duo secured their place in Masters Walleye Circuit history, emerging victorious with a three-day total of 36-01 lbs. The win, commemorating the 40th anniversary of the circuit, forever etched their titles of World Walleye Champions and a prize package worth $20,949. The haul included $16,000 in cash, two Custom WWC Rings, two Okuma reels, and a Lowrance Ghost Trolling motor valued at $3,749, in addition to Championship Trophies.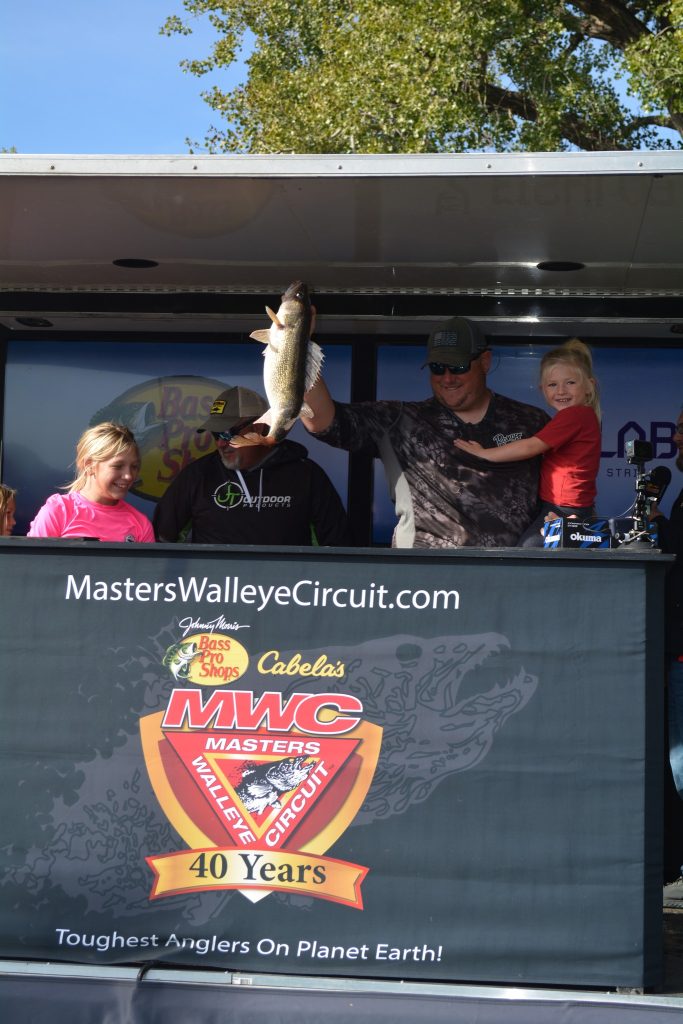 Here is how the rest of the top five World Walleye Championship teams finished:
2nd Place: Jason Stahl and Jeremy Roe with 32-14 lbs., $8,000 cash and a Power Pole Pro II worth $1,800.
3rd Place: Corey Rost and Ryan Danforth with 32-14 lbs., $5,000 cash and a Lowrance Elite TI 7 worth $900.
4th Place: Mike Dorris and Douglas McDonough with 30-01 lbs., $3,000 cash.
5th Place: Kevin Dahl and Travis Pisarek with 28-08 lbs., $2,750 cash.
The Dakota Lithium Come-Back award celebrated the 5th place team of Kevin Dahl and Travis Pisarek, who moved up on the final day with a weight change of 9-11 lbs. This achievement garnered them three (3) Dakota Lithium 135ah deep cycle/marine starting/trolling motor batteries along with chargers, valued at $4,296.
Throughout the championship on Lake Sharpe, participating teams showcased their skills, collectively reeling in a total of 333 fish over three days, weighing an impressive 574-02 lbs. The Sieburg and McCormick duo clinched both the largest sack of the tournament at 16-09 lbs. and the largest individual fish, weighing in at 7-13 lbs.
Under the umbrella of The Walleye Federation (TWF), the Bass Pro Shops and Cabela's Masters Walleye Circuit is North America's longest-running and undisputed leader in team walleye tournaments and as an inductee into the freshwater fishing hall of fame, has set the standard for competitive walleye fishing for the past 39 years and has directly donated hundreds of thousands and helped raise millions of dollars to support walleye & conservation programs nationwide. The MWC is open to walleye anglers from all walks of life and always pays back more than 100% of entry fees in cash and prizes each season. The 2024 schedule is announced and includes seven qualifiers in six states, including events at Spring Valley, IL. Chamberlin, SD, Oshkosh, WI, Au Gres, MI, Geneva, OH, and Cass Lake, MN, plus a berth into the 2025 Bass Pro Shops and Cabela's MWC World Walleye Championship, make plans now to fish the MWC in 2024!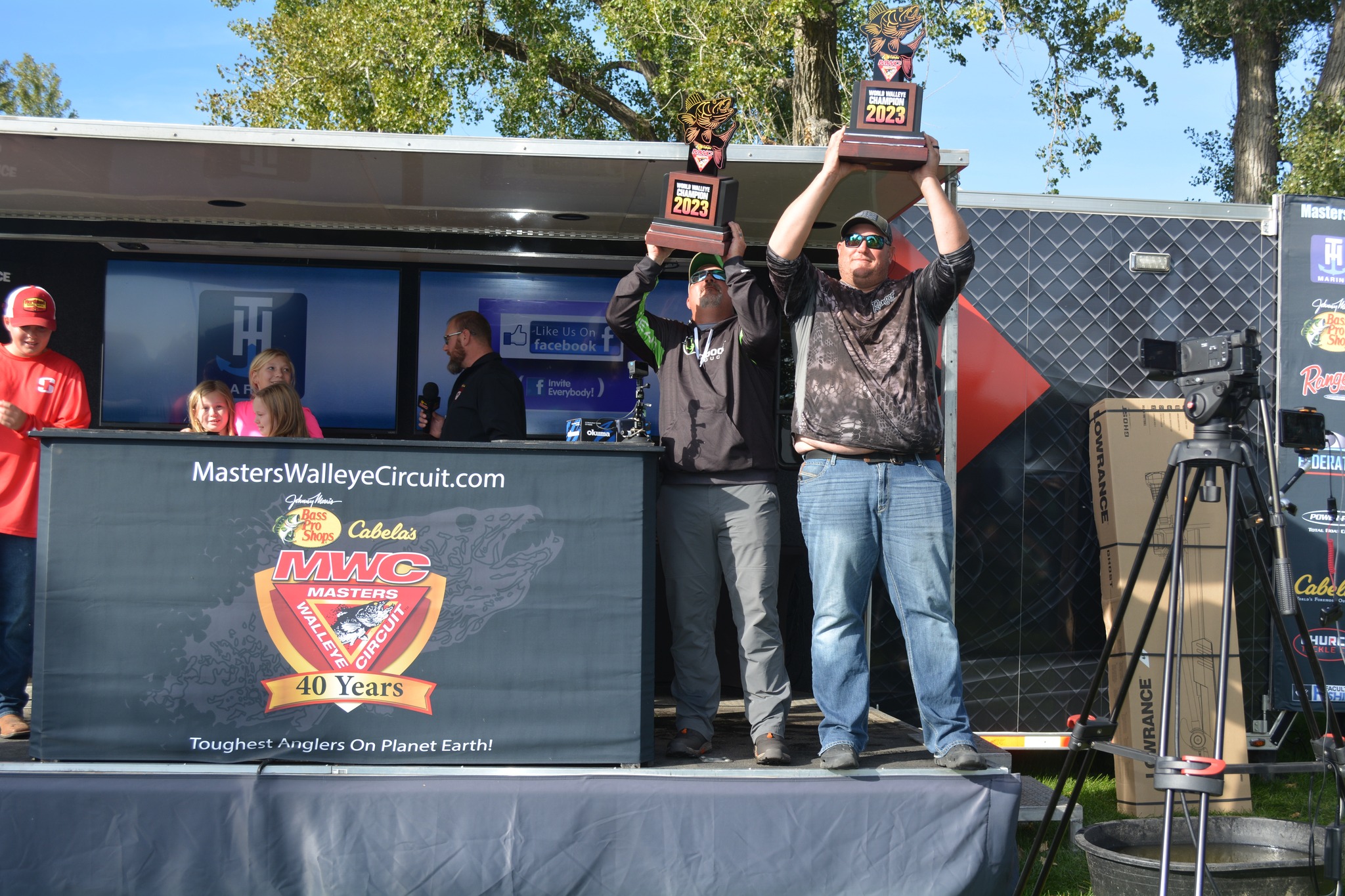 Bass Pro Shops & Cabela's – The World's Foremost Outfitters, are in their 22nd season as the title sponsor of the Masters Walleye Circuit. Official sponsors include: Lowrance Electronics, Mercury Marine, Ranger Boats, and Dakota Lithium Batteries. Associate sponsors include: The Walleye Federation, Church Tackle, FishLab, Okuma, Power-Pole and T-H Marine. For more information, or to sign-up visit the MWC website at www.masterswalleyecircuit.com or call the national office at 580-765-9031 or email support@masterswalleyecircuit.com.