Walker, Minn. — September 23, 2019 — This season's race for "Team of the Year" (TOY) saw 3 different lead changes and the final challenge came down to who would have the better weekend when the "Toughest Walleye Anglers on Planet Earth" took to the water on Minnesota's Leech lake. Presented by Lowe Equipment, Chase on the Lake hosted the eighth stop of the Bass Pro Shops and Cabela's Masters Walleye Circuit (MWC).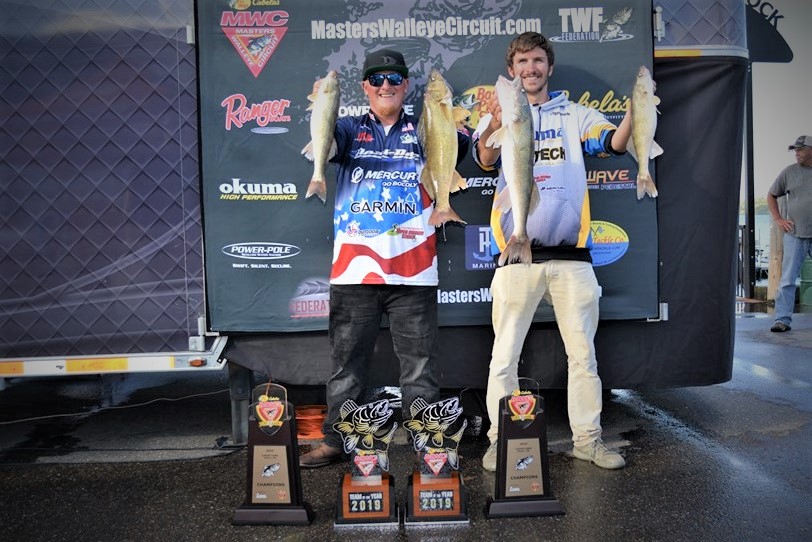 With a shot at TOY looming and the tournament lead after day one (21-04), the 2018 MWC Team of The Year, Max Wilson (Campbellsport, WI) and Isaac Lakich (Richfield, WI), set their eyes on something they hadn't yet achieved, a Bass Pro Shops and Cabela's MWC win. With a win, they would sweep the weekend, securing back-to-back TOY and reaching the top spot at the final event of the 2019 regular season.
"Isaac found something out there that has worked all week." said Max on stage after weighing-in on day one. "He found this on Tuesday and if it goes tomorrow, I think we can win this." Leech Lake has lots of different places to find large walleye, most anglers at the event will tell you the challenge was finding the 17-19" fish to go along with the 25-27" fish seemingly found easily.
On the second and final day, Wilson and Lakich, now with a target on their back, set out to secure the win and a second TOY award. They had to wait to weigh-in until the final moments of the event. Needing 16-03 to win, together Max and Isaac set their basket down on the scale. As the scaled locked, the 19-00, 5-fish limit set elation and emotion coursing through many who were there. None more than Max and Isaac. With total weekend weigh of 40-04, the duo were now champions.
"We just went out and fished." Said Isaac as the crowd continued to clap" we knew that if we could repeat what we have been doing every day since Tuesday, this would work. We knew that if we didn't worry about others, we just did what we had to do, this could happen" Isaac and Max used their electronics to target specific fish in the schools and cast directly to them to. "This is so special to us," Max continued. "this year just felt different to us, you know? We really worked well together and stuck to what we knew."
Wilson and Lakich took home $26,950 in cash and prizes, including the $10,800 first-place cash payout, $3,800 option pot cash, $500 AirWave certificate, $850 Day-One Big Fish, and a $1,000 Bass Pro Shops and Cabela's National Team Championship Prize Package, include paid entry into the Bass Pro Shops and Cabela's NTC, travel stipend, team jerseys and plaques. The team also won the $10,000 Team of the Year "Living the Dream" package, including travel stipend, entry fees and lodging for the 2020 MWC season.
The rest of the top five teams:
2nd: Jake Caughey & Dan Steffen 38-01, $5,650 cash, $500 Lowrance bonus, (2) Okuma fishing reels
3rd: Dylan Maki & Colt Anderson 38-0, $3,850 cash
4th: Chuck Hasse & Randy Topper 37-09, $2,750 cash, $2,600 option pot cash
5th: George Wells & Wil Neururer 37-06, $2,200 cash
The 8th place team of Nate Leininger & Nick Willardson won the $1,000 Ranger Cup bonus.
All together the Bass Pro Shops and Cabela's Masters Walleye Circuit awarded $58,523.50 in cash and prizes in Leech Lake.
497 fish weighed a total of 1750lbs- 05ozs during the event. Ryan & Cory Hylla took home "Big Fish" honors with their 8-15 walleye on Saturday. National Professional Angler Association members Stephen and Brenda Picht presented the NPAA's Youth and Family Fishing Clinic Friday afternoon, immediately following the weigh-in and gave away fishing rods to attendees.
Under the umbrella of The Walleye Federation (TWF), the Bass Pro Shops and Cabela's Masters Walleye Circuit is North America's longest-running and undisputed leader in team walleye tournaments and as an inductee into the freshwater fishing hall of fame, has set the standard for competitive walleye fishing for 35 years and is open to avid walleye anglers from all walks of life. The 2019 schedule includes eight qualifiers in six states, plus the 2020 Bass Pro Shops and Cabela's MWC World Walleye Championship.
Bass Pro Shops and Cabela's – The World's Foremost Outfitters, are in their 18th season as title sponsor of the Masters Walleye Circuit. Official sponsors include: Lowe Equipment Attachments, Lowrance Electronics, Mercury Marine, Ranger Boats and The Walleye Federation. Associate sponsors include: AirWave Pedestals, Church Tackle, MotorGuide, Okuma, Power-Pole and T-H Marine. For more information, email info@masterswalleyecircuit.com, or call (580) 765-9031.