Wilson, Lakich Crowned Cabela's Masters  Walleye Circuit 2018 Team of the Year
Ponca City, Okla.—Sept. 28, 2018—Wisconsin's young guns Max Wilson and Isaac Lakich put together a stellar season on a variety of North America's top walleye destinations to earn the coveted title of the Cabela's Masters Walleye Circuit's 2018 Team of the Year.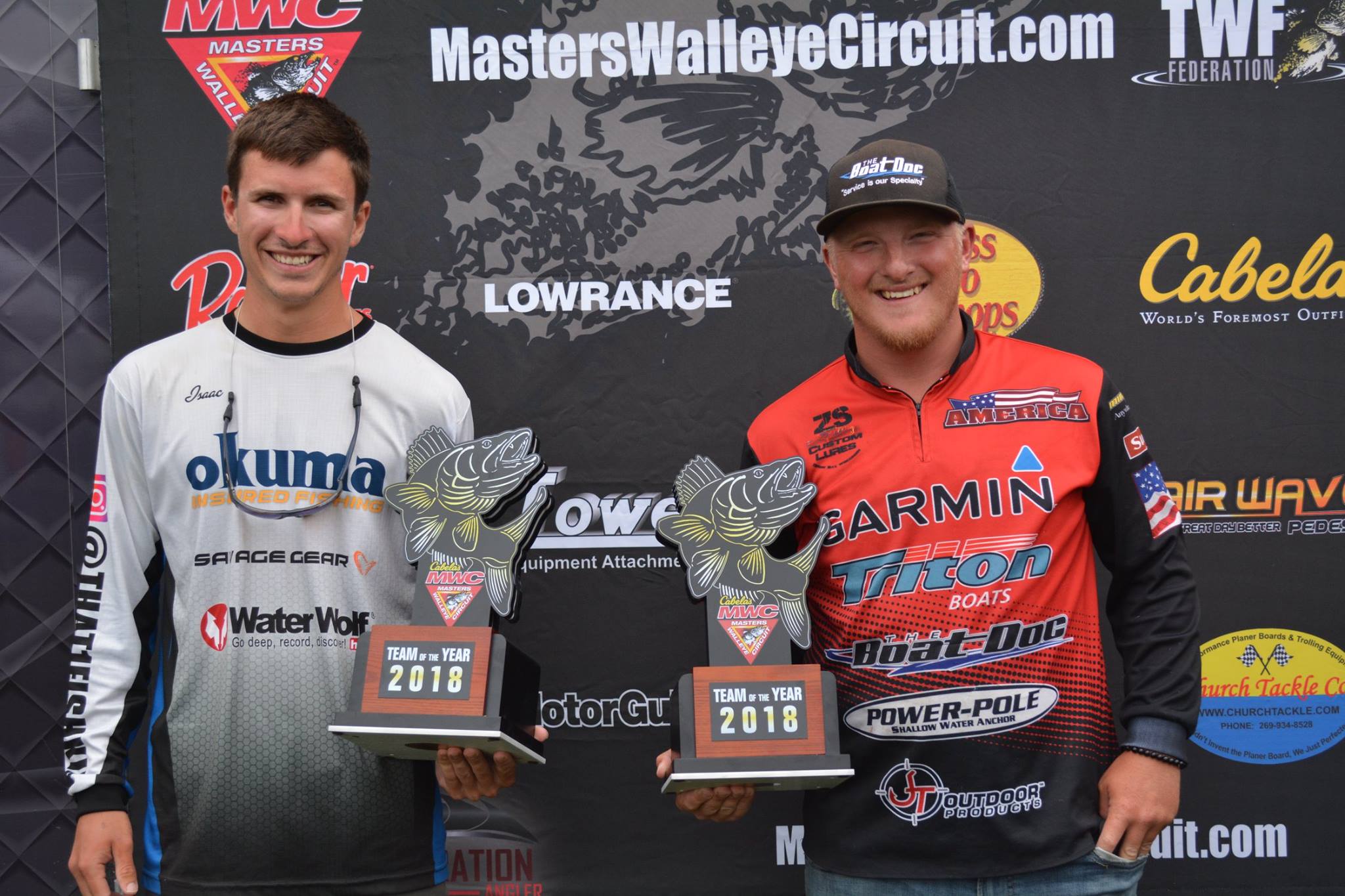 Wilson, 22, of Wales, and Lakich, 23, of Richfield, racked up 581 points during their top four regular season tournaments after placing sixth at the Illinois River, 12th at Lake Erie, 16th at Lake McConaughy and 22nd at the Detroit River.
"This is one of the biggest awards you can win in professional walleye fishing, and something every competitive walleye angler strives for," said Wilson. "Winning an MWC tournament is awesome. But winning MWC Team of the Year shows you had a great overall season on multiple bodies of water, and in our case, against anglers with many more years of experience than us. It's a wonderful, exciting feeling."
"I'm honestly in disbelief," added Lakich. "I can't believe that as young as we are, we accomplished something many extremely talented anglers have worked their whole careers toward. I'm humbled by it, and even more excited to see what the future brings."
Wilson and Lakich credited their ability to work together and their blend of complementary fishing skills for their MWC Team of the Year title, along with a mutual determination to fight to the finish.
"Our season was defined by fishing hard until the buzzer," Wilson reported. "During three different tournaments, we faced serious challenges on day two—sometimes late in the day—and managed to overcome them by staying focused until the last minute. At Lake Erie, for example, with five minutes left to fish we caught a 12-pounder that kept our Team of the Year dreams alive."
Teams fishing at least four MWC qualifiers compete for Team of the Year awards. Top prize is a $10,000 MWC Living the Dream sponsorship package that includes paid entry fees into four 2019 MWC tournaments, lodging, cash stipends and more. Wilson and Lakich also earned a berth in the 2018 Cabela's MWC World Walleye Championship. The next four finishers in the Team of the Year Race each received a paid entry in the Cabela's National Team Championship (NTC); plus, teams fishing second through 10th divvied up $10,000 in cash and Cabela's gift cards.
Rounding out the top five teams were:
2nd: Mark Lemke, Walter Price, 575 points
3rd: Wayne Butz, Scott Cisewski, 569 points
4th: Mike Hanson, James Debernardi, 568 points
5th: Joe Miller, Mark Barden, 551 points
North America's longest-running and undisputed leader in team walleye tournaments, the Cabela's MWC has set the standard for competitive walleye fishing since 1984. Operated under the umbrella of The Walleye Federation (TWF), the Cabela's MWC is open to avid walleye anglers from all walks of life.
The 2018 tournament schedule included eight regular season qualifiers in seven states, plus the 2018 Cabela's MWC World Walleye Championship at Bays de Noc, Michigan. The 2019 schedule will be announced shortly. Visit masterswalleyecircuit.com for updates, official rules and registration information.
Cabela's, the World's Foremost Outfitter for hunting, fishing and outdoor gear, concluded its 17th season as title sponsor of the MWC. Official sponsors include: Bass Pro Shops, Lowe Equipment Attachments, Lowrance Electronics, Mercury Marine, Ranger Boats and The Walleye Federation. Associate sponsors include: AirWave Pedestals, Church Tackle, MotorGuide, Okuma, Power-Pole and T-H Marine. For more information, email info@masterswalleyecircuit.com, or call (580) 765-9031.
###