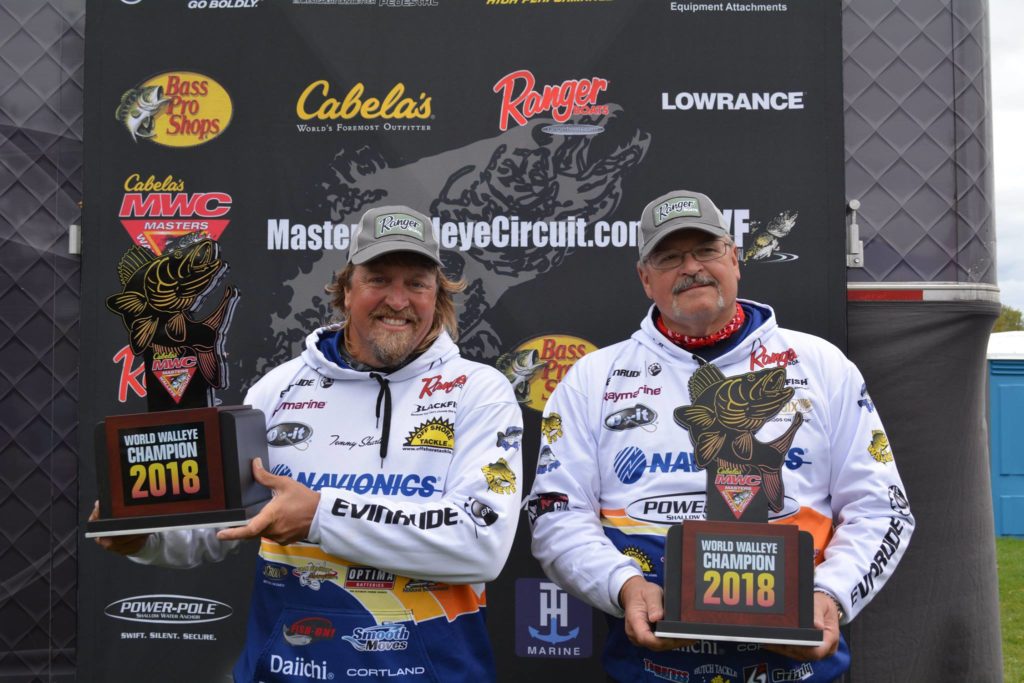 Skarlis, Lahr Win BACK to BACK World Walleye Championship Titles on the Cabela's Masters Walleye Circuit Presented by Cabela's
Escanaba, Mich.—Oct. 6, 2018—Iowa's Tommy Skarlis and Jeff Lahr rallied on the final day to win the elite national walleye event, the Cabela's Masters Walleye Circuit's 2018 World Walleye Championship Oct. 4-6 on Bays de Noc out of Escanaba, Michigan.
In doing so they have secured their position as some of the world's most elite walleye anglers by placing their names in the walleye records books as the only team of win back to back World Walleye Championships in the last 25 years. Not since walleye legends Gary Gray and Bill Klotzbuecher accomplished that feat back in the 92 and 93 seasons has anyone been able to retain their crowns as MWC World Walleye Champions in back to back years.
Skarlis and Lahr won the 2017 MWC World Walleye Championship on Minnesota's Cass Lake Chain, then started the 2018 year off with a win for their team at the MWC season opener at Spring Valley and closed it out with their second world title at Escanaba last weekend.
"The feeling is surreal," said Skarlis, of Denver. "We are so blessed. I've fished the MWC for almost 30 years and this is where you hone your skills and make the best friends of your life. Winning a second MWC World Walleye Championship is going to take a while to sink in."
"It's pretty amazing," added Lahr, of Dubuque. "I'm blessed to have such an awesome partner. Once he finds the fish he will figure out a way to catch them."
Lahr and Skarlis brought a 14-pound, 3-ounce, 5-fish limit to the scale on day one. They followed up with a 17-pound, 4-ounce limit on day two and 23-pound, 7-ounce limit on day three for a 54-pound, 14-ounce total weight that lifted them 4 ounces over their nearest rivals.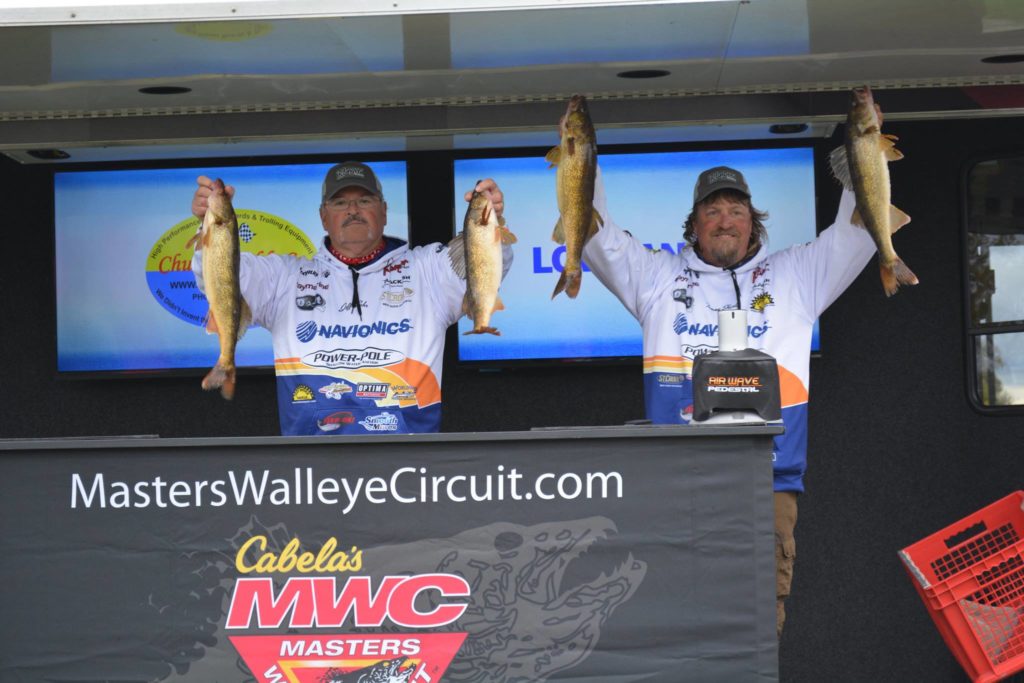 They boated their winning walleyes by vertical jigging and casting in depths ranging from 18 down to 50 feet. "Most of the big fish came in 22 feet of water," Skarlis said, noting the team's mapping software was key in positioning their boat in the perfect spot to execute their presentations.
Presented by Cabela's and hosted by the Bays de Noc Convention and Visitors Bureau, the three-day event featured the top 32 teams from the 2017 MWC season, which spanned five states and included seven qualifiers on world-class walleye waters including the Illinois, Detroit and St. Marys rivers, Green Bay, Big Stone Lake, Lake Winnebago and Devils Lake. Championship anglers were battling for a share of more than $103,000 in cash and prizes.
Lahr and Skarlis collected $17,598 in winnings, including a $16,598 prize package comprised of $10,000 in cash, a Power-Pole Pro Pole II, MotorGuide XI5, Lowrance HDS 7 Carbon electronics, AirWave seat pedestal and $200 T-H Marine gift pack, along with a pair of custom trophies and Cabela's MWC champions' rings. They also won the $1,000 Ranger Cup contingency.
Rounding out the top five were: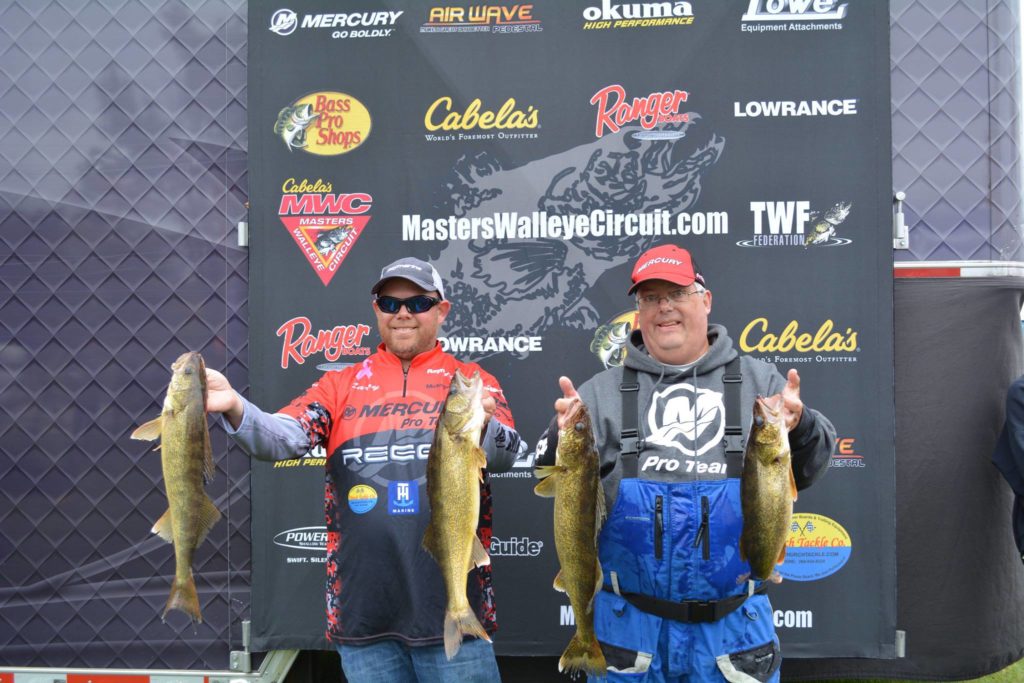 2nd: Larry Rhoads, Dan Johnson, 54-10, $5,000 cash
3rd: Kevin Dahl, Steve Stack, 49-01, $3,000 cash
4th: Chris and Joe Kujawa, 43-02, $2,500 cash plus $500 Lowrance Electronics bonus
5th: Sam Capelli, Erick Williams, 42-04, $2,000 cash
All teams shared in the remainder of the payout, cashing $1,500 checks all the way out to 32nd place. In all, the Cabela's MWC awarded $103,899 in cash and prizes.
A total of 241 walleyes weighing 830 pounds, 12 ounces were brought to the scale during the championship and returned to Bays de Noc in the Circuit's time-tested and research-proven catch-and-release format.
Escanaba Harbor hosted takeoffs and weigh-ins, which drew enthusiastic crowds to cheer on the MWC anglers. The action was also broadcast live online via streaming video coverage and an updated leaderboard, both at masterswalleyecircuit.com. On-the-water and weigh-in footage was also filmed for national television airing on Federation Angler TV. For details and episode schedules, visit federationangler.com.
As a bonus for budding walleye anglers, the Cabela's MWC and National Professional Anglers Association presented a Youth & Family Fishing Clinic immediately following Friday's weigh-in, offering fishing, safety and conservation advice plus free rod-and-reel combos courtesy of the NPAA.
The MWC World Walleye Championship is the only national walleye event that you must qualify to get into, you must perform or you don't get in only the best of the best are invited.  For Skarlis and Lahr, they have already qualified for the 2019 World Championship next on Lake Winnebago in Oct 2019 which means they have the once in a lifetime shot at making it three in a row, a feat that has never been accomplished by anyone, anywhere in any major competitive fishing event of any kind, if they can pull off another World Walleye Championship win in 2019.
North America's longest-running and undisputed leader in team walleye tournaments, the Cabela's MWC has set the standard for competitive walleye fishing since 1984. Operated under the umbrella of The Walleye Federation (TWF), the Cabela's MWC is open to avid walleye anglers from all walks of life.
The Cabela's MWC's 2019 schedule has already been announced and features eight qualifiers.
Locations include the Illinois River, Detroit River (river only), Big Stone Lake, Lake McConaughy, Lake Erie, Sturgeon Bay, Devils Lake and Leech Lake. Visit masterswalleyecircuit.com for tournament dates, official rules and registration information.
Cabela's, the World's Foremost Outfitter for hunting, fishing and outdoor gear, is wrapping up its 17th season as title sponsor of the MWC. Official sponsors include: Bass Pro Shops, Lowe Equipment Attachments, Lowrance Electronics, Mercury Marine, Ranger Boats and The Walleye Federation. Associate sponsors include: AirWave Pedestals, Church Tackle, MotorGuide, Okuma, Power-Pole and T-H Marine. For more information, email info@masterswalleyecircuit.com, or call (580) 765-9031.
###