Cabela's Masters Walleye Circuit Announces 2019 Team Walleye Tournament Schedule
 Lineup Loaded With World-Class Walleye Fishing, Exciting Competition And Hefty Payouts
Ponca City, Okla.—Oct. 4, 2018— The Cabela's Masters Walleye Circuit's 2019 team tournament schedule offers competitive walleye anglers high-stakes, exciting team-format competition in a professionally run setting on North America's premier walleye destinations.
The Cabela's MWC's 2019 trail includes eight qualifiers in seven states, in which anglers will battle for cash, prizes and coveted berths in the 2020 Cabela's MWC World Walleye Championship.
"As we've done in seasons past, the MWC worked closely with our anglers to create a schedule that visits a diverse selection of fisheries at peak fishing times," says MWC President and CEO Robert Cartlidge. "The 2019 lineup includes a great mix of rivers, inland lakes, reservoirs and big-water destinations—all when the walleyes are biting."
The 2019 Cabela's MWC tournament schedule includes: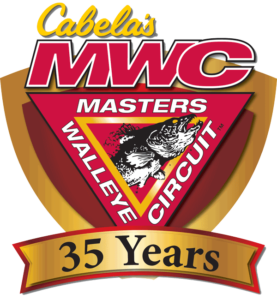 March 22-23               Illinois River, Spring Valley, IL
April 12-13                 Detroit River (river only), Trenton, MI
April 26-27                 Big Stone Lake, Ortonville, MN
May 17-18                  Lake McConaughy, Ogallala, NE
June 21-22                  Lake Erie, Port Clinton, OH
August 2-3                  Sturgeon Bay, Sturgeon Bay, WI
August 16-17              Devils Lake, Devils Lake, ND
Sept. 20-21                  Leech Lake, Walker, MN
Oct. 3-5, 2019             MWC World Walleye Championship, Lake Winnebago, WI*
(*qualifying teams from 2018 MWC tournament season)
The Cabela's MWC's lucrative payouts, based on the number of teams entered in each event, provide even more inspiration to join the fun. In addition, the MWC big-fish pot, option pot payouts and sponsor bonuses including Ranger Cup, Lowrance Electronics, Okuma, AirWave and T-H Marine Atlas Awards add thousands more to the total. As a result, winners routinely pocket $10,000 to $15,000 or more in cash and prizes. Plus, the first-place team wins a $1,000 Cabela's National Team Championship Prize Package including paid NTC entry, travel stipend, team jerseys and plaques.
Teams fishing three or more tournaments also compete for coveted berths in the Cabela's MWC World Walleye Championship, which is comprised of the top point-accumulating teams from the previous year's season and offers payouts based on the previous year's participation. Teams that qualify in 2019 will fish the 2020 championship, which is set for October 8-10, 2020 on the Mississippi River out of Quad Cities, Illinois.
Teams fishing at least four qualifiers compete for Team of the Year awards including a $10,000 "MWC Living the Dream" sponsorship package and thousands more in cash, Cabela's gift cards and paid tournament entries.
North America's longest-running and undisputed leader in team walleye tournaments, the Cabela's MWC has set the standard for competitive walleye fishing since 1984. Operated under the umbrella of The Walleye Federation (TWF), the Cabela's MWC is open to avid walleye anglers from all walks of life, regardless of sponsor or club affiliations. Registration for 2019 events will open in January. Visit masterswalleyecircuit.com for updates, official rules and registration information.
Cabela's, the World's Foremost Outfitter for hunting, fishing and outdoor gear, is wrapping up its 17th season as title sponsor of the MWC. Official sponsors include: Bass Pro Shops, Lowe Equipment Attachments, Lowrance Electronics, Mercury Marine, Ranger Boats and The Walleye Federation. Associate sponsors include: AirWave Pedestals, Church Tackle, MotorGuide, Okuma, Power-Pole and T-H Marine. For more information, email info@masterswalleyecircuit.com, or call (580) 765-9031.
###