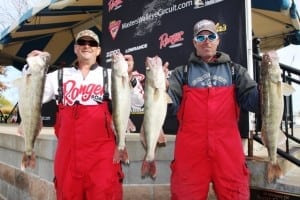 Huron, Ohio—Oct. 23, 2015—A solid 24-pound, 9-ounce, 5-fish limit lifted Canadians Greg Whitson and Mark Campeau into the lead on day two of the Cabela's Masters Walleye Circuit's 2015 World Walleye Championship on Lake Erie today.
Presented by Cabela's, the three-day event pits the top point-accumulating teams from the 2014 MWC season against one another for their share of more than $100,000 in cash and prizes. Plus, sponsor contingencies including Ranger Cup, Lowrance Electronics, Abu Garcia, Okuma and the Zippo Hot Hands Big Fish Award add thousands more to the total.
The catch gave Whitson and Campeau a 10-fish, 48-pound, 9-ounce two-day total. It was a notable accomplishment during a day marked by heavy seas and numerous position changes on the MWC leaderboard. For example, after breaking the 30-pound barrier with a 30-05 limit in the first round of competition, day one leaders Matt Davis and Dan Geis managed just two fish for 5 pounds, 8 ounces today and fell to 10th with 35-13.
While Whitson and Campeau are sitting more than four pounds ahead of their nearest rivals—Randall Gaines and Mike Rhoades—they're not resting on their laurels.
"That's nothing on Lake Erie," confided Whitson, of Windsor, Ontario. "Anything can happen. We were very fortunate today and are going out tomorrow with the exact same program we've used the past two days."
That program produced a flurry of fish this morning. In fact, the pair caught their first walleye within two minutes of dropping a line in the water, and put five fish in the livewell on their first pass.
"That took the pressure off," said Campeau, of St. Joachim, Ontario.
As gusting winds riled Erie's surface, Whitson was thankful for a reliable fishing platform. "Some waves were better than six footers," he said. "We felt fortunate to be in our Ranger boat with the conditions out there."
With a south wind of 16 to 21 mph looming in the forecast for day three, Whitson and Campeau were confident their pattern would hold up.
"I don't think it's going to hurt us," said Campeau. "We lit up that spot on a southwest wind during prefishing."
Six-year MWC veterans and lifelong fishing buddies, Whitson and Campeau are on a roll this season, having won the Circuit's Bays de Noc qualifier out of Escanaba July 31-Aug. 1. With 49 teams competing for the coveted crown, however, it's a safe bet that more than one team will make a concerted effort to topple them.
The action resumes Saturday morning with take-off set for just after 7 a.m. at the Huron Boat Basin. Teams are due back at 3 p.m. for the final weigh-in, which is free and open to the public. Adding to the excitement, the event is being filmed for national television airing on Federation Angler TV, which appears on NBC Sports and the Pursuit Channel.
As a bonus for young walleye anglers, the Cabela's MWC, National Professional Anglers Association, Pure Fishing and Zippo Outdoor Brands will present a Youth & Family Fishing Clinic immediately after Saturday's weigh-in, with participating youths receiving rod-and-reel combos courtesy of the NPAA.
Under the umbrella of The Walleye Federation (TWF), the Cabela's MWC is open to avid walleye anglers from all walks of life. The 2016 schedule will be released shortly.
Cabela's, the World's Foremost Outfitter for hunting, fishing and outdoor gear, is concluding its 14th season as title sponsor of the MWC. Official sponsors include: Berkley Gulp!, Abu Garcia, Lowe Equipment Attachments, Lowrance Electronics, Mercury Marine, Ranger Boats, MotorGuide, The Walleye Federation and Zippo Outdoor Brands. Associate sponsors include: Yellow Bird Fishing Products, Okuma, T-H Marine and Tight Lines Jewelry. For more information, visit masterswalleyecircuit.com, email info@masterswalleyecircuit.com, or call (580) 765-9031.