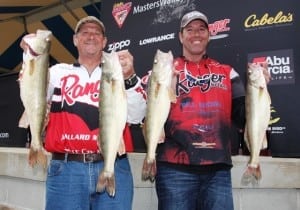 Huron, Ohio—Oct. 24, 2015—Ontario, Canada's Greg Whitson and Mark Campeau compiled a consistent three-day tournament performance to win the Cabela's Masters Walleye Circuit's 2015 World Walleye Championship on Lake Erie out of Huron, Ohio.
Presented by Cabela's, the three-day event Oct. 22-24 featured the top 49 point-accumulating teams from the 2014 MWC season. Whitson and Campeau topped the talented field by bringing 5-fish limit catches to the scale each day, including a 24-pound basket on day one, 24 pounds, 9 ounces on day two, and 17 pounds, 3 ounces on day three for a 65-pound, 12-ounce three-day total weight.
"I can't believe it," said Whitson, of Windsor, moments after claiming the crown in front of a great crowd gathered at the Huron Boat Basin. "We put a lot of work into this and it's taken a lot of years to get to this point."
"It's incredible," added Campeau, of St. Joachim. "I wouldn't have wanted to win it with anyone but Mark."
Whitson and Campeau collected more than $21,000 including the $15,000 first-place cash prize, along with a $1,000 Ranger Cup contingency, $500 Lowrance Electronics bonus, $200 Okuma bonus, custom World Champions' rings by Tight Lines Jewelry and $3,650 from the option pot.
Tournament partners for six seasons and lifelong friends, the pair claimed their first MWC win this past summer by trolling spinner rigs at the Circuit's Bays de Noc qualifier on Lake Michigan out of Escanaba July 31-Aug. 1.
At the Championship, they tackled Lake Erie with a stickbait trolling program that hinged on running purplish, perch-colored baits as close to 1.5 mph as possible, 30 to 40 feet behind planer boards on 10-pound Berkley Trilene XT mainline. They focused on eight to 12 feet of water around the Kelleys Island and Gull Island shoals.
Rounding out the top five were:
2nd: Jaimee Tourangeau, Ross Neubauer, 59-14, $7,000
3rd: Randall Gaines, Mike Rhoades, 59-14, $4,000 plus $2,700 from the option pot
4th: Tim Ahrens, Mickey Stuefen, 52-14, $3,000
5th: Matt Davis, Dan Geis, 51-13, $2,000 plus $1,700 from the option pot
Michael McCardle and Scott Valleskey claimed the $200 Zippo Hot Hands Big Fish Award and $200 Abu Garcia reel bonus for catching an 8-pound, 13-ounce trophy walleye that was big fish of the championship. In all, more than $100,000 in cash and prizes were awarded through the World Championship and Team of the Year race.
A total of 370 walleyes weighing 1,427 pounds, 1 ounce crossed the scale during the three-day tournament. Walleye fans of all ages watched the drama unfold at the weigh-ins, which were held daily at the Huron Boat Basin amphitheater. Immediately following Saturday's weigh-in, the Cabela's MWC, National Professional Anglers Association, Pure Fishing and Zippo Outdoor Brands presented a Youth & Family Fishing Clinic immediately after Saturday's weigh-in, with participating youths receiving rod-and-reel combos courtesy of the NPAA.
Adding to the excitement, on-the-water and weigh-in action was filmed for national television airing on Federation Angler TV, which appears on NBC Sports and the Pursuit Channel. Check federationangler.com for dates and airtimes.
Under the umbrella of The Walleye Federation (TWF), the Cabela's MWC is open to avid walleye anglers from all walks of life.
Cabela's, the World's Foremost Outfitter for hunting, fishing and outdoor gear, is concluding its 14th season as title sponsor of the MWC. Official sponsors include: Berkley Gulp!, Abu Garcia, Lowe Equipment Attachments, Lowrance Electronics, Mercury Marine, Ranger Boats, MotorGuide, The Walleye Federation and Zippo Outdoor Brands. Associate sponsors include: Yellow Bird Fishing Products, Okuma, T-H Marine and Tight Lines Jewelry. For more information, visit masterswalleyecircuit.com, email info@masterswalleyecircuit.com, or call (580) 765-9031.