Weickert, Balcer Win Cabela's Masters Walleye Circuit Cass Lake Regular Season Finale
Presented By Ranger Boats
Cass Lake, Minn.—Sept. 17, 2016—Minnesotans Steve Weickert and Joe Balcer sacked a 10-fish limit weighing 25 pounds, 2 ounces to win the Cabela's Masters Walleye Circuit's regular-season finale on northern Minnesota's Cass Lake Chain September 16-17 presented by Ranger Boats.
Weickert, of Bemidji, and Balcer, of New York Mills, opened the two-day, team-format tournament with a 5-fish limit weighing 14 pounds, 14 ounces. The weight would turn out to be the heaviest basket of the entire event, and put them atop the 98-team field. They followed up with a solid 10-pound, 4-ounce limit on day two to cement their position atop the leaderboard.
"This is surreal, it's an amazing feeling," said Weickert, who guides on the popular Northwoods walleye destination, which includes Cass, Buck, Andrusia, Big Wolf and Kitchi lakes, plus Pike Bay. "We've knocked on the door a few times in past MWC events on Cass Lake, but this time it all came together."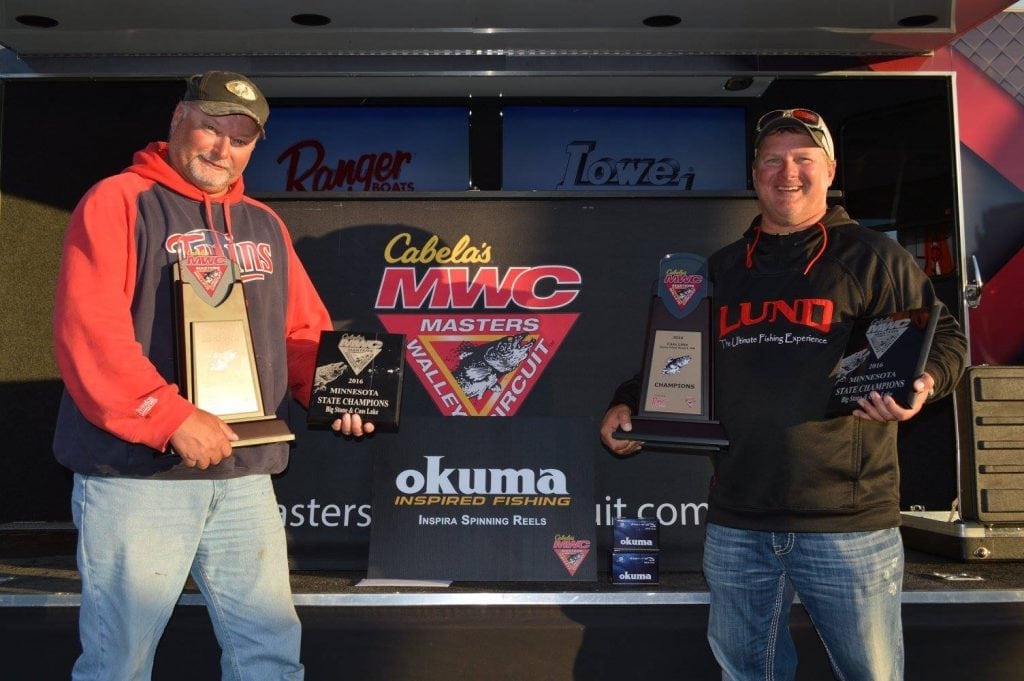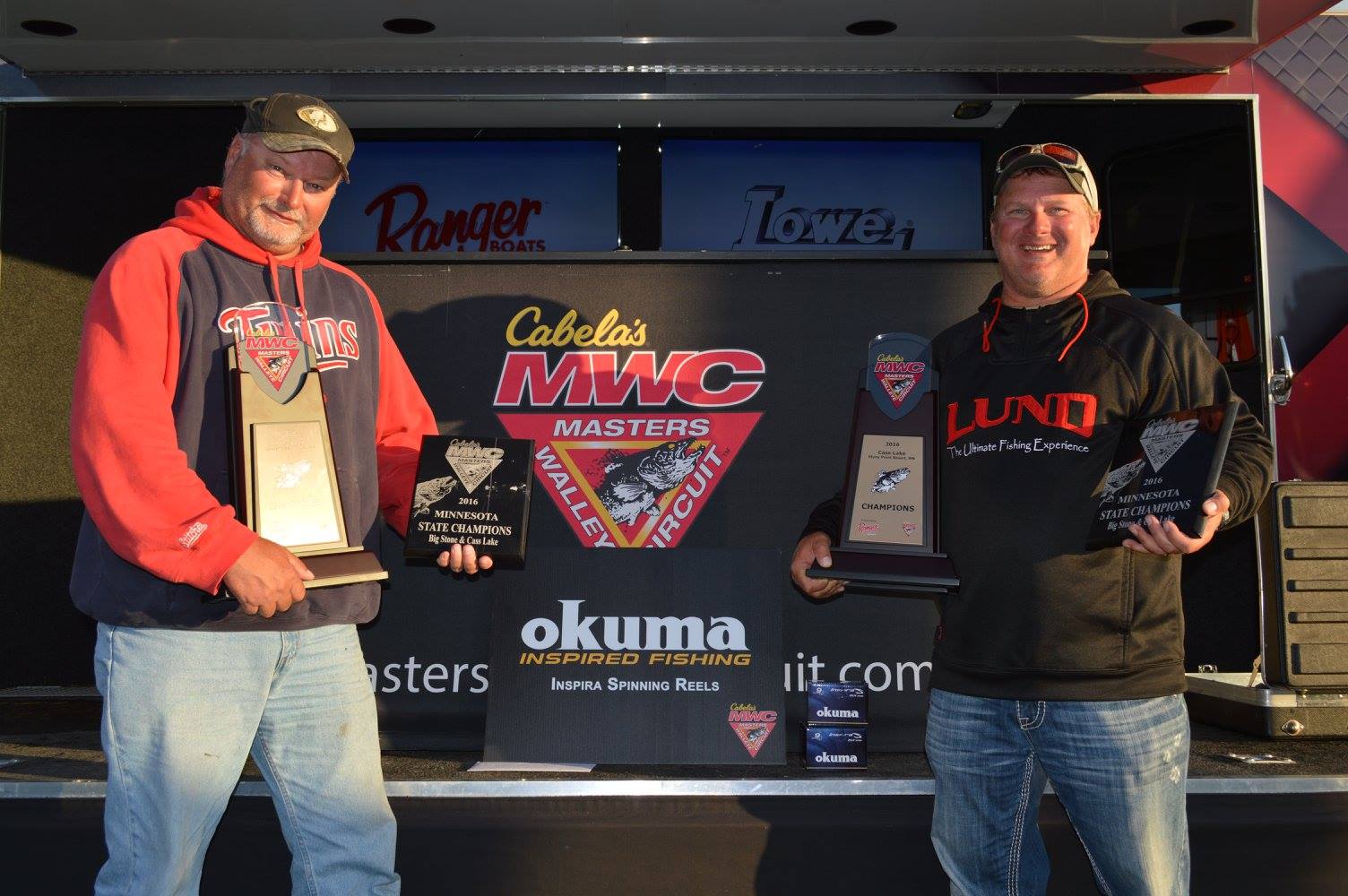 "I was speechless on stage," added Balcer. "I've been fishing tournaments for 30 years, and winning a major event has always been a goal. Now I can cross this off my bucket list."
The win was worth $14,700 including $13,000 in first-place cash, a $500 AirWave certificate and $200 Okuma bonus. They also won a $1,000 Cabela's National Team Championship Prize Package including paid entry into the 2017 NTC, travel stipend, team jerseys and plaques.
Because all 2016 Cabela's MWC tournaments are designated as "State Championship Qualifying Events," Weickert and Balcer also earned the title of Minnesota State Walleye Champions. Besides bragging rights, they claimed custom state champions' prizes and awards, a berth in the Cabela's 2017 NTC, and a spot on the MWC website's Wall of Fame.
Balcer and Weickert relied on a carefully crafted, two-fisted strategy. They fished live bait rigs and jigs tipped with redtail chubs in and around cabbage beds in 12 to 14 feet of water for a limit of fish, then targeted the inside turns on steep-breaking points in deeper water for the big bite.
The plan worked wonders on day one. But changing conditions on day two tested their skills and ability to adapt. "The deep bite didn't produce for us, and the weedbed walleyes moved from the deep edge of the cabbage to the inside edge when the wind picked up," Weickert explained. "We stuck to our game plan, though, and it worked out in the end."
Rounding out the top five were:
2nd: Aaron Templin, Chuck Hasse, 24-06, $6,050 plus $500 Lowrance Electronics contingency
3rd: Abraham Wolf, Amos Wolf, 24-04, $4,000 plus $3,850 from the option pot
4th: Lorin Skipper, Justin Skipper, 24-02, $3,300 plus $1,000 Ranger Cup bonus
5th: Troy Morris, Corey Heiser, 23-12, $2,700 plus $2,700 from the option pot
Big fish of the tournament was a 7-pound, 5-ounce beauty caught by Jim Preissner and Mike Olson, worth $900 from the MWC Big Fish Pot. In all, the Cabela's MWC awarded $68,040 in cash and prizes.
A total of 686 walleyes weighing 1,117 pounds, 3 ounces crossed the scale at Stony Point Resort. Adding to the fun, the Cabela's MWC, National Professional Anglers Association and Pure Fishing presented a Youth & Family Fishing Clinic immediately after the day-one weigh-in, with participating youths receiving rod-and-reel combos courtesy of the NPAA.
Under the umbrella of The Walleye Federation (TWF), the Cabela's MWC is open to avid walleye anglers from all walks of life. The 2016 schedule included seven qualifiers in six states on a diverse selection of the Walleye Belt's finest rivers, inland lakes and big-water fisheries. The Cass Lake event was the final regular-season tournament. The 2016 Cabela's MWC World Walleye Championship, which features the top teams from the 2015 MWC season, is set for Oct. 6-8 on the Bay of Green Bay out of Green Bay, Wisconsin.
Cabela's, the World's Foremost Outfitter for hunting, fishing and outdoor gear, is in its 15th season as title sponsor of the MWC. Official sponsors include: Berkley Gulp!, Abu Garcia, Lowe Equipment Attachments, Lowrance Electronics, Mercury Marine, Ranger Boats and The Walleye Federation. Associate sponsors include: AirWave Pedestals, G-Juice, MotorGuide and Okuma. For more information, visit masterswalleyecircuit.com, email info@masterswalleyecircuit.com, or call (580) 765-9031.
###