Tyson Keller and Brandt Becker Pull Off a Come From Behind Win on SoDak's Lake Oahe!
Presented by Lowrance
Gettysburg, South Dakota – August 21, 2022 – The stage was set and some walleyes in South Dakota's Lake Oahe came out to play for the second to final stop of the 2022 season on Bass Pro Shops and Cabela's Master's Walleye Circuit (MWC) tournament schedule. The anglers during this event took off on Friday morning with many options on the table. Some teams decided to make long runs north on the Missouri River and some decided to make long runs south while others were able to find some fish within eyesight of the Hwy 212 bridge just down river of the take-off location at West Whitlock State Park. Tyson Keller and Brandt Becker, from Pierre, SD, were one of those teams that decided to make a really long run on game day to find their fish. With plenty of time on the water over the last few weeks, Keller and his long-time friend and fishing partner, Brandt Becker, only brought in two fish on day one but they were two Oahe Giants that weighed in at 17-03 pounds and landed them in a tie for fourth place, there were only four-5 fish tournament limit brought to the scales on day 1.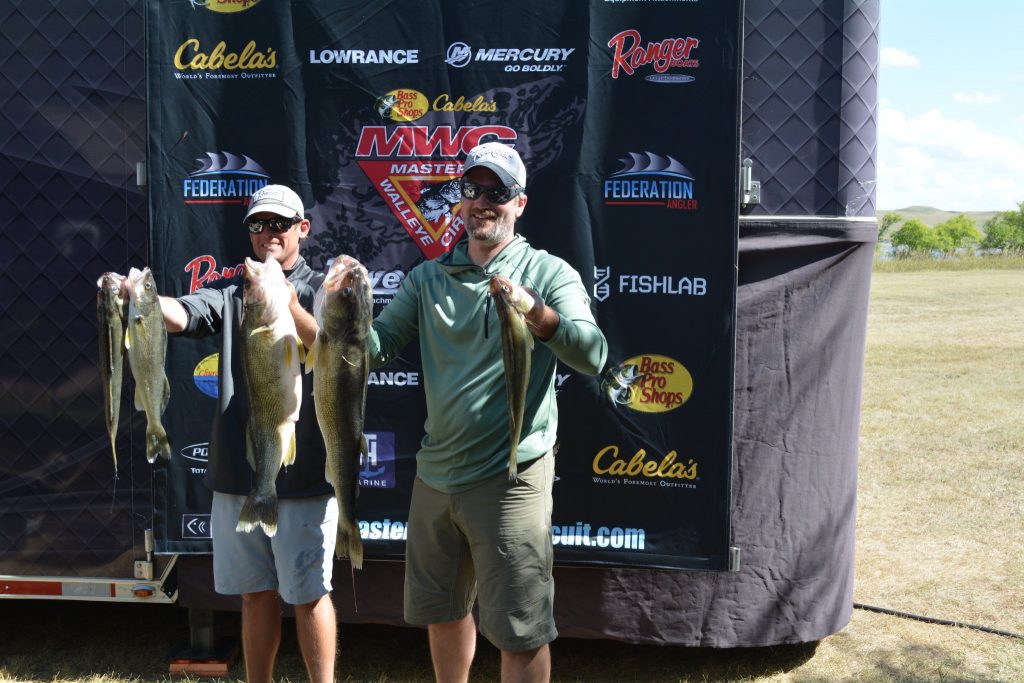 Day two started with it being anyone's event to win, the right five fish limit could propel more than a third of the field into the lead. There were only 6 five fish limits brought in on day however Keller and Becker had one and it was the largest of the event at 27-01 propelling them into the lead with 44pounds and 4 ounces. A huge win on Lake Oahe at the 6th stop of the 2022 MWC season.
In South Dakota anglers are only allowed to keep one walleye per person over 20 inches per day with a limit of 4 fish per person. The Oahe winners stated "The fish over 20 inches were easier to find that those under it seemed. They were just doing different things and wanted different presentations." Keller continued. "We had to work around and trust our electronics and gut instincts and grind it out." It was a mix of vertical jigging, casting, and trolling both hard baits and live bait to get the right fish to eat. All of that hard work and intuition paid off for them. The winners were rewarded with a top prize of almost $23,000 which included $9,700 cash, a $1,000 NTC prize package, $3,850 for the Option Pot, along with a $7,000 Ranger Cup Bonus, $1,000 Lowrance Bonus and (2) Okuma Reels for taking the win at the 6th stop of the 2022 Bass Pro Shops and Cabela's MWC on Lake Oahe, presented by Lowrance.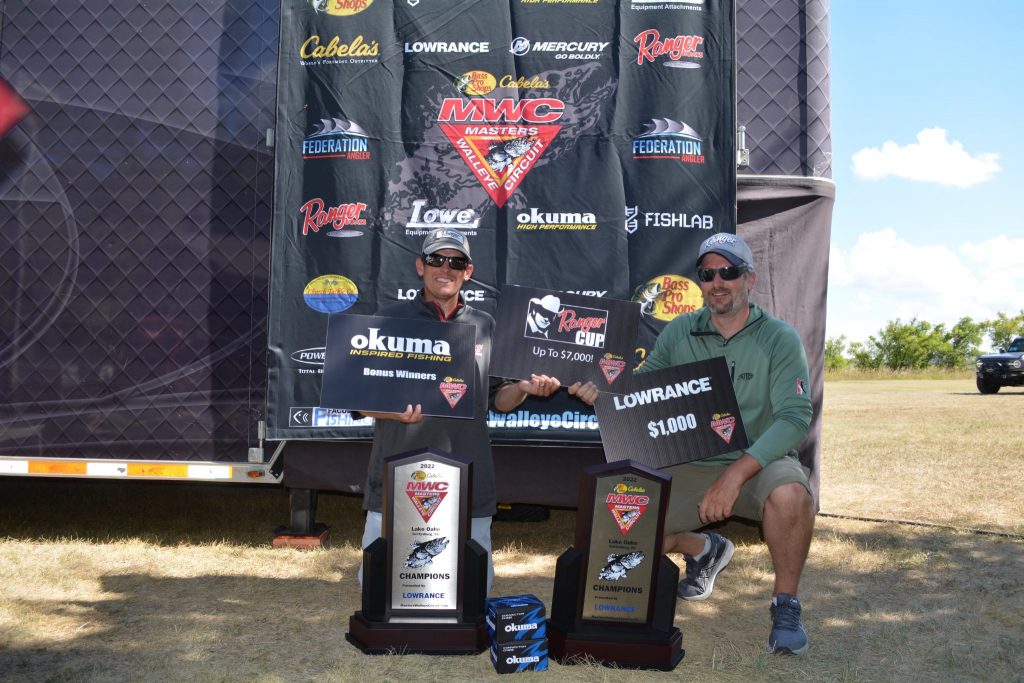 Here's a look at how the rest of the top 5 teams faired after this weekend:
2nd  Travor Diegel and Paul Steffen 38-06, $4,870 cash and $2,800 option pot
3rd Chris Haines and Ben Brown 34-02, $3,350 cash $2,060 option pot
4th Tom and Scott Albrecht 30-15, $2,500 cash and $1,500 option pot
5th Chad and Lane Thomas 30-11, $2,000 cash and $1,200 option pot
The total payout for the Lake Oahe event was $58,498 that paid out 12 places between 63 teams. The anglers caught a total of 190 walleyes that weighed 676-06 lbs combined. Big fish of the weekend was caught by Casey Williams and Kent Leibhart that weighed 12-04 lbs. The biggest sack of the weekend was caught by the winners, Keller and Becker with a weight of 27-01 lbs.
Everyone who traveled for this tournament was met with excellent accommodations. The city of Gettysburg, SD, including the local businesses and eager to help local residents, along with the staff of West Whitlock State Park were instrumental in getting this event planned and executing those plans. A huge THANK YOU is owed to all of the local businesses and folks that lent a helping hand in making this event possible!
Cass Lake is coming up! Registration is still open for the final event of the 2022 Bass Pro Shops and Cabela's Masters Walleye Circuit on Cass Lake in Minnesota! Cass Lake always draws a large crowd and many anglers from across the walleye world. If you're interested in joining us, you can sign up at MastersWalleyeCircuit.com! Registration ends on September 12th. We hope you can join us!
NEWS FLASH! The 2023 MWC schedule is also published already and posted online at MastersWalleyCircuit.com now is the time to start making plans to fish with us in 2023 and save those dates!
Under the umbrella of The Walleye Federation (TWF), the Bass Pro Shops and Cabela's Masters Walleye Circuit is North America's longest-running and undisputed leader in team walleye tournaments and as an inductee into the freshwater fishing hall of fame, has set the standard for competitive walleye fishing for the past 38 years and has directly donated hundreds of thousands and helped raise millions of dollars to support walleye & conservation programs nationwide. The MWC is open to walleye anglers from all walks of life. The 2022 schedule included seven qualifiers in six states, plus a berth into the 2023 Bass Pro Shops and Cabela's MWC World Walleye Championship.
Bass Pro Shops & Cabela's – The World's Foremost Outfitters, are in their 21st season as title sponsor of the Masters Walleye Circuit. Official sponsors include: Lowe Equipment Attachments, Lowrance Electronics, Mercury Marine, Ranger Boats. Associate sponsors include: The Walleye Federation, Church Tackle, FishLab, Okuma, Power-Pole and T-H Marine. For more information, email support@masterswalleyecircuit.com, or call (580) 765-9031.