Trombley and Schaefer Hold on to Day 1 Lead to Get the Win at Lake Huron
Presented by Ranger Boats
Oscoda, MI – June 23, 2022 – With a game plan set, Jacob Trombley (Gladwin, MI) and Peter Schaefer (Linwood, MI) set out on day-1 of the Bass Pro Shops and Cabela's Masters Walleye Circuit (MWC) event on one of the largest freshwater lakes in the world. There was no doubt after the results of the first day that this team had something figured out that would leave every other team scratching their heads and going back to the drawing board for the second day of the tournament. After a great bag that weighed 28-08 lbs. from day one that put them in the lead by over 7 lbs., these anglers turned around and brought in another solid bag that would give them a two-day total weight of 53-03 lbs., and seal the deal awarding them nearly $12,500 from the MWC and sponsors for their hard work!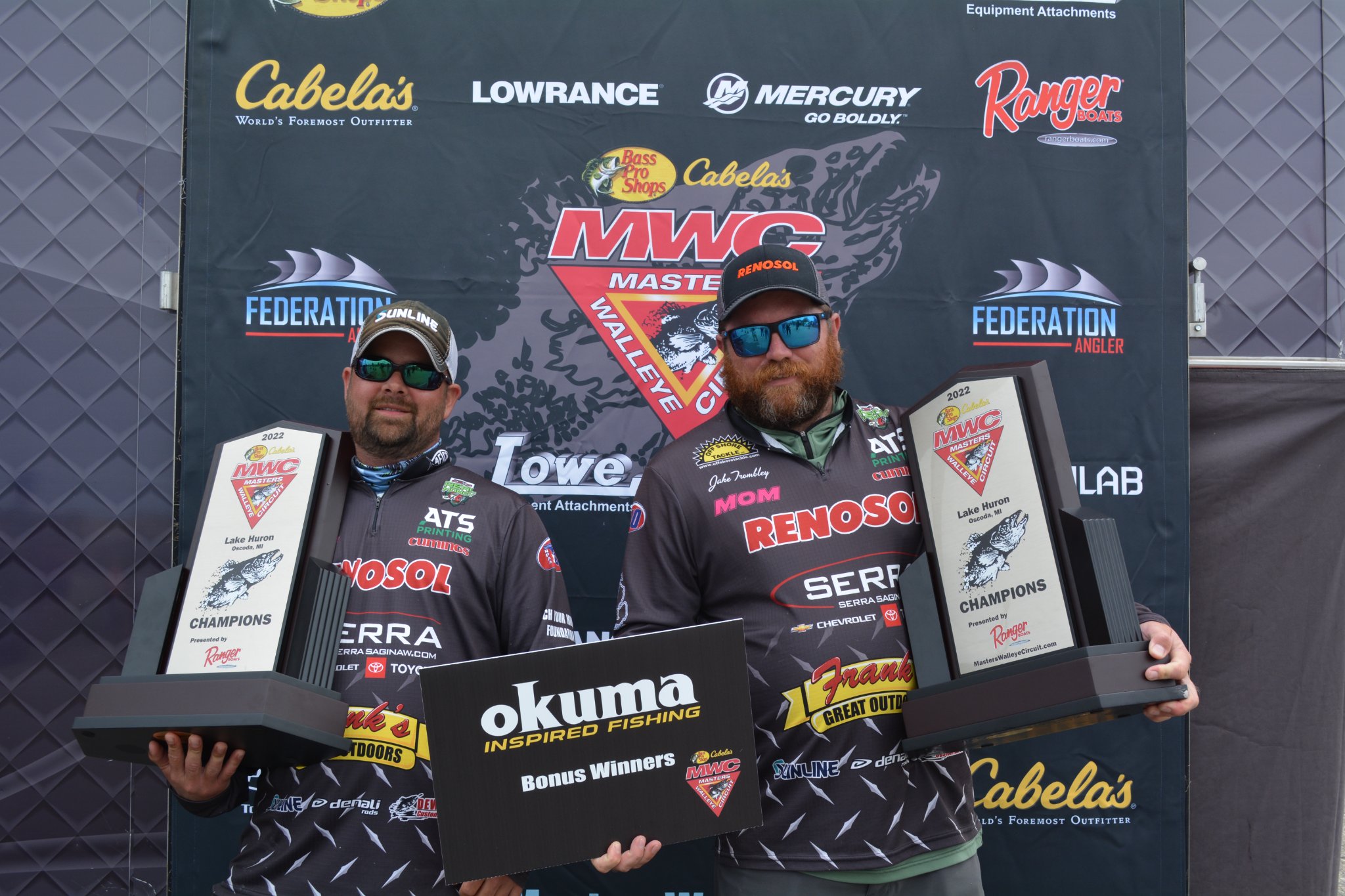 Trombley and Schaefer are no strangers to Lake Huron and the great lakes region. The duo are also regular competitors of the Michigan Walleye Tour (MWT), which is under The Walleye Federation (TWF), and also won their event which was held alongside the MWC tournament in Oscoda, MI. For winning both events, these gentlemen took home upwards of $30,000 in cash and prizes for two days of outstanding fishing!
For Jacob and Peter, the money they won included a spot in the 2023 Bass Pro Shops and Cabela's National Team Championship (NTC) in Marinette, WI on the Bay of Green Bay. The NTC bonus given to first place MWC anglers includes a paid entry, custom NTC jerseys, custom NTC qualifier plaques and a travel stipend worth $1,000 and $200 in Okuma reels!
Let's have a look at the rest of the top-five teams and what they've won:
2nd: Stephen Velte and Ted Stehney 47-08, $4,000 cash and $2,327 option pot cash
3rd: Eric Kruczynski and Amanda Lenard 45-12, $2,400 cash and $1,450 option pot cash and $1,000 Lowrance bonus
4th: Jason Trapp and Kyle Everitt 44-04, $2,000 cash
5th: Jerry Fox Jr. and Steve Vandermark 41-13, $1,600 cash and $950 option pot cash
Combined the anglers caught a total of 324 walleyes weighing a total of 1216-00 lbs. The biggest fish of 9-05 lbs. and the biggest one-day total of 35-13 lbs. was caught by the 3rd place team, Eric Kruczynski and Amanda Lenard.
The staff and sponsors of the MWC would like to thank the cities, local businesses, and volunteers of Oscoda and AuSable, Michigan for rolling out the red carpet for this event. From coordinating the launch on both days of the event, providing coffee and donuts to the anglers in the morning before launch, and providing an awesome venue and banquet for the registration and rules meeting on Thursday night. These folks left no stone unturned, making it one of the favorite stops for the anglers and staff that work this event. Thank you!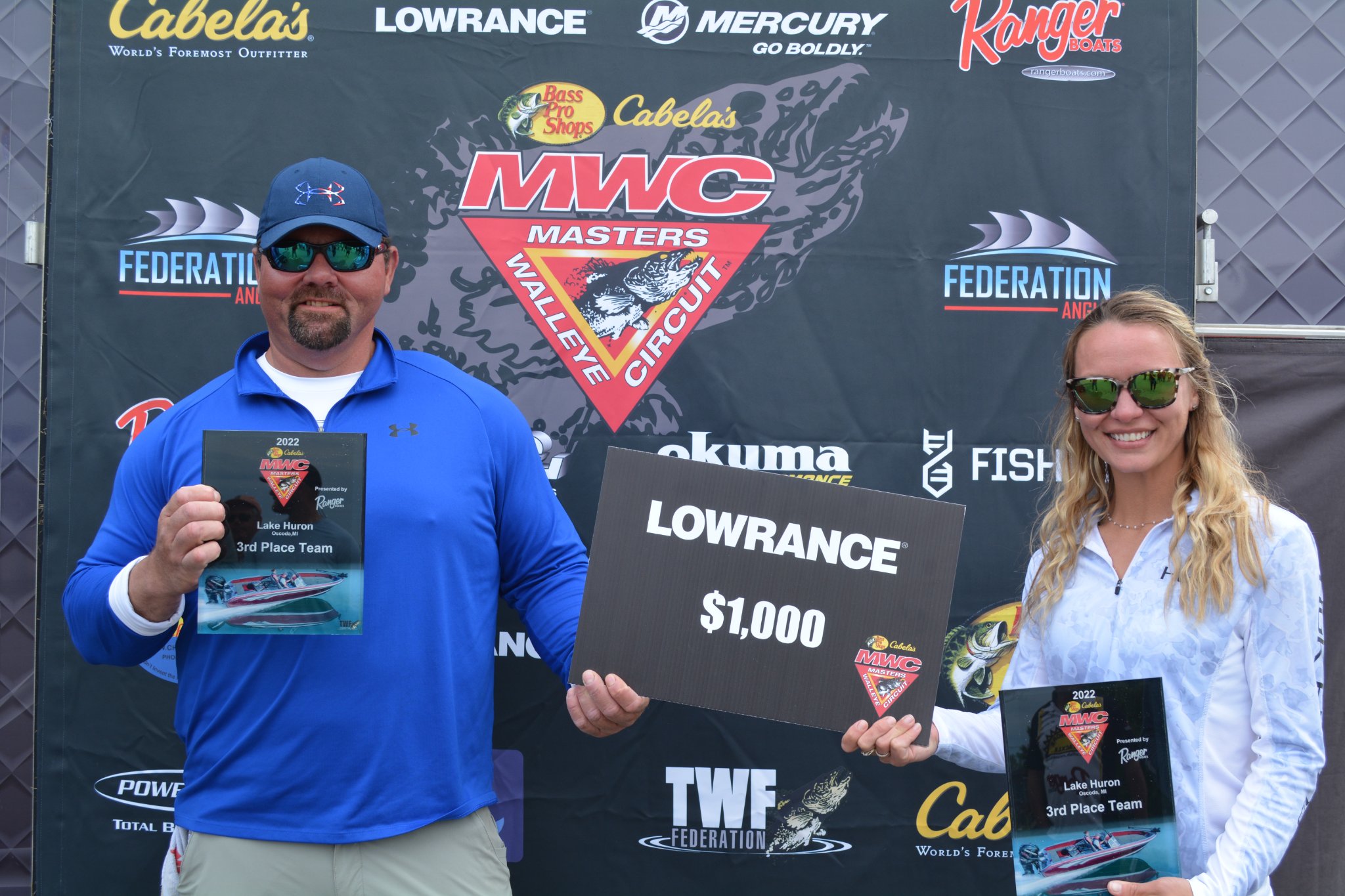 Under the umbrella of The Walleye Federation (TWF), the Bass Pro Shops and Cabela's Masters Walleye Circuit is North America's longest-running and undisputed leader in team walleye tournaments and as an inductee into the freshwater fishing hall of fame, has set the standard for competitive walleye fishing for 38 years. The MWC is open to walleye anglers from all walks of life. The 2022 schedule includes seven qualifiers in six states, plus the 2022 Bass Pro Shops and Cabela's MWC World Walleye Championship. Visit masterswalleyecircuit.com for full details.
Bass Pro Shops & Cabela's – The World's Foremost Outfitters, are in their 22st season as title sponsor of the Masters Walleye Circuit. Official sponsors include: Lowe Equipment Attachments, Lowrance Electronics, Mercury Marine, and Ranger Boats. Associate sponsors include: The Walleye Federation, Church Tackle, FishLab, Okuma, Power-Pole, and T-H Marine. For more information, email info@masterswalleyecircuit.com, or call (580) 765-9031.