Cabela's Masters Walleye Circuit Kicks Off 2018 Tournament Season At Spring Valley, Illinois, March 23-24, 2018
Presented by Lowe Equipment Attachments
Ponca City, Okla.—March 6, 2018—Walleye anglers from all walks of life are invited to join the fun and compete for lucrative cash prizes when the Cabela's Masters Walleye Circuit kicks off its 2018 tournament season on the Illinois River at Spring Valley, Illinois.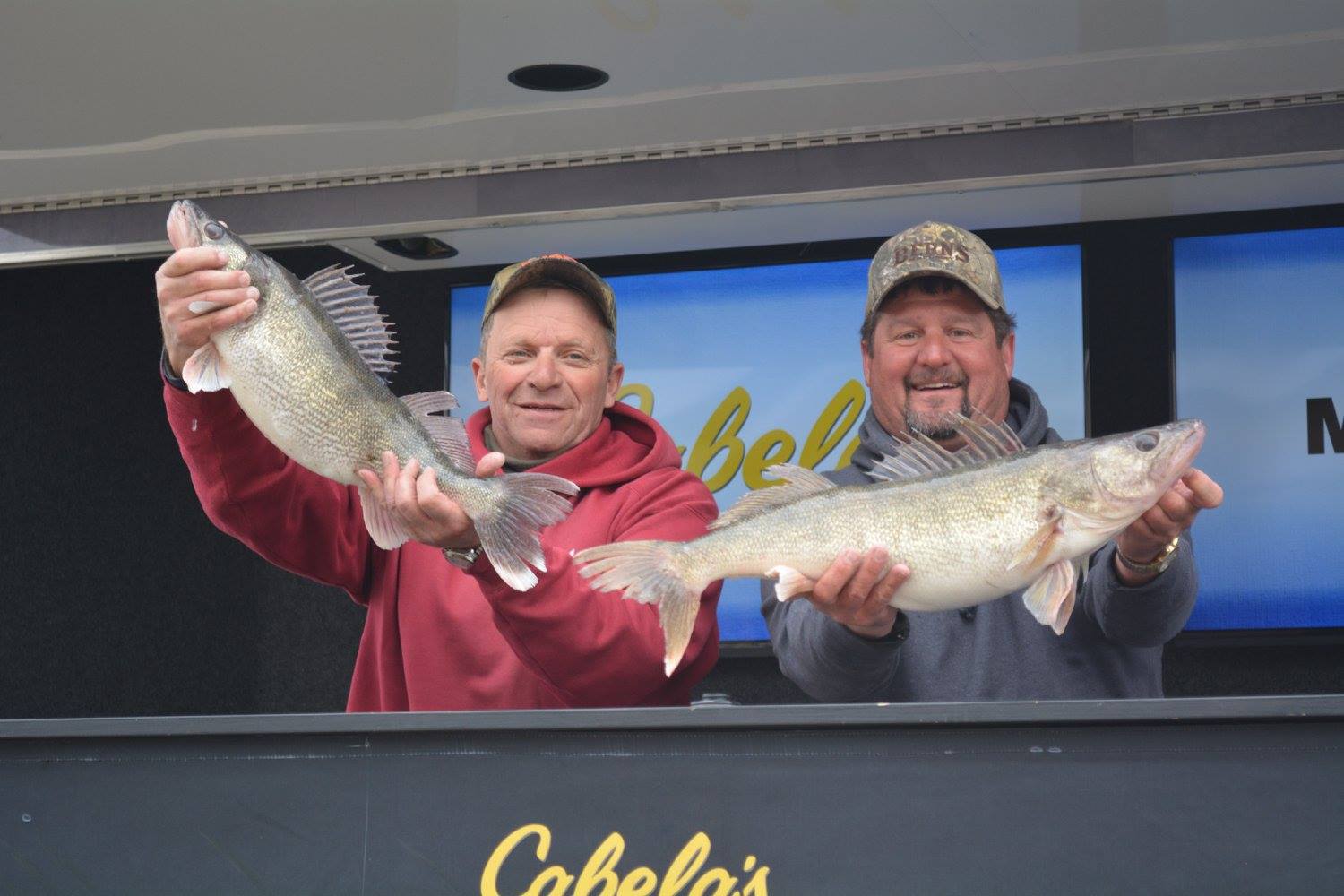 Set for March 23-24 out of the Spring Valley Boat Club and presented by Lowe Equipment Attachments, the two-day, team-format event is a traditional rite of spring for anglers from across the Midwest, who converge on the river to enjoy its world-class fishing while battling for their share of the MWC's generous payout.
Circuit veteran Tommy Skarlis—who fished his first MWC Spring Valley season opener back in 1993—helps explain the event's allure. "I love this tournament for a number of reasons," he says. "It's a chance to enjoy the best sauger bite you've ever experienced, and the river's ever-changing playing field makes it exciting for anglers and fans alike, because everyone's in it until the last minute. Plus, it's like a big family reunion, reconnecting with old friends and welcoming first-timers to the MWC."
The Illinois River is widely considered one of the continent's top sauger fisheries and produces sag-bellied walleyes as well. Such exceptional multi-species potential is often reflected in the final standings. In 2017, for example, Iowans Marty Berns and Maury Schmerbach rallied to win the MWC Spring Valley tournament with a 33-pound, 15-ounce total weight anchored by an 8-pound, 9-ounce walleye that ended up being big fish of the event. They also had another kicker that pushed the scale to 7½ pounds.
Walleyes, saugers and saugeyes 14 inches and over will all be fair game for anglers competing in the tournament. Teams will be allowed to bring their best five fish to the scale each day, and the team with the highest two-day total weight will be crowned the Illinois river champions. "If you can put a limit of saugers in the livewell each day and pick up a bonus walleye or two, you have a great shot at the top ten," Skarlis promises. "Just be sure to save your honey hole for day two so you can finish strong."
Besides enjoying great walleye fishing and the thrill of competition, teams vie for hefty payouts, which are based on the number of teams entered in each event and paid to the top 20 percent of the field. In addition, the big-fish pot, option pot payouts and sponsor bonuses including Ranger Cup, Lowrance Electronics, Okuma, AirWave and T-H Marine Atlas Awards add thousands more to the total. Winners routinely pocket $10,000 to $15,000 or more in cash and prizes. Plus, the top team also wins a $1,000 Cabela's National Team Championship Prize Package including paid NTC entry, travel stipend, team jerseys and plaques.
As an extra incentive for teams to show up and fish hard, the final 10 invitations to fish the 2018 Cabela's NTC May 16-19 at the Quad Cities out of Moline, Illinois, will be awarded to the top 10 teams at Spring Valley who are not already qualified for the 2018 NTC.
Teams fishing three or more tournaments also compete for coveted berths in the championship, which is comprised of the top point-accumulating teams from the previous year's season and offers payouts based on the previous year's participation. Teams that qualify in 2018 will fish the 2019 championship, set for October 3-5, 2019 on Wisconsin's incomparable Lake Winnebago System.
"Spring Valley is a great place to earn points toward a run at the MWC World Walleye Championship," says Skarlis. Having won that event last fall with tournament partner Jeff Lahr, Skarlis is well aware how walleye anglers can fish their way from the Illinois River to a world title.
Teams fishing at least MWC four qualifiers also compete for Team of the Year awards, including a $10,000 sponsorship package and thousands more in cash and Cabela's Cash cards, as well as fully paid entries into a full season of great walleye action.
As an added bonus, presenting sponsor Lowe Equipment Attachments offers all Cabela's MWC anglers a 25 percent discount off the MSRP on all its auger, trenching and grapple products available through Midwest Attachments, LLC. For information on that program, visit masterswalleyecircuit.com/tournaments/contingencies.
Adding to the excitement, weigh-ins typically draw a large crowd of walleye fans. Select MWC events are also filmed for national airing on Federation Angler TV. The Cabela's MWC and National Professional Anglers Association will present a Youth & Family Fishing Clinic immediately after the day-one weigh-in. The first 50 youths will receive rod-and-reel combos courtesy of the NPAA.
North America's longest-running and undisputed leader in team walleye tournaments, the Cabela's MWC has set the standard for competitive walleye fishing since 1984. Operated under the umbrella of The Walleye Federation (TWF), the Cabela's MWC is open to avid walleye anglers from all walks of life. The 2018 tournament schedule includes eight qualifiers in seven states, plus the 2019 Cabela's MWC World Walleye Championship. Registration for 2018 events is now open, and the deadline for registering for the Spring Valley tournament is Monday, March 19 at 4 p.m. Visit masterswalleyecircuit.com for updates, official rules and registration information.
Cabela's, the World's Foremost Outfitter for hunting, fishing and outdoor gear, is entering its 17th season as title sponsor of the MWC. Official sponsors include: Bass Pro Shops, Lowe Equipment Attachments, Lowrance Electronics, Mercury Marine, Ranger Boats and The Walleye Federation. Associate sponsors include: AirWave Pedestals, Church Tackle, MotorGuide, Okuma, Power-Pole and T-H Marine. For more information, email info@masterswalleyecircuit.com, or call (580) 765-9031.
###