Spring Valley, Ill.—March 24, 2018—Undaunted by bitter winds and a spring snowstorm, Iowans Jeff Lahr and Jason Hancock rallied to win the Cabela's Masters Walleye Circuit's 2018 season opener on the Illinois River at Spring Valley, Illinois, March 23-24.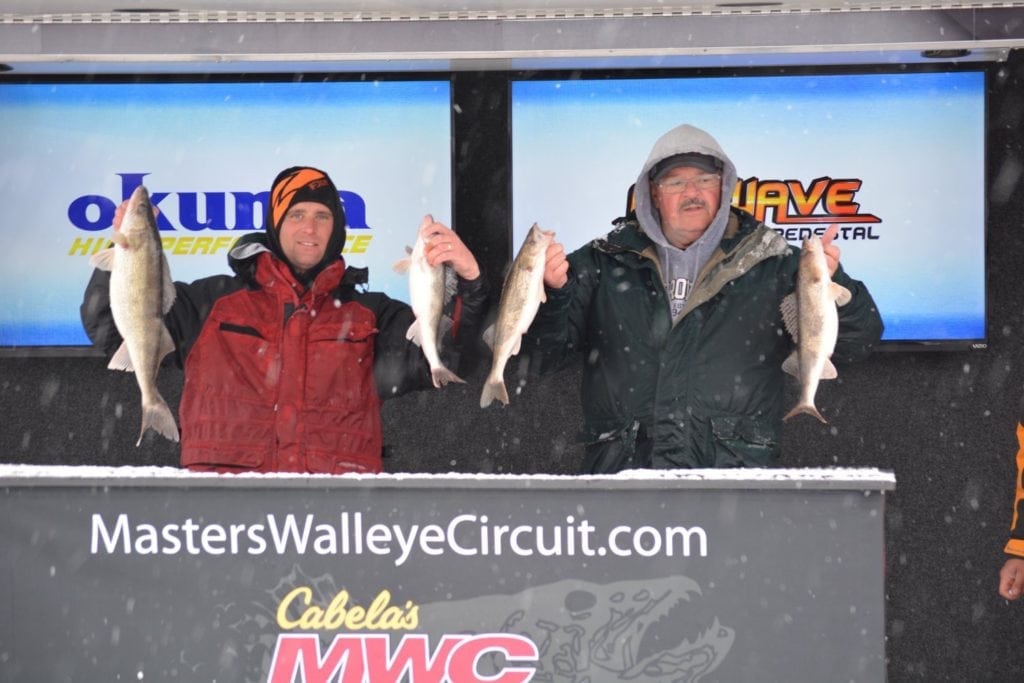 Presented by Lowe Equipment Attachments and headquartered at the Spring Valley Boat Club, the two-day tournament pitted 81 teams from across the Midwest against one another in an epic battle for serious bragging rights and a share of the MWC's generous payout.
"It was brutal out there today—snowing and cold, with 20- to 30-mile-an-hour winds," said Lahr of the day two weather conditions. "But the win feels great! I had my face in the wind, running the boat, and Jason came through with the bites we needed."
One of the most important of those bites came at 2:50 p.m. on the final afternoon of competition. The fish turned out to be a 5-pound, 13-ounce walleye that anchored their day-two basket of 15 pounds, 12 ounces and catapulted them from 16th place to the winners' circle with a 27-pound, 9-ounce total. "I was shaking after we got the fish in the boat," said Hancock, who was fishing as a substitute for Lahr's regular tournament partner, Tommy Skarlis. "I was so excited, it was five minutes before I could get my line back in the water."
For Lahr, the win marked his second straight MWC victory and third overall. He and Skarlis won the Cabela's MWC World Walleye Championship last October and a regular season qualifier on the Mississippi River in 2014. "We've been blessed," said Lahr. "And back-to-back wins are really hard to beat."
Lahr and Hancock's main tactic was vertically fishing a jig, ringworm and minnow combination, mainly in 12½ to 13½ feet of water in the Peru Flats area. Their MWC 10-fish tournament limit included nine saugers and the one kicker walleye.
The winners collected $13,700 in cash and prizes, including the $11,200 first-place cash payout, plus the $1,000 Ranger Cup bonus, $500 AirWave certificate, and a $1,000 Cabela's National Team Championship Prize Package including paid entry into the Cabela's NTC, travel stipend, team jerseys and plaques.
Rounding out the top five were:
2nd: John Dalzot, Jena Dalzot, 26-12, $5,950 cash plus $3,600 from the option pot and $200 Okuma Reel bonus
3rd: David Kleszyk, Dave Zurawski, 25-14, $3,700 cash plus $2,800 from the option pot
4th: James Debernardi, Mike Hanson, 24-13, $2,700 cash
5th: Troy Rahn, Jeremy Wildeman, 23-14, $2,200 cash
In 11th place, Rodger Riggs and Jason Kopf added the $500 Lowrance Electronics contingency to their $1,100 in MWC payout winnings. In all, the Cabela's MWC awarded $60,293 in cash and prizes.
A total of 683 walleyes and saugers weighing 1,370 pounds, 4 ounces crossed the scale at the Spring Valley Boat Club during the event. Adding to the fun, the Cabela's MWC and National Professional Anglers Association presented a Youth & Family Fishing Clinic immediately after the day-one weigh-in, with participating youths receiving rod-and-reel combos courtesy of the NPAA.
North America's longest-running and undisputed leader in team walleye tournaments, the Cabela's MWC has set the standard for competitive walleye fishing since 1984. Operated under the umbrella of The Walleye Federation (TWF), the Cabela's MWC is open to avid walleye anglers from all walks of life. The 2018 tournament schedule includes eight qualifiers in seven states, plus the 2019 Cabela's MWC World Walleye Championship. Visit masterswalleyecircuit.com for updates, official rules and registration information.
Cabela's, the World's Foremost Outfitter for hunting, fishing and outdoor gear, is entering its 17th season as title sponsor of the MWC. Official sponsors include: Bass Pro Shops, Lowe Equipment Attachments, Lowrance Electronics, Mercury Marine, Ranger Boats and The Walleye Federation. Associate sponsors include: AirWave Pedestals, Church Tackle, MotorGuide, Okuma, Power-Pole and T-H Marine. For more information, email info@masterswalleyecircuit.com, or call (580) 765-9031.
###