Shakoor – Hunter Dominate on Lake Oahe
Presented by Lowrance
Mobridge, SoDak. — June 28, 2021 — Mobridge, South Dakota, home of rodeos, bridges and giant walleyes. The 2021 Bass Pro Shops and Cabela's Masters Walleye Circuit presented by Lowrance on Lake Oahe laid witness to some incredible sights, not just the occasional American Bison on the shoreline, but a dominating performance by two anglers who come from very different home waters looking to learn the Missouri River system.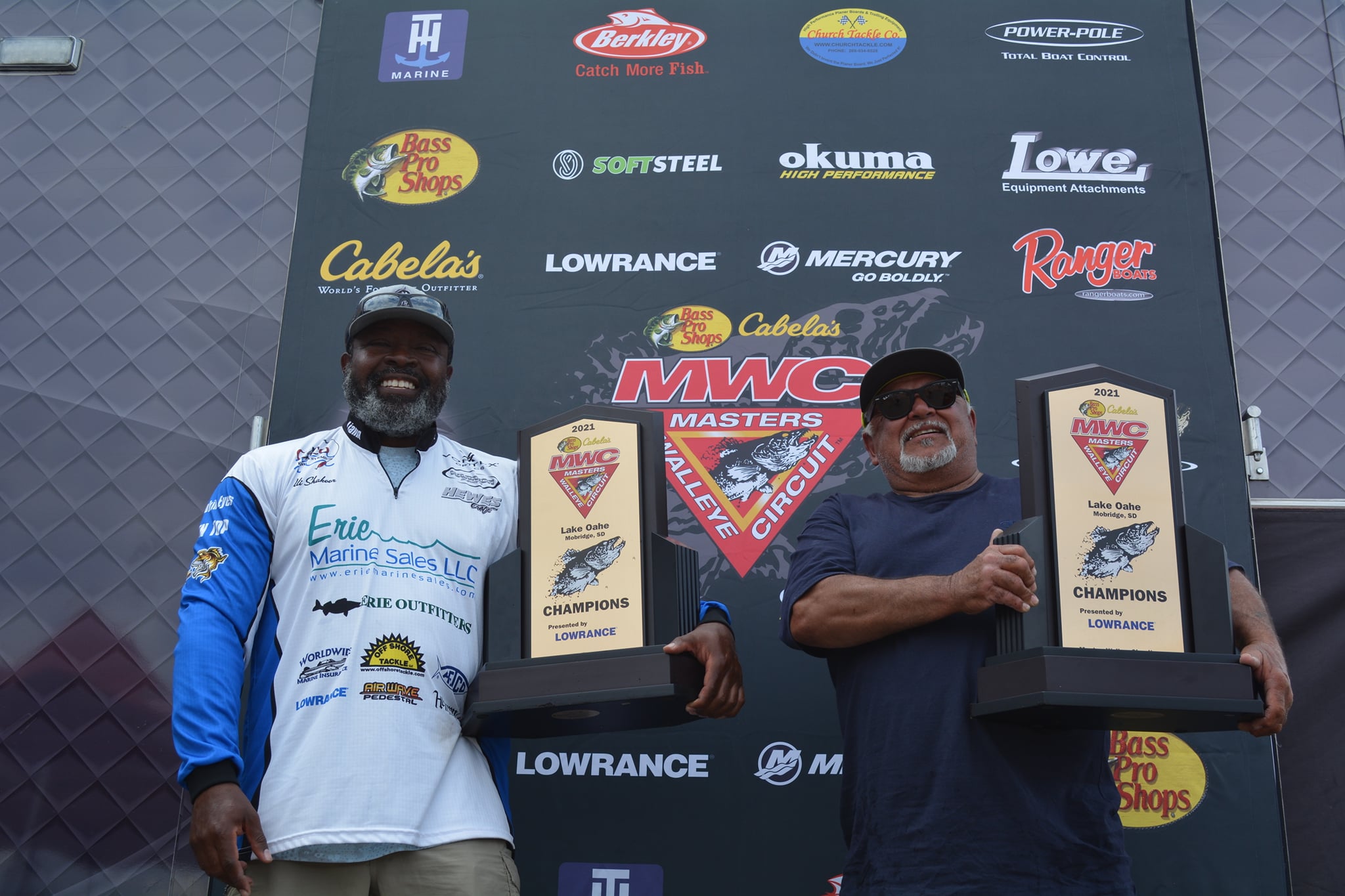 Dennis Hunter (Morrison, CO) and Ali Shakoor (Dearborn Heights, MI) drove from opposite ends of the walleye world to come together and fish, learn and have fun in Mobridge, SD. What they learned is that it's a lot of fun to catch big fish on Lake Oahe.
"We came to be better anglers…It was a no brainer to come to Lake Oahe" said Ali while on stage immediately securing the win on Saturday. "We came here with an open mind to learn this system and have some fun." Dennis and Ali weighed only 3 of the 5 fish allowed on the first day, but those three weighed 21-06 good enough for second going into the final day.
Saturday's weight of 18-06 was enough to lock in a nearly 5-pound advantage over the eventual second place team of Ryan Thompson (Pierre, SD) and Scott Larsen (Mayville, ND) to win a total of $10,983 in cash and prizes including a $9,668 check, a $1000 Bass Pro Shops and Cabela's NTC prize package, two Okuma fishing reels and the trophies.
Another winning opportunity for anglers at this event was a random draw for a 60" Lowrance Ghost™ trolling motor valued at $3,649.99. Tournament Director, Jeff Kelm, called a young audience member up to the stage to choose a random number correlating to the boat numbers in the event. Boat number 23, Mike Gustafson and Brent Mortenson, was selected and won the highly coveted prize.
Rounding out the top-five remaining teams:
2nd: Ryan Thompson & Scott Larsen 34-15, $4,870 cash, $1,000 Ranger Cup bonus, $1,000 Lowrance bonus and $3,822 option pot cash
3rd: Cody Stoner & Samuel Domke 31-15, $3,350 cash and $2,750 option pot cash
4th:  Harry & Dalton Decker 30-09, $2,500 cash and $1,750 option pot cash
5th: Tyler Polzen & Cody Rahder 29-04, $2,000 cash
The teams caught 356 fish weighing a total of 933 lbs. 12 oz. during the event. The Berkley Big Fish of the event was 12-00 caught by Tyler Polzen and Cody Rahder.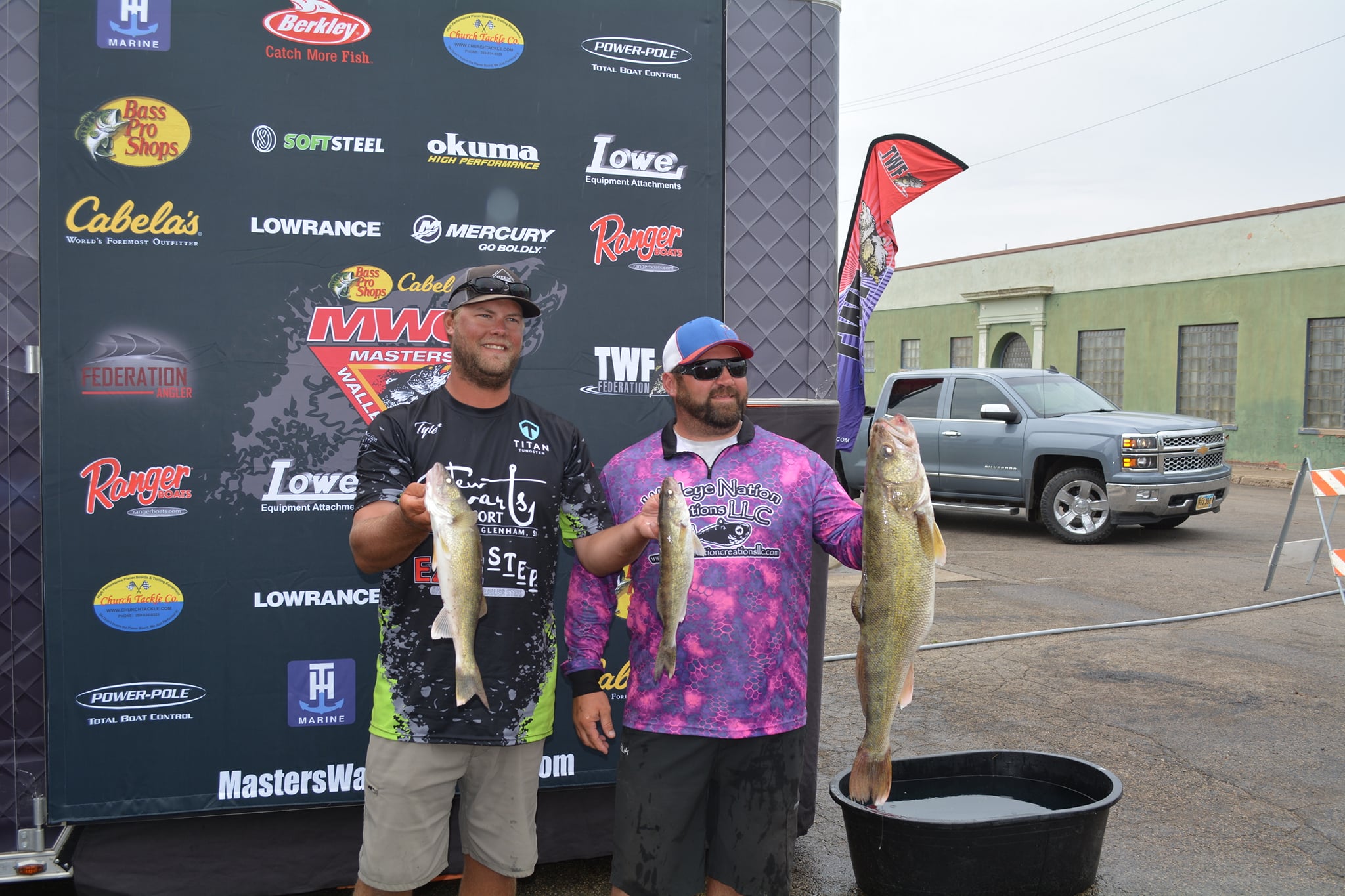 Under the umbrella of The Walleye Federation (TWF), the Bass Pro Shops and Cabela's Masters Walleye Circuit is North America's longest-running and undisputed leader in team walleye tournaments and as an inductee into the freshwater fishing hall of fame, has set the standard for competitive walleye fishing for 37 years. MWC is open to walleye anglers from all walks of life. The 2021 schedule includes seven qualifiers in six states, plus the 2021 Bass Pro Shops and Cabela's MWC World Walleye Championship. Registration is now open for all events, and the registration deadline for the St Mary's River tournament is close of business Monday, August 9th. Visit masterswalleyecircuit.com for full details.
Bass Pro Shops & Cabela's – The World's Foremost Outfitters, are in their 20th season as title sponsor of the Masters Walleye Circuit. Official sponsors include: Lowe Equipment Attachments, Lowrance Electronics, Mercury Marine, Ranger Boats and The Walleye Federation. Associate sponsors include: Church Tackle, Berkley Fishing, Okuma, Power-Pole, Soft Steel and T-H Marine. For more information, email info@masterswalleyecircuit.com, or call (580) 765-9031.
###