Same Weight, Different Day for Lemke, Price to Win at Lake Erie
Presented by Lowe Equipment Attachments
Port Clinton, Ohio. — April 21, 2021 — It's often touted that in order to maintain a high level of excellence, you must be consistent. With back-to-back weights of 31-01 both Friday April 16 and Saturday April 17, Mark Lemke (Dexter, MI) and Walter Price (Lowell, MI) took home a close win on the shoreline of Lake Erie, in Port Clinton, OH. The Bass Pro Shops and Cabela's Masters Walleye Circuit (MWC), presented by Lowe Equipment Attachments, had 238 participants from 18 states fishing for their share of the nearly $100,000 prize purse.  On the second and final day, the Masters Walleye Circuit partnered with the LEWT, a Ranger Boats sponsored local circuit, to weigh their anglers on the MWC's big stage, for a total of 322 participants at Port Clinton.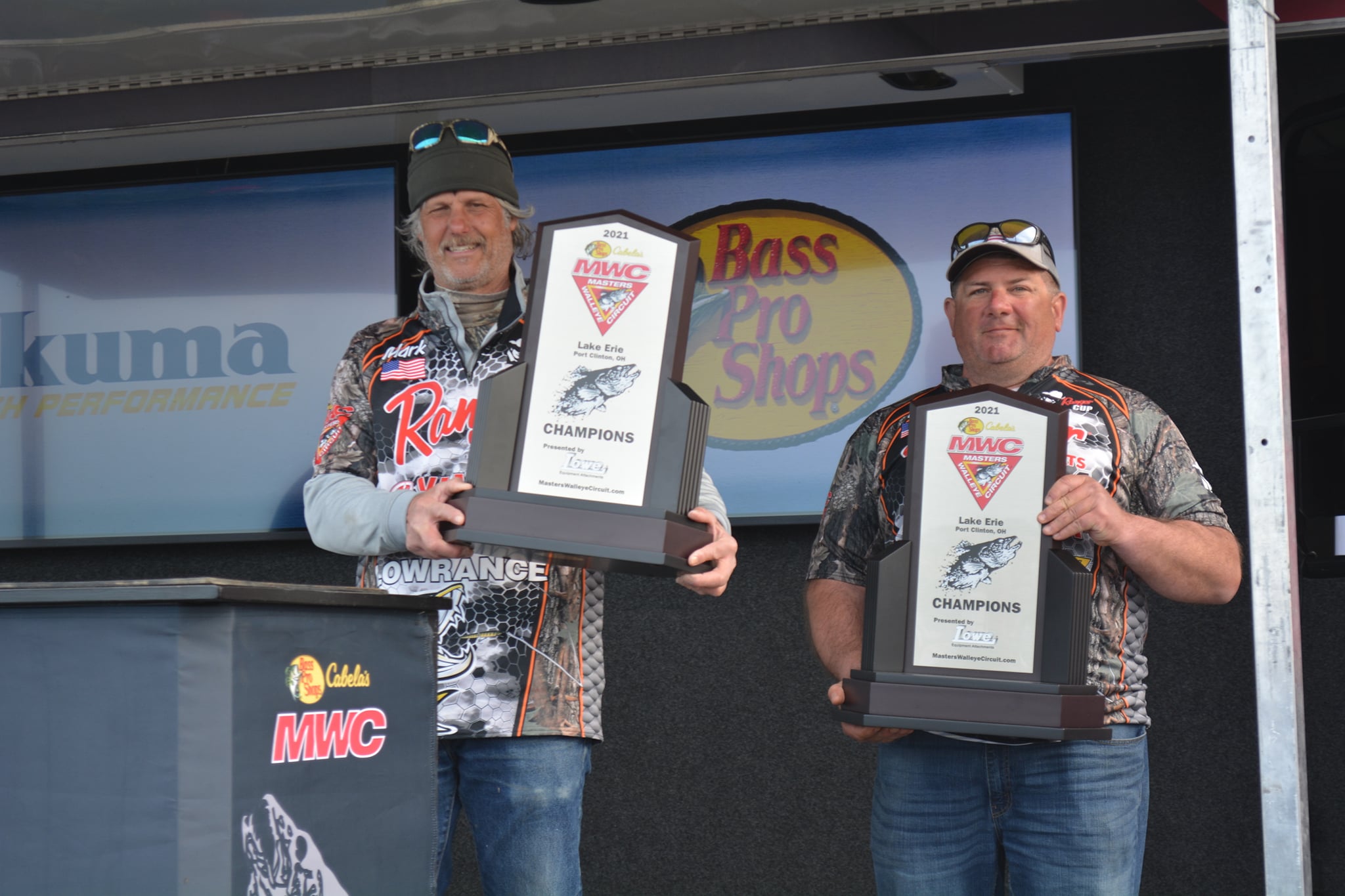 By weighing a total of 62-02 Lemke and Price nearly secured a sweep of first-place event and contingencies monies, including the $15,400 first place check and $5,800 option pot bonus. The team also won a $1,000 Bass Pro Shops and Cabela's National Team Championship Prize Package, including paid entry into the Bass Pro Shops and Cabela's NTC, travel stipend, team jerseys and plaques.
Utilizing their Lowrance LIVE units in Walter's Ranger boat, they targeted fish in deeper water on one of the Islands in Lake Erie. Conditions on Thursday prior to the event were similar to those of the first day of competition. Breezy winds and rolling waves took some of the fun out of practicing on Thursday, but Lemke and Price stayed the course and it paid off. "We actually found those fish on Thursday, in the wind." Commented Mark. "They were higher in the water column on Thursday and Friday, then Saturday they went deeper when things settled down." The pair knew this was the program they needed to stay on, but at mid-day on Saturday they lacked the winning fish. "The last couple hours, we had finally figured out to run the baits deeper for the larger fish and filled the bag then."
After fishing the circuit for nearly a decade, this is the team's first MWC win. They were awarded over $30,000 in cash and prizes including the aforementioned first-place prizes and NTC bid, along with the all-new $7,000 Ranger Cup bonus, $1,000 Lowrance bonus, $200 in fishing reels from Okuma and two custom trophies.
Rounding out the top-five remaining teams:
2nd: Peter and Ted Mart 61-13, $6,700 cash
3rd: Todd Vesperman & Keith Daniels 61-00, $4,400 cash and 2nd place option pot bonus of $3,300
4th:  John Bouvette & Cliff Newby 60-05, $3,500 cash
5th: Nicholas & Gary Zart 59-05, $3,000 cash and 3rd place option pot bonus of $2,300
The 1160 fish weighed a total of 5616 lbs. 10 oz. during the event. The Berkley Big Fish of the event was 9-09 caught by Joe Wickey and James Calvisky and largest 5-fish limit weighed was handed in by Patrick Hugget and Jason Goebel at 33-09.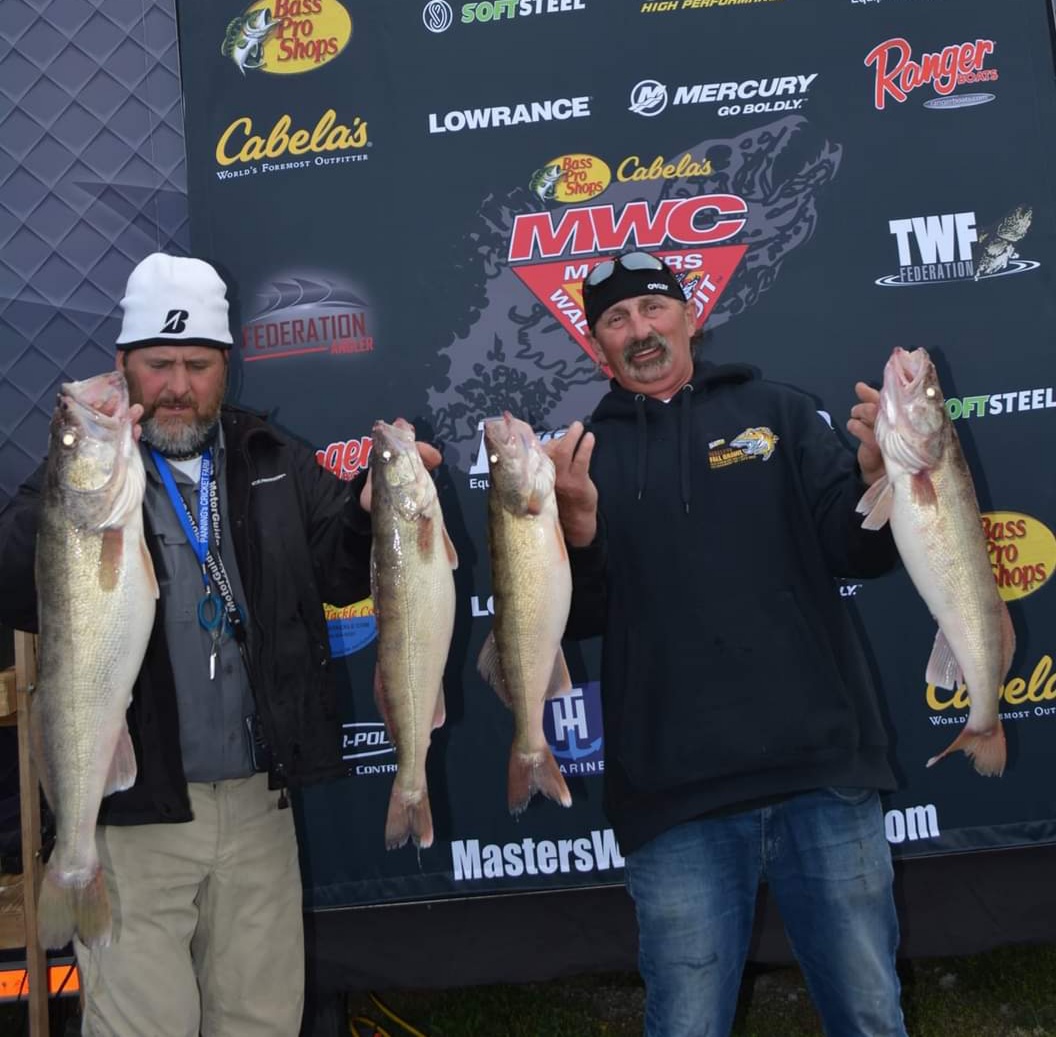 Under the umbrella of The Walleye Federation (TWF), the Bass Pro Shops and Cabela's Masters Walleye Circuit is North America's longest-running and undisputed leader in team walleye tournaments and as an inductee into the freshwater fishing hall of fame, has set the standard for competitive walleye fishing for 37 years. MWC is open to walleye anglers from all walks of life. The 2021 schedule includes seven qualifiers in six states, plus the 2021 Bass Pro Shops and Cabela's MWC World Walleye Championship. Registration is now open for all events, and the registration deadline for the Lake Winnebago tournament is close of business Monday, May 17th. Visit masterswalleyecircuit.com for full details.
Bass Pro Shops & Cabela's – The World's Foremost Outfitters, are in their 20th season as title sponsor of the Masters Walleye Circuit. Official sponsors include: Lowe Equipment Attachments, Lowrance Electronics, Mercury Marine, Ranger Boats and The Walleye Federation. Associate sponsors include: Church Tackle, Berkley Fishing, Okuma, Power-Pole, Soft Steel and T-H Marine. For more information, email info@masterswalleyecircuit.com, or call (580) 765-9031.
###