Dreams Come True for Kelly and Wind at Big Stone Lake
Presented by Ranger Boats
Ortonville, Minn. — April 27, 2021 — For years as the Bass Pro Shops and Cabela's Masters Walleye Circuit (MWC) made a stop in Ortonville, MN, a young Ryan Kelly would ride his bike past the granite slab in Ortonville City Park chronicling the wins of some of the giants in the sport of walleye fishing. Kelly grew up witnessing the storied event each time it arrived with a dream, one day, his name would be added to the impressive list of MWC tournament winners. Presented by Ranger Boats, on the shores of Big Stone Lake, Ryan Kelly (Ortonville, MN) and his partner, Keenan Wind (Onamia, MN), forever secured their names in Big Stone lore as 2021 winners.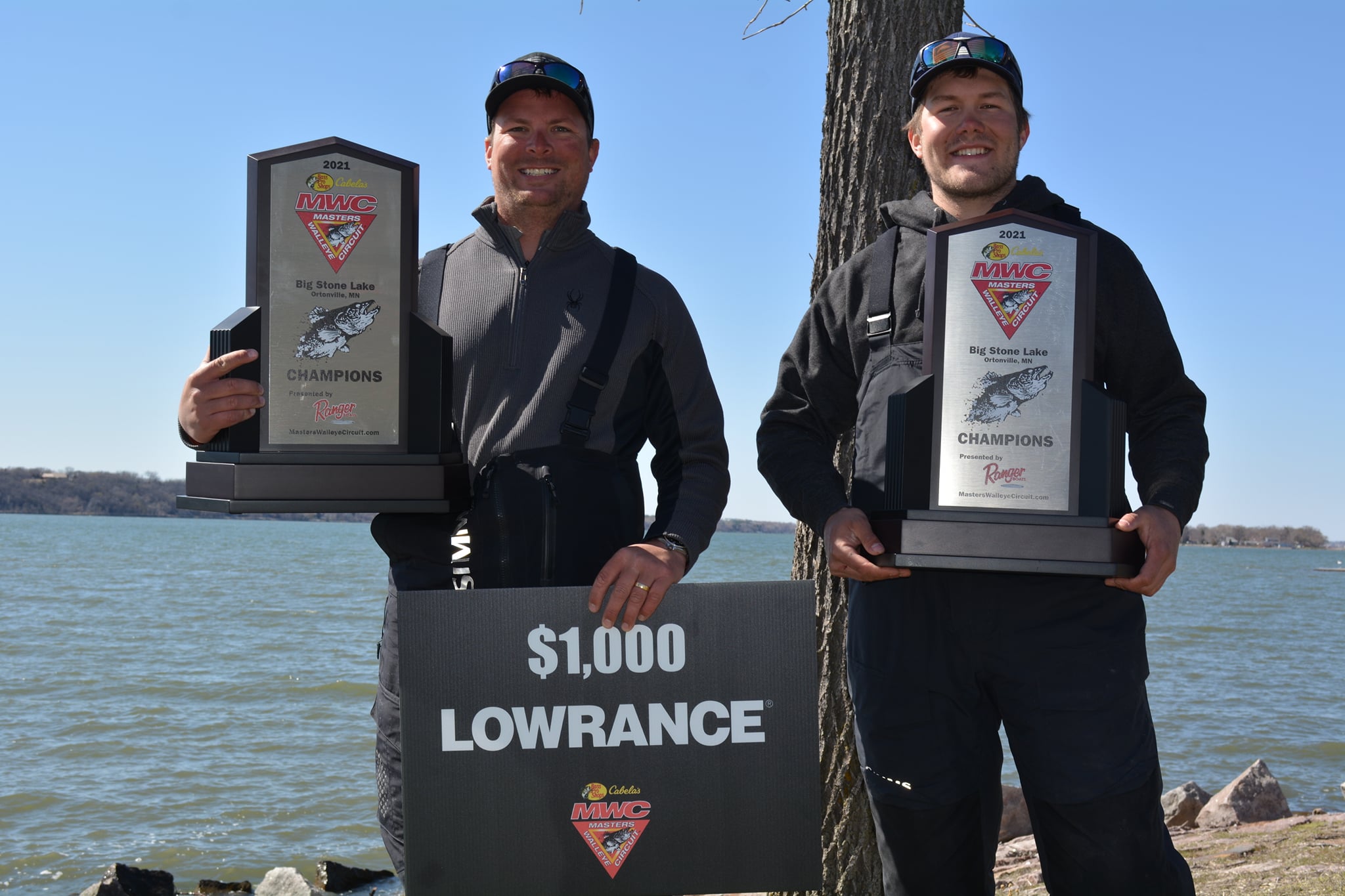 The "Toughest Walleye Anglers on Planet Earth" gritted though a cold front bite on Big Stone Lake, but through it all 5-8lb fish were common. "This community and it's history with the MWC keeps us coming back." Said tournament director, Jeff Kelm. "Even on a tough bite, the big fish a number of these teams found rivaled big fish weights at Lake Erie just last week as multiple 8-pound fish were weighed at both events!"
Ryan and Keenan used their Lowrance Live units to search out fish in amongst the 64 boat, 10-state field both Friday and Saturday. The pair managed to land four fish to take the lead on Friday weighing 14-01, a day where most teams found only one fish to bring to the scales. On Saturday, they knew they needed to keep up that pace in order to take home a win. Fortunately for them, their three-fish 6-9 basket on Saturday, was enough to keep them at the top.
Ryan always hoped to be standing where he watched some of the most influential walleye anglers to ever fish a tournament, but he never imagined it would happen the way it did. With a two-day weight of 20-10, and passing the mandatory polygraph given at the end of the event, the duo took home over $15,000 in cash and prizes including a $1,000 Bass Pro Shops and Cabela's National Team Championship prize package, $1,000 Lowrance bonus, $3,348 in option pot cash and custom trophies.
Rounding out the top-five remaining teams:
2nd: Doug and Mark Galant 15-13, $4,900 cash, $2,300 option post cash and $1,000 Ranger Cup bonus
3rd: Rick and Dillion Robinson 12-02, $3,546 cash and $1,600 option pot cash, Okuma Bonus ($200 Okuma reels)
4th:  Tom and Scott Albrecht 11-15, $2,550 and $900 option pot cash
5th: Brian Steichen and Shawn Carl 11-08, $2,100 cash
The 54 fish weighed a total of 205 lbs. 05 oz. during the event. The Berkley Big Fish of the event was 8-06 caught by Tom and Scott Albrecht.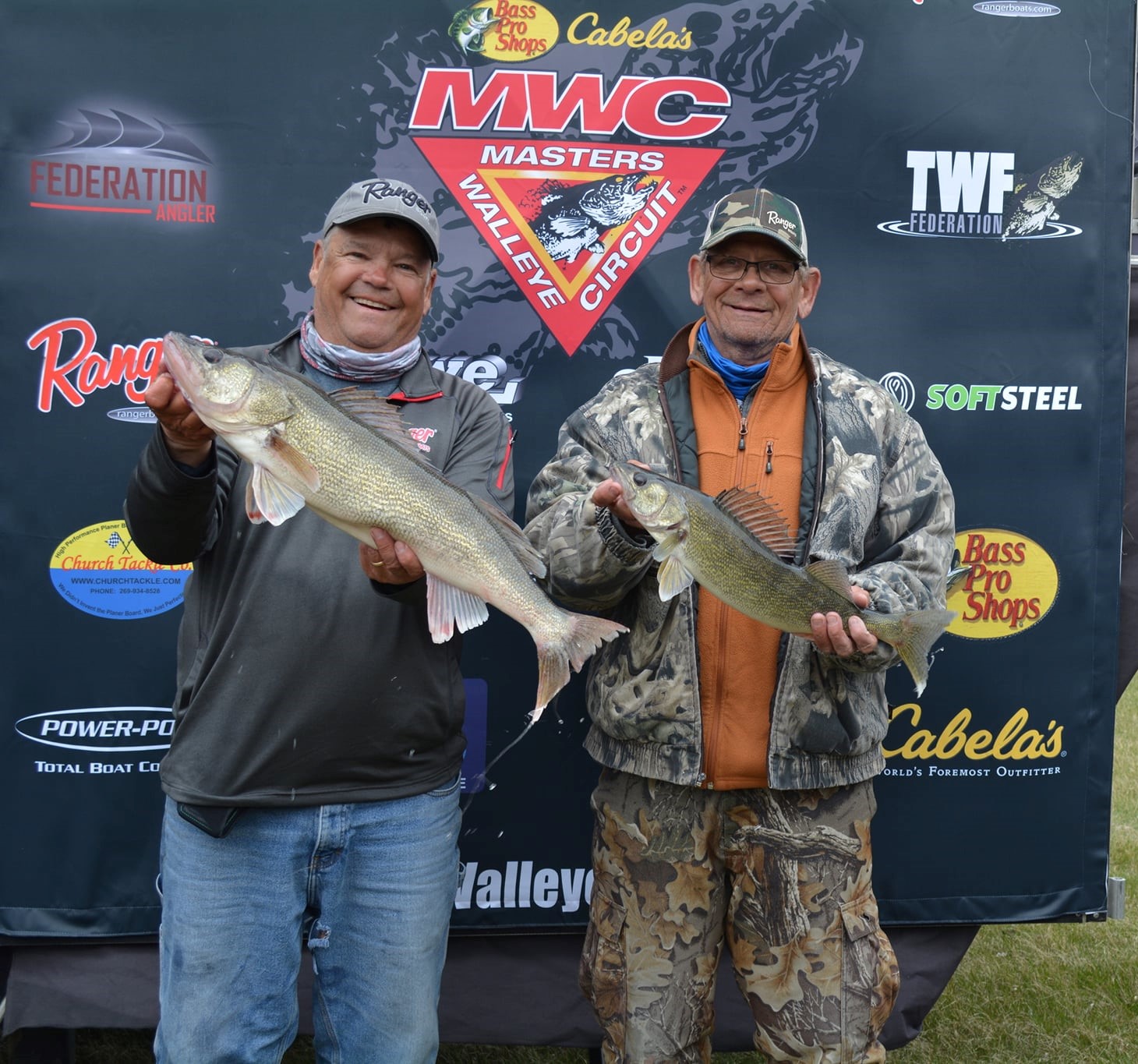 Under the umbrella of The Walleye Federation (TWF), the Bass Pro Shops and Cabela's Masters Walleye Circuit is North America's longest-running and undisputed leader in team walleye tournaments and as an inductee into the freshwater fishing hall of fame, has set the standard for competitive walleye fishing for 37 years. MWC is open to walleye anglers from all walks of life. The 2021 schedule includes seven qualifiers in six states, plus the 2021 Bass Pro Shops and Cabela's MWC World Walleye Championship. Registration is now open for all events, and the registration deadline for the Lake Winnebago tournament is close of business Monday, May 17th. Visit masterswalleyecircuit.com for full details.
Bass Pro Shops & Cabela's – The World's Foremost Outfitters, are in their 20th season as title sponsor of the Masters Walleye Circuit. Official sponsors include: Lowe Equipment Attachments, Lowrance Electronics, Mercury Marine, Ranger Boats and The Walleye Federation. Associate sponsors include: Church Tackle, Berkley Fishing, Okuma, Power-Pole, Soft Steel and T-H Marine. For more information, email info@masterswalleyecircuit.com, or call (580) 765-9031.
###