Tradition Continues as the Master's Walleye Circuit Readies for Big Stone Lake
Presented by Ranger Boats
Ponca City, Okla. — April 13, 2021 — For generations of Bass Pro Shops and Cabela's Masters Walleye Circuit (MWC) anglers, many stories start with "This one year at Big Stone…" In this 2021 MWC season, the tradition continues of an early spring event along the southern shore of the 12,000-acre lake. Presented by Ranger Boats, this year's event and its participants looks to leave a mark at this historic venue.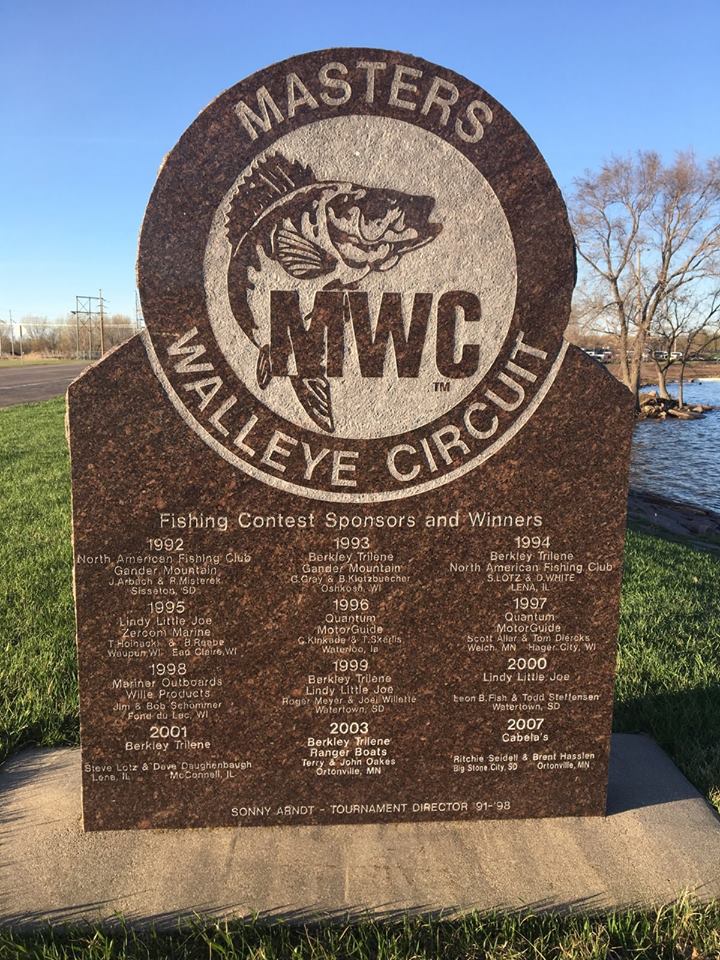 While driving around Ortonville, a stop on the must-see list is the large granite stone that stands in honor of the long-time connection between Ortonville, Big Stone Lake, and the MWC. Listed on the stone are winners from tournaments past. The late great Tommy Skarlis, Terry and John Oakes, Steve Lotz, and others have their names engraved forever on the large rock, which also bares a previously used MWC logo and a salute to Sonny Arndt, the local tournament director, from 1991-1998.
President of the Bass Pro Shops and Cabela's Masters Walleye Circuit, Robert Cartlidge, spoke about what makes this location a traditional location for early-season events. "One unique thing about fishing Big Stone lake, besides its central location and the way Ortonville has welcomed MWC anglers to town for years, is the fact that since it is a border water with South Dakota. It opens earlier than anything else in Minnesota to walleye fishing, so we can hold an event there earlier than anywhere else in Minnesota."
With winter-weary anglers ready to drop boats in the water, this tournament opportunity gives those in the "great white north" a springboard into a bountiful season on one of the Midwest's most popular fishing destinations.
Each MWC event has a lucrative payout which is based on the number of teams entered into that event and is awarded to 20% of the field, providing more inspiration to sign up and join the fun. In addition, to a hefty check, the first-place team also earns a $1,000 Bass Pro Shops/Cabela's National Team Championship (NTC) prize package including paid entry, travel stipend, team jerseys, and plaques. Additionally, the big-fish pot, option pot, and sponsor bonuses of up to $7,000 from Ranger Cup, a $1,000 Lowrance bonus, Okuma Fishing reels, Berkley Fishing Big Fish package, Lowe Equipment Cash up to $500, and T-H Marine Atlas Awards adds more for distribution among the field.
Qualified teams from the 2021 season earning points in at least three qualifiers compete for coveted berths in the 2022 World Walleye Championship, set for October 2021 on the bay of Green Bay in Oconto, WI. Those earning points in at least four qualifiers compete for Team of the Year honors, including a $10,000 sponsorship package and thousands more in cash and prizes to the top 10 teams in the final "best of 4" final standing each year.
Daily live weigh-ins will be held at Ortonville City Park beginning at 3:00 pm both days April 23-24.  We encourage you to watch the weigh-ins live, online, at masterswalleyecircuit.com, or on our Facebook page facebook.com/MastersWalleyeCircuit. Immediately following the weigh-in on Friday, April 23rd, the MWC and National Professional Anglers Association (NPAA) will host a Kids & Family Fishing Clinic, with free fishing rods available for 50 children in attendance.
Under the umbrella of The Walleye Federation (TWF), the Bass Pro Shops and Cabela's Masters Walleye Circuit is North America's longest-running and the undisputed leader in team walleye tournaments and as an inductee into the freshwater fishing hall of fame, has set the standard for competitive walleye fishing for 37 years. MWC is open to walleye anglers from all walks of life. The 2021 schedule includes seven qualifiers in six states, plus the 2021 Bass Pro Shops and Cabela's MWC World Walleye Championship. Registration is now open for all events, and the registration deadline for the Big Stone Lake tournament is close of business Monday, April 19th. Visit masterswalleyecircuit.com for full details.
Bass Pro Shops & Cabela's – The World's Foremost Outfitters, are in their 20th season as title sponsor of the Master's Walleye Circuit. Official sponsors include; Lowe Equipment Attachments, Lowrance Electronics, Mercury Marine, Ranger Boats, and The Walleye Federation. Associate sponsors include; Church Tackle, Berkley Fishing, Okuma, Power-Pole, Soft Steel, and T-H Marine. For more information, email info@masterswalleyecircuit.com, or call (580) 765-9031.
###