Peter Mart and Dave Lester Grind It Out for the Win on Wisconsin's Petenwell Lake. Presented by Lowrance
Arkdale, Wisc – May 8th, 2023 – The third stop on the 2023 Bass Pro Shops and Cabela's Masters Walleye Circuit (MWC) presented by Lowrance was originally set for the Mississippi River at Red Wing. Mother nature had other ideas as the "Mighty Miss" was flooded from record snow melt and the event had to be moved. Petenwell Lake was the closest place not flooded with an open walleye season that the event could be held. 2021 MWC World Walleye Champion (WWC) Peter Mart (Utica, MN) and partner Dave Lester (Onalaska, WI) found just the right presentation to get the winning fish across the stage to take home the big 1st place MWC trophies, a large check, and bragging rights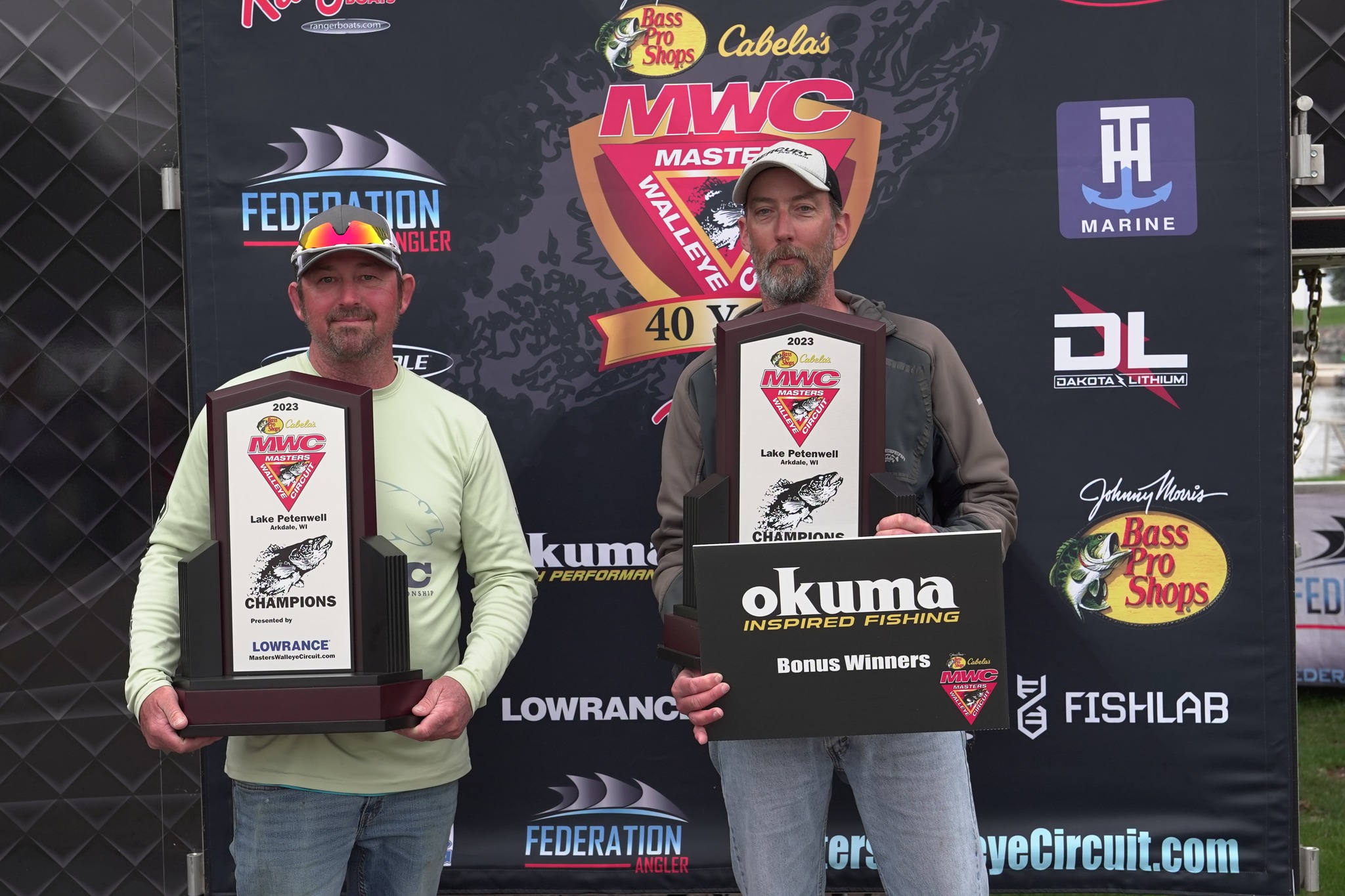 84 competitors from 8 different states, took off each morning of the two-day event, looking to bring the five best walleyes they could to the stage. The protected slot size on this system, 15" to under 20" and only one fish over 28" allowed per angler, proved challenging to overcome for the entire field. Anglers seemed to have no issues catching "slot fish" on both days, though finding the correct bite, legal fish to weigh, in the right order was key as always, in a no-cull event. Throughout the weigh-in on both days, it was evident the race to the top was going to be close and the precious over 28-inch walleyes, that a handful of teams caught, were going to be crucial in cashing a check on Petenwell Lake.
Mart and Lester put together a program that proved to be the ticket for a win. After day one, the eventual champions were tied for 6th with 12-06 without having an "over" as a kicker.
On day two the Minnesota/Wisconsin duo set out with a plan to bring in an even bigger bag than the previous day. Mart and Lester found a trolling program that proved vital for their success. They used bottom bouncers with long leaders and floating jigs to present live bait at the correct speed and depth to trigger the bites they needed.
Using their Lowrance units as a guide, they were able to find schools of fish and know exactly where those fish were in the water column to present their offerings. On this second and final day, the team brought in the tournament big sack, at 18-03. They had one fish over 28 inches to seal the deal with a two-day weight of 30-09 to bring home custom trophies, $7,400 cash, a $1,000 NTC prize package, and $200 in Okuma reels for a total of $8,600 in cash and prizes.
Here's a break-down of what the rest of the top 5 teams brought to the scales:
2nd: Mike Dorris and Douglas McDonough 29-06, $3,940 cash, $2,750 option pot cash, $1,000 Lowrance Bonus
3rd: Jason Wanty and David Parker 29-02, $2,540 cash
4th: Chris and Joe Kujawa 27-13, $1,940 cash, $1,650 option pot cash
5th: Brandon Newby and Jeff Maleport 26-11, $1,500 cash, $1,032 option pot cash
The winners of the new, Dakota Lithium Batteries "Comeback" award worth $2,977, were Brandon and Tom McPeak. They ended day one sitting in 21st and jumped up in the final standings on day two to 11th.
Presenting sponsor Lowrance gave away a new 60-inch Lowrance Ghost trolling motor at the Thursday night rules meeting by random draw. The team of Carl Holten and Marty Stueffen (Harpers Ferry, IA) won the prize valued at over $3,700.00.
The total payout for Petenwell Lake was $38,379, paying down eight places out of 42 teams. The anglers caught a total of 332 walleyes with a total weight of 706 lbs. 5 oz. The largest fish weighed was caught by Nick and Tony Renner, weighing in at 7-11.
MWC and its staff partnered up with biologists from the Wisconsin Department of Natural Resources (WIDNR) to aide in furthering their ongoing study of the population and growth rates of walleyes on this section of the Wisconsin River. After the weigh-in ceremonies on both days of the event, MWC staff members helped the WIDNR record lengths and tag almost every fish brought in by anglers. These studies help track populations and prove pivotal in the state's decision-making process on setting bag-limits for today's recreational anglers and for future generations of anglers to come.
After leaving Wisconsin, the MWC is heading east to fish on Lake Erie out of Lorain, Ohio. Lake Erie is said to have one of the largest population densities of walleyes in the world. This event will be a dual event held alongside another The Walleye Federation (TWF) affiliated circuit, the Lake Erie Walleye Trail (LEWT). These two circuits have teamed up in the past and have brought in some very large and competitive fields of anglers from across the country that will try to compete for trophies in both tournaments. The deadline to register for this event is Monday, June, 12th. Anglers can register by visiting masterswalleyecircuit.com.
Under the umbrella of The Walleye Federation (TWF), the Bass Pro Shops and Cabela's Masters Walleye Circuit is North America's longest-running and undisputed leader in team walleye tournaments and as an inductee into the freshwater fishing hall of fame, has set the standard for competitive walleye fishing for the past 39 years and has directly donated hundreds of thousands and helped raise millions of dollars to support walleye & conservation programs nationwide. The MWC is open to walleye anglers from all walks of life. The 2023 schedule includes seven qualifiers in six states, plus a berth into the 2024 Bass Pro Shops and Cabela's MWC World Walleye Championship.
Bass Pro Shops & Cabela's – The World's Foremost Outfitters, are in their 22nd season as the title sponsor of the Masters Walleye Circuit. Official sponsors include: Lowrance Electronics, Mercury Marine, Ranger Boats, and Dakota Lithium Batteries. Associate sponsors include: The Walleye Federation, Church Tackle, FishLab, Okuma, Power-Pole and T-H Marine. For more information, email support@masterswalleyecircuit.com, or call (580) 765-9031.