MWC team of Vandemark and Fox Help Shine Spotlight on the St Mary's River Incredible Walleye Fishing
Presented by Mercury
Sault Ste. Marie, Mich. — August 15, 2021 — When the anglers first made plans to launch in to the St Mary's River from Aune Osborn park in Sault Ste. Marie, MI many would have never planned the winning bags would be caught less than 1 mile away from the launch and park. The Bass Pro Shops and Cabela's Masters Walleye Circuit (MWC), presented by Mercury, had teams planning and fueling-up for 20-60 mile runs to locations thought to hold the winning fish. The duo of Steve Vandemark (Linwood, MI) and Jerry Fox Jr. (Harrison TWP, MI) had completely the opposite plan, closer to the launch, the better.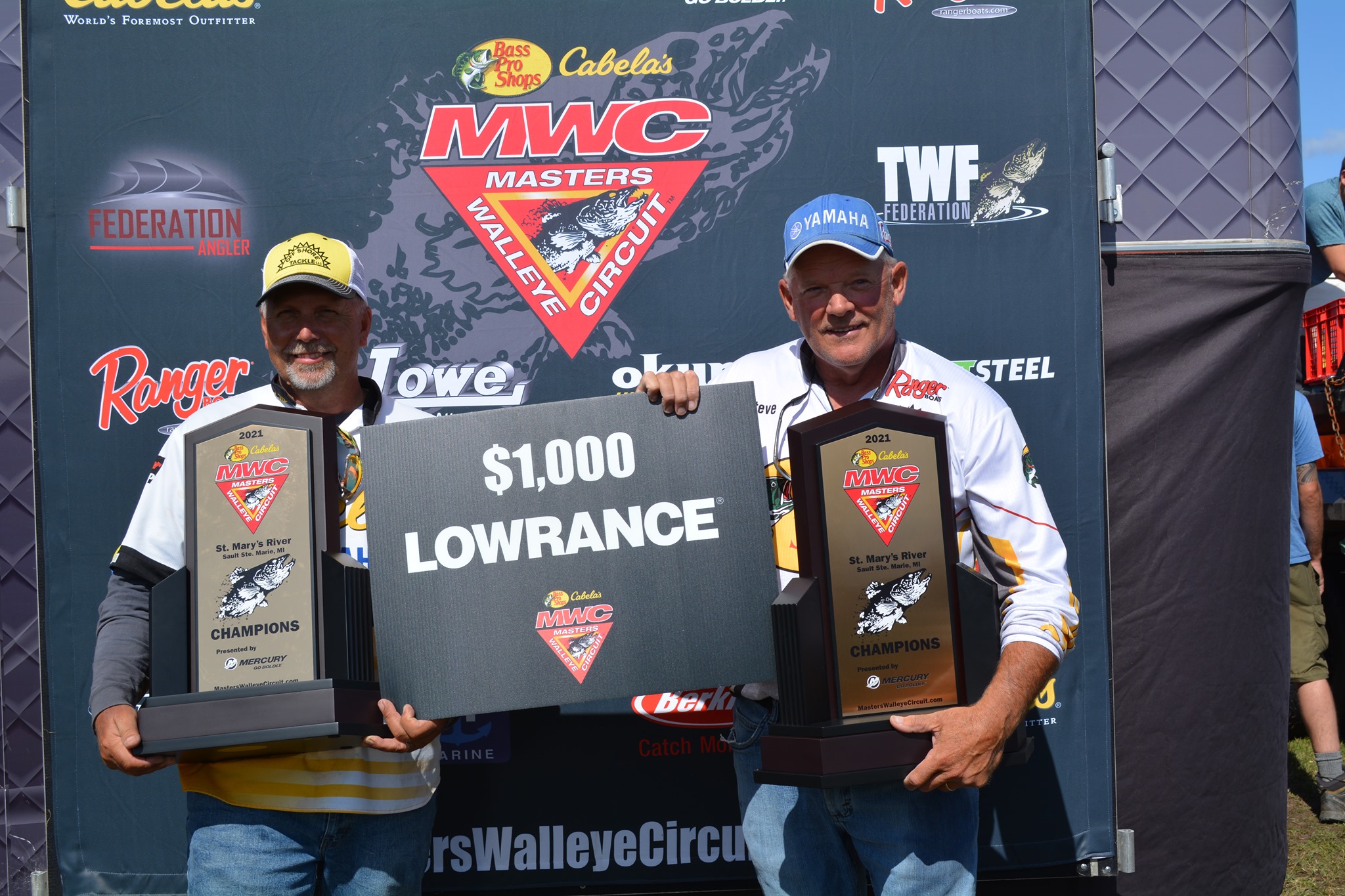 Jigging in current breaks with jigs as small as 3/8 oz, the team found a way to boat over twenty pounds of fish both days of competition. "There isn't as much current in the river as we are used to seeing in the years we have come here to fish." Said Steve after accepting the large trophies just off stage. "We love coming up here and we have been close to winning here before, it feels so good to finally get it." The pair used lots of past experience to best a field of local anglers loaded with incredible talent.
After the first day, the team of Jacob Hubbard and Kyle Bricco, from Sault Ste. Marie, had the lead with 21 lbs. and 3 oz. but came up with only 13 lbs. 15 oz. on the second day. The eventual second place team, again a local pair of Matt Gregg and Dane Stanaway had 15 lbs. and 1 oz. after the first day, within striking distance of the lead, then found themselves in the hotseat leading the event for most of the weigh-in after placing 20 lbs. and 5 oz. on the scale on day two. It came down to the final basket of Steve and Jerry's before Matt and Dane were dethroned by over 6 lbs.
For their winning effort, Vandemark and Fox cashed over $13,500 in checks, including the $1,000 Lowrance bonus and a spot in the 2022 Bass Pro Shops and Cabela's National Team Championship (NTC) in Mobridge, SD. The NTC bonus will include paid entry, custom NTC jerseys, custom NTC qualifier plaques and cash travel stipend a $1,000 value!
Let's have a look at the top-five teams and what they've won:
2nd: Matt Gregg & Dane Stanaway 35-06, $4,400 cash and $2,200 option pot cash
3rd: Jacob Hubbard & Kyle Bricco 35-02, $3,040 cash and $200 Okuma Reel Bonus
4th:  Wayne Butz & Joseph Sommers 29-15, $2,100 cash and $1,400 option pot cash
5th: Dan Johnson & Larry Rhoads 26-14, $1,750 cash and $900 option pot cash
The anglers caught 265 fish weighing a total of 774 lbs. 09 oz. during the event. The Berkley Big Fish of the event was 8 lbs. 5 oz. caught by Gregory and Benjamin Anderson.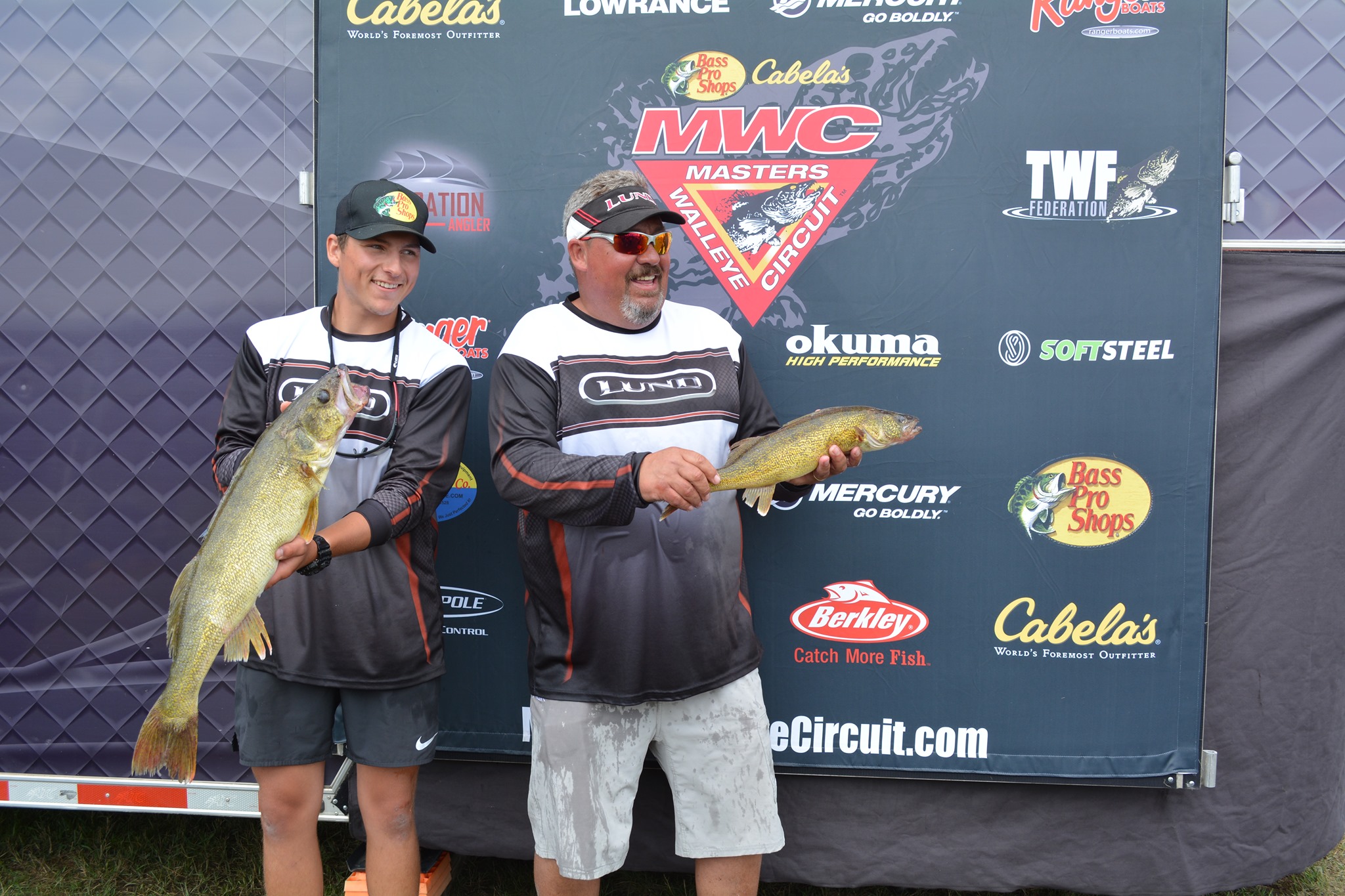 Under the umbrella of The Walleye Federation (TWF), the Bass Pro Shops and Cabela's Masters Walleye Circuit is North America's longest-running and undisputed leader in team walleye tournaments and as an inductee into the freshwater fishing hall of fame, has set the standard for competitive walleye fishing for 37 years. MWC is open to walleye anglers from all walks of life. The 2021 schedule includes seven qualifiers in six states, plus the 2021 Bass Pro Shops and Cabela's MWC World Walleye Championship. Registration is now open for Cass Lake, the final event of the season, and the registration deadline is close of business, Monday, September 13th. Visit masterswalleyecircuit.com for full details.
Bass Pro Shops & Cabela's – The World's Foremost Outfitters, are in their 20th season as title sponsor of the Masters Walleye Circuit. Official sponsors include: Lowe Equipment Attachments, Lowrance Electronics, Mercury Marine, Ranger Boats and The Walleye Federation. Associate sponsors include: Church Tackle, Berkley Fishing, Okuma, Power-Pole, Soft Steel and T-H Marine. For more information, email info@masterswalleyecircuit.com, or call (580) 765-9031.
###