Bass Pro Shops and Cabela's Masters Walleye Circuit Presents the 2022 Season Schedule
Ponca City, Okla.—Aug 14, 2021— For decades the Masters Walleye Circuit (MWC) has been the highest level of team walleye fishing in the country and the 2022 MWC season is set to challenge the "Toughest Anglers On Planet Earth" and ready to be released so anglers across the country can begin planning their 2022 season. Seven qualifiers are planned in six different states, all of them known for their walleye populations and sizes.
"There is so many incredible rivers, lakes and communities that continue to welcome us to experience what they have to offer" said Jeff Kelm, MWC tournament director. "We look forward to the excitement this announcement generates each year. The 2022 season will also include, new time frames for some events, Big Stone Lake for instance where anglers can land an 8-9 pound walleye at any time, new site hosts, like Gettysburg, SD on Lake Oahe and a couple of dual events with TWF sanctioned trails and clubs on Lake Erie and Lake Huron, which will allow area anglers to experience the height of team walleye fishing on the big stage of the Bass Pro Shops / Cabela's Masters Walleye Circuit."
The 38th season of the Bass Pro Shops and Cabela's Masters Walleye Circuit looks like this:
March 18-19               Illinois River, Spring Valley, IL.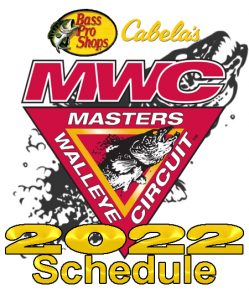 April 22-23                 Lake Erie, Sandusky, OH.
May 20-21                  Big Stone Lake, Ortonville, MN.
June 3-4                      Bay of Green Bay, Marinette, WI.
June 17-18                  Lake Huron, Oscoda, MI.
August 19-20              Lake Oahe, Gettysburg, SD.
September 16-17         Cass Lake, Cass Lake, MN.
Sept. 29- Oct. 1           2022 MWC World Walleye Championship, Bay of Green Bay, Oconto, WI.*
(*qualifying teams from 2021 MWC tournament season)
October 4-7, 2023       2023 MWC World Walleye Championship, Lake Sharpe, Pierre SD.
The Bass Pro Shops and Cabela's MWC's lucrative payouts, based on the number of teams entered in each event, provide even more inspiration to join the fun. In addition, the MWC big-fish pot, option pot payouts and sponsor bonuses including Ranger Cup, Lowrance Electronics, Okuma, Berkley Fishing, Lowe Equipment Attachments and T-H Marine Atlas Awards add thousands more to the total. As a result, winners routinely pocket $10,000 to $15,000 or more in cash and prizes. Plus, the first-place team wins a $1,000 Bass Pro Shops and Cabela's National Team Championship Prize Package including paid NTC entry, travel stipend, team jerseys and plaques.
Teams fishing three or more tournaments also compete for coveted berths in the Bass Pro Shops and Cabela's MWC World Walleye Championship, which is comprised of the top point-accumulating teams from the previous year's season and offers payouts based on the previous year's participation. Teams that qualify in 2022 will fish the 2023 championship, at Pierre, SD.  MWC always pays back well over 100% in cash and prizes each and every season to our anglers.
Teams fishing at least four qualifiers compete for "Team of the Year" awards including a $10,000 "MWC Living the Dream" sponsorship package and thousands more in cash, Bass Pro Shops and Cabela's gift cards and paid tournament entries.
Under the umbrella of The Walleye Federation (TWF), the Bass Pro Shops and Cabela's Masters Walleye Circuit is North America's longest-running and undisputed leader in team walleye tournaments and as an inductee into the freshwater fishing hall of fame, has set the standard for competitive walleye fishing for 37 years. MWC is open to walleye anglers from all walks of life.
Bass Pro Shops & Cabela's – The World's Foremost Outfitters, are in their 20th season as title sponsor of the Masters Walleye Circuit. Official sponsors include: Lowe Equipment Attachments, Lowrance Electronics, Mercury Marine, Ranger Boats and The Walleye Federation. Associate sponsors include: Church Tackle, Berkley Fishing, Okuma, Power-Pole, Soft Steel and T-H Marine. For more information, email support@masterswalleyecircuit.com, or call (580) 765-9031.
###