Oshkosh, Wisc. — May 24, 2021 — With the 2021 Bass Pro Shops and Cabela's Masters Walleye Circuit heading into its fourth event of the season, many of the 140 anglers at Lake Winnebago had much to fish for; points for Team of the Year, positions for the World Walleye Championship and over $60,000 in cash and prizes. Larsen, Wisconsin residents Corey Meyer and Hunter Seelow both agreed, that what they came to fish for- the trophies.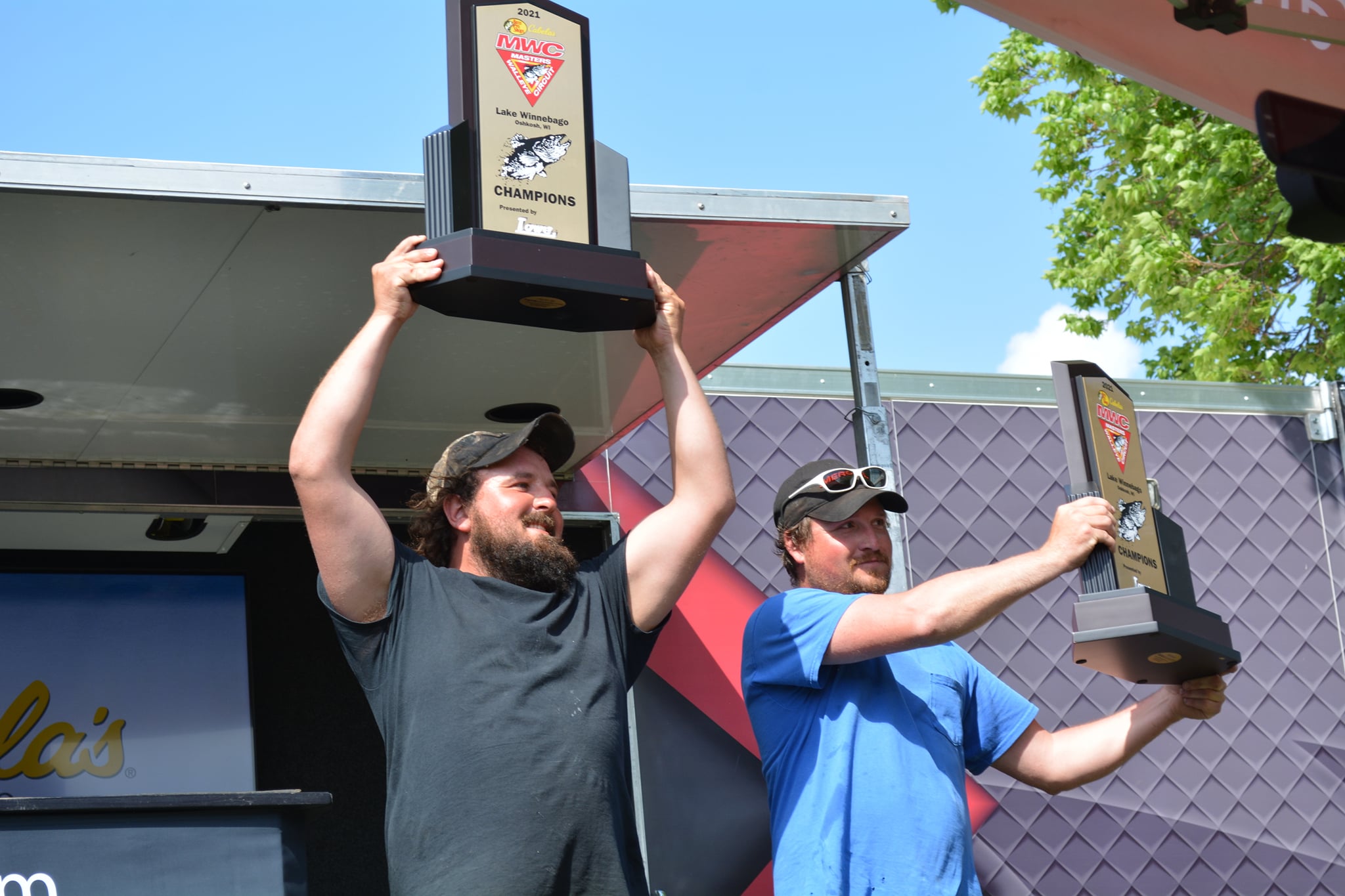 Presented by Lowe Equipment Attachments, this event saw many teams from the state of Wisconsin with lots of local knowledge of Lake Winnebago, the rivers and upper lake system. Corey and Hunter spent over a week preparing for what turned out to be a grind-it-out fight to the top. When weigh-in came around on Saturday, Hunter had one thing on his mind, hoisting the big beautiful trophy over his head. "The money is great, but I'm just going to spend it, the trophy though, I taking that to the grave with me."
Fishing a simple jig and leech or crawler, the pair fished the upper lakes along edges of thick cover. They managed to catch a day-one weight of 12-02 securing a lead. "I don't know that we are going to sleep tonight" said Corey after completing the first day of competition. The following morning, the team set off to their spot in hopes that they could repeat the success they had the previous day. With a camera crew in tow, Meyer and Seelow caught 11-14, enough to give them a lead and win with a total weight of 24-00 and an over 2lbs advantage on second place.
With that weight the duo locked up the $10,200 in cash, a $1000 Bass Pro Shops and Cabela's NTC prize package, the top option-pot check of $3,685, two Okuma fishing reels and of course, the trophies, for a grand total of over $15,000.
Rounding out the top-five remaining teams:
2nd: Brandon & Tom McPeak 21-13, $5,000 cash
3rd: Tom & Mike Kamp 18-03, $3,450 cash and $1,000 Lowrance Bonus
4th:  Jim Erdman & Jeremy Hurst 18-02, $2,550 and Ranger Cup bonus
5th: Michael McCarddle & Michael Yamaguchi 17-10, $2,050 cash and $2,500 option-pot cash
The teams caught 496 fish weighing a total of 832 lbs. 01 oz. during the event. The Berkley Big Fish of the event was 5-08 caught by Brandon and Tom McPeak.
Under the umbrella of The Walleye Federation (TWF), the Bass Pro Shops and Cabela's Masters Walleye Circuit is North America's longest-running and undisputed leader in team walleye tournaments and as an inductee into the freshwater fishing hall of fame, has set the standard for competitive walleye fishing for 37 years. MWC is open to walleye anglers from all walks of life. The 2021 schedule includes seven qualifiers in six states, plus the 2021 Bass Pro Shops and Cabela's MWC World Walleye Championship. Registration is now open for all events, and the registration deadline for the Lake Oahe tournament is close of business Monday, June 21th. Visit masterswalleyecircuit.com for full details.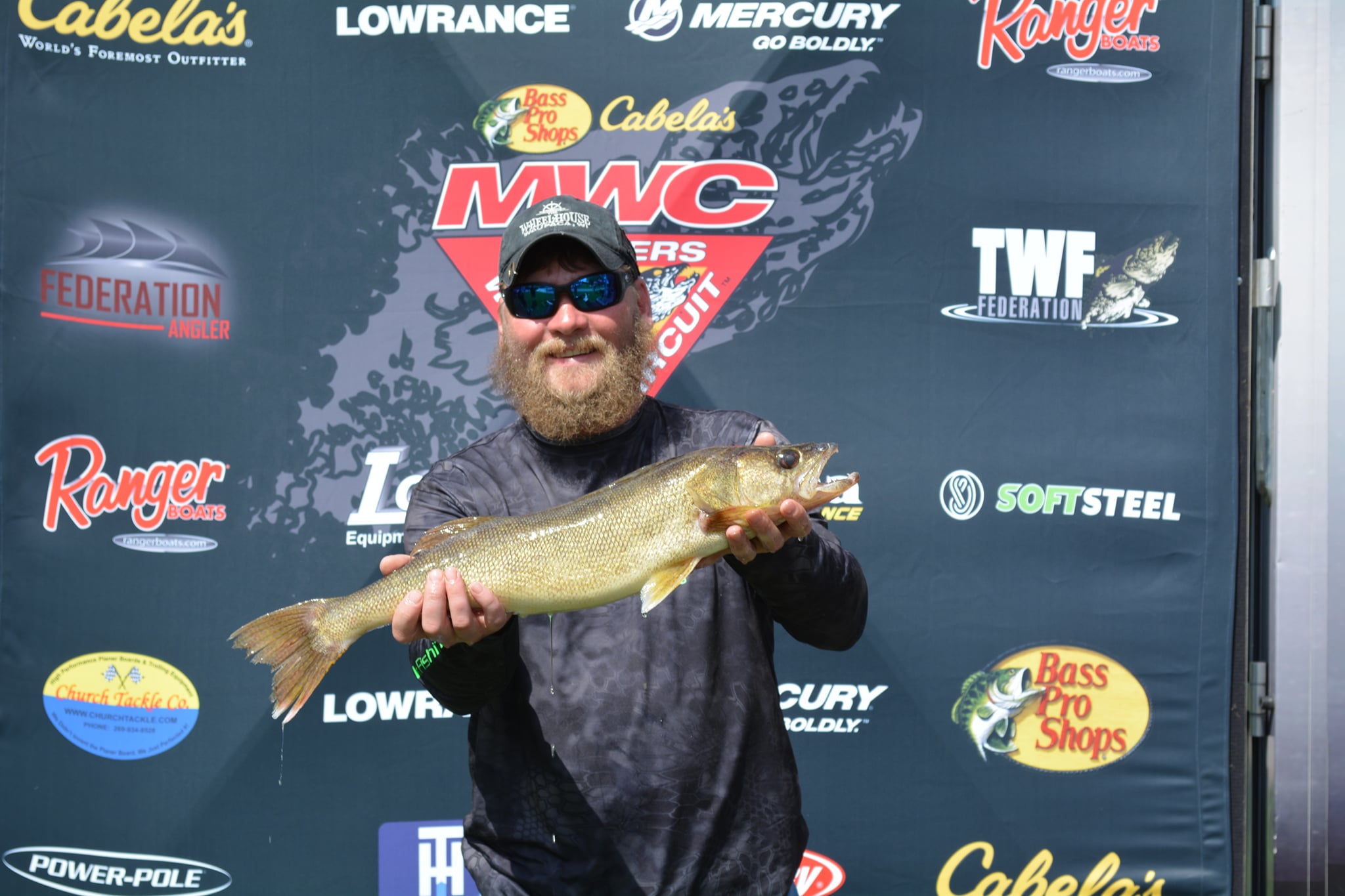 Bass Pro Shops & Cabela's – The World's Foremost Outfitters, are in their 20th season as title sponsor of the Masters Walleye Circuit. Official sponsors include: Lowe Equipment Attachments, Lowrance Electronics, Mercury Marine, Ranger Boats and The Walleye Federation. Associate sponsors include: Church Tackle, Berkley Fishing, Okuma, Power-Pole, Soft Steel and T-H Marine. For more information, email info@masterswalleyecircuit.com, or call (580) 765-9031.
###