For Immediate Release –
 Ponca City, Okla.—June 24, 2013—Over $65,000 in cash and prizes will be at stake as more than 230 of the world's top walleye anglers compete when the Cabela's Masters Walleye Circuit returns to the Lake Winnebago Chain out of Oshkosh, Wisconsin, June 28-30.
The team-format tournament offers two days of competition on the system's incredible walleye fishery, with one day reserved in case of bad weather. With tournament waters including legendary lakes Winnebago, Butte des Morts, Poygan and Winneconne, plus the Fox and Wolf rivers, anglers can expect great catches and an all-out walleye battle to claim one of the top 23 places and finish "in the money."
First place pays out a cool $15,200 in cash plus a $1,000 Cabela's National Team Championship Prize Package including paid NTC entry, travel stipend, team jerseys and plaques. The MWC Big Fish Pot, along with sponsor bonuses including Cabela's Angler Cash, Ranger Cup, Lowrance HDS Gen2/Elite-7, Berkley Baits and Optima True Blue add thousands more in cash and prizes to the total.
Industry-leading marine engine manufacturer Mercury Marine, based in nearby Fond du Lac, Wisconsin, is presenting sponsor of the event. "We're happy to have the MWC back in Oshkosh, and are looking forward to a great tournament," said Mercury's Michelle Kilburn.
The MWC has a rich history in the region and on Winnebago in particular. In 2010, a dual tournament combining the Cabela's National Team Championship and an MWC qualifier drew 362 teams and was recognized by the Guinness Book of World Records as history's largest fishing tournament.
The circuit's time-tested team format lets anglers choose their favorite fishing partner to share the excitement. Two-person teams will be allowed to weigh five walleyes per day, and the team with the heaviest two-day total weight will be crowned the Winnebago tournament champions. Considering the amount of world-class walleye water available, heavy weights are expected. Last summer, Wisconsinites Mark Schleis and Randy Seidl won the MWC Winnebago qualifier and nearly $20,000 in cash and prizes with a 39.69-pound total catch.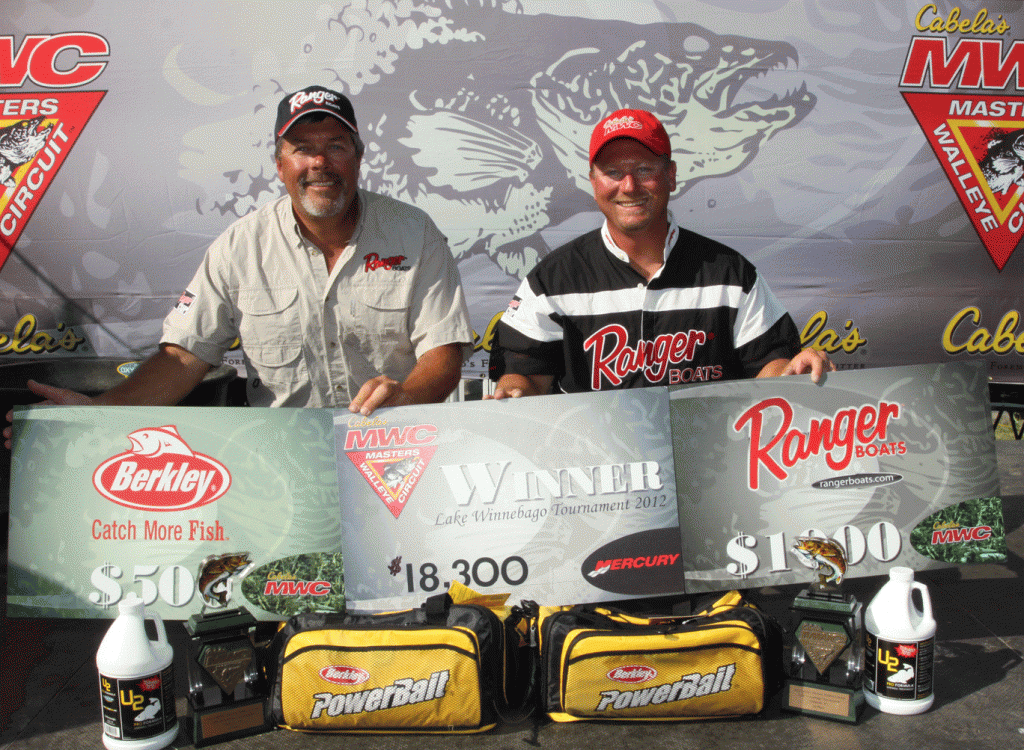 Walleye fans of all ages are invited to the weigh-ins, which are free and open to the public. The festivities begin at 3 p.m. daily at Menominee Park in Oshkosh. The Cabela's MWC, National Professional Anglers Association, Pure Fishing and Zippo Outdoor Brands will present a Youth & Family Fishing Clinic immediately after the first day's weigh-in. The first 50 youths will receive rod-and-reel combos courtesy of the NPAA.
This is the seventh of 10 Cabela's MWC qualifying tournaments in 2013. The remaining schedule includes Devils Lake, North Dakota, August 2-4; the St. Mary's River at Sault Ste. Marie, Michigan, August 22-23; and Cass Lake, Minnesota, out of Stony Point Resort, Sept. 13-15.
Cabela's, the World's Foremost Outfitter for hunting, fishing and outdoor gear, is in its 11th season as title sponsor of the MWC. Official sponsors include: Berkley Gulp!, Lowe Equipment Attachments, Lowrance, Mercury Marine, MotorGuide, Ranger Boats, The Walleye Federation and Zippo Outdoor Brands. Associate sponsors include: Berkley Trilene, Church Tackle, Optima Batteries, O2 Marine Technologies and Sea Grant.
Based in Ponca City, Oklahoma, the Cabela's MWC is oldest running national walleye circuit in America. Cabela's MWC is owned by The Walleye Federation and is open to two-person teams regardless of club or sponsor affiliation. Entry fees are $650 per tournament, of which more than 100 percent is returned to anglers at the qualifiers, World Championship and Team of the Year races. Registration remains open through the Sunday night prior to each tournament. For more information, visit masterswalleyecircuit.com, email info@masterswalleyecircuit.com, or call (580) 765-9031.
###