Schoning, Kiefer Win Cabela's Masters
Walleye Circuit's Lake Oahe Tournament
Presented by MotorGuide
For Immediate Release –
Spring Creek, S.D.—June 8, 2013—Colorado's Mark Schoning and Chad Kiefer led wire-to-wire to win the Cabela's Masters Walleye Circuit's Lake Oahe qualifying tournament out of Spring Creek, South Dakota.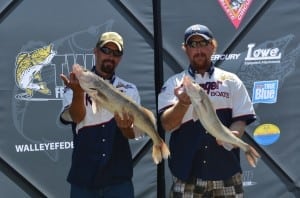 Schoning, of Colorado Springs, and Kiefer, of Brighton, topped the Day One leaderboard with 18 pounds, 7 ounces, leading their closest rivals in the 43-team field by nearly 3 pounds. The basket contained what would become big fish of the tournament, an 8-pound, 7-ounce High Plains beauty.
After a tougher bite on Day Two, they added 9 pounds, 15 ounces to the tally for a 28-pound, 6-ounce total. The Lake Oahe victory earned them the $8,300 first-place purse, which included $7,300 in cash plus a $1,000 Cabela's National Team Championship Prize Package featuring a paid NTC entry, travel stipend, team jerseys and plaques. They also collected a $1,000 Cabela's gift card from the Cabela's Angler Cash Program, $1,000 Ranger Cup contingency, $500 Berkley Tackle Package and $462.50 from the MWC Big Fish Pot for a total of $11,262.50 in cash and prizes.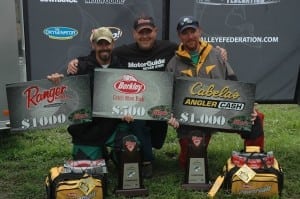 It wasn't the team's first trip down victory lane. They won the 2013 Cabela's MWC Lake Pueblo tournament in May. Winning their second straight event lifted them into elite company on the MWC. The last team to accomplish such a feat was Scott Busteed, of Fort Collins, Colorado, and Dave Harmon, of Omaha, Nebraska, who scored back-to-back wins at the Devils Lake and Lake Oahe MWC tournaments in 2011.
"This is unbelievable!" said Schoning. "To win two straight MWC tournaments against this caliber of fishermen is incredible." Kiefer was likewise on cloud nine. "I'm pretty elated," he grinned moments after the weigh-in.
The team's go-to strategy was targeting depths to 20 feet along a key slice of slab rock structure about 20 miles north of the Spring Creek launch site. A trio of tactics yielded fish. They pitched ¼-ounce jigs tipped with Berkley Gulp! softbaits to shore; vertically jigged minnows and leeches; and deadsticked live minnows on floater rigs behind bottom bouncers.
"What great examples these young guns are," the MWC's Robert Cartlidge said of Schoning and Kiefer. He noted that the MWC conducted random polygraphs at the Oahe event, with Schoning and Kiefer passing theirs with flying colors. "The MWC will strive to maintain the highest standards of sportsmanship, excellence, professionalism and a level playing field for all MWC participants, and will polygraph at random events each year," he explained.
Curt Olivier, of Yankton, South Dakota, and Doug Galant, of Pleasant Hills, Missouri, finished second with 27 pounds, 12 ounces, worth $3,800 plus a $500 Lowrance Electronics award for being the highest-finishing team using a Lowrance HDS Gen2, HDS Gen2 Touch or Elite-7 unit. The event paid out eight places. Plus, Ron and Spencer Deutz, of Fargo, North Dakota, claimed the $200 Optima Batteries True Blue bonus for their 12th-place finish. In all, a total of $26,570 in cash, sponsor bonuses and Big Fish Pot winnings were awarded.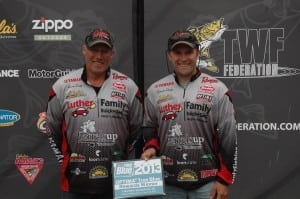 Scheduled for June 7-9, the team-format tournament offered two days of competition on Oahe's renowned walleye fishery, with one day reserved in case of bad weather. Each day, teams were allowed to bring their best five walleyes to the scale. A total of 411 walleyes weighing 902 pounds, 15 ounces crossed the stage during the tournament.
Weigh-ins were held at Spring Creek Resort and Deep Water Marina. The Cabela's MWC, National Professional Anglers Association, Pure Fishing and Zippo Outdoor Brands presented a Youth & Family Fishing Clinic immediately after the first day's weigh-in. The first 50 youths received rod-and-reel combos courtesy of the NPAA.
This was the sixth of 10 Cabela's MWC qualifying tournaments in 2013. The remaining schedule includes Lake Winnebago at Oshkosh, Wisconsin, June 28-30; Devils Lake, North Dakota, August 2-4; the St. Mary's River at Sault Ste. Marie, Michigan, August 22-23; and Cass Lake, Minnesota, out of Stony Point Resort, Sept. 13-15.
Cabela's, the World's Foremost Outfitter for hunting, fishing and outdoor gear, is in its 11th season as title sponsor of the MWC. Official sponsors include: Berkley Gulp!, Lowe Equipment Attachments, Lowrance, Mercury Marine, MotorGuide, Ranger Boats, The Walleye Federation and Zippo Outdoor Brands. Associate sponsors include: Berkley Trilene, Church Tackle, Optima Batteries, O2 Marine Technologies and Sea Grant.
Based in Ponca City, Oklahoma, the Cabela's MWC is oldest running national walleye circuit in America. Cabela's MWC is owned by The Walleye Federation and is open to two-person teams regardless of club or sponsor affiliation. Entry fees are $650 per tournament, of which more than 100 percent is returned to anglers at the qualifiers, World Championship and Team of the Year races. Registration remains open through the Sunday night prior to each tournament. For more information, visit masterswalleyecircuit.com, email info@masterswalleyecircuit.com, or call (580) 765-9031.
###