Hughes, Jacobson Win Cabela's Masters
Walleye Circuit's Lake Winnebago Tournament
Presented by Mercury Marine
For Immediate Release –
Oshkosh, Wisc.—June 29, 2013—Cabela's Masters Walleye Circuit veterans Jim Hughes and Matt Jacobson led wire-to-wire to win the trail's Lake Winnebago Chain qualifier out of Oshkosh, Wisconsin, June 28-29.
"It's a nice feeling to win this one," said Hughes, of Oshkosh, Wisconsin. An MWC competitor since 1990, he was quick to note the unique camaraderie enjoyed on the Circuit. "It's really special fishing with all the local teams—who've been so supportive and gracious to us—along with all the MWC traveling teams, too. It feels like a fraternity of brothers."
After a stellar opening day performance, highlighted by their five-fish MWC limit weighing 23 pounds, 13 ounces, the team owned the leaderboard on Day One and never looked back. Though their second trip across the Cabela's MWC stage featured a bit smaller bag—five walleyes weighing 16 pounds, 9 ounces—they still topped the nearest competitors in the 118-team field by more than five pounds.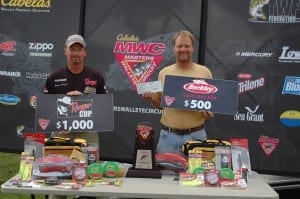 The Winnebago win earned them the $16,200 first-place purse, which included $15,200 in cash plus a $1,000 Cabela's National Team Championship Prize Package featuring a paid NTC entry, travel stipend, team jerseys and plaques. Plus, they earned the $1,000 Ranger Cup contingency, a $500 Berkley Tackle Package, and $980 from the Big Fish Pot for total winnings of $18,680 in cash and prizes.
"It's great to win, but it doesn't seem real yet," added Jacobson. The Weyauwega, Wisconsin, competitor has quite a track record on the lake. In fact, this was his second MWC victory on Winnebago. "Partner Greg Krings and I won the MWC tournament here in 1984," he grinned, noting that he and current partner Jim Hughes scored a win at the Mercury Nationals on Winnebago in 2009.
While changing weather patterns forced Hughes and Jacobson to hunt for fish, their main tactics hinged on crankbaits including the Berkley Flicker Shad. Trolling 10- to 14-foot depths near the mouth of the Fox River produced most of their fish, although Jacobson noted that they only got five bites each day. "If something had gone wrong with one or two of those fish, it would have been a whole different story for us," he said.
Fellow Wisconsinites Joel Robl and Greg Golliher, both of Oshkosh, finished second with 35 pounds, 5 ounces, worth $6,650. Third-place finishers Bill Ball and Jon Noble, both of Fond du Lac, Wisconsin, claimed a $1,000 Cabela's gift card from the Cabela's Angler Cash Program. In fifth place, Jim Preissner, of Chilton, Wisconsin, and Mike Olson, of Andover, Minnesota, won the $500 Lowrance Electronics award for being the highest-finishing team using a Lowrance HDS Gen2, HDS Gen2 Touch or Elite-7 unit. The Circuit's $200 Optima True Blue contingency went to David Kolb, of Rockford, Michigan, and Paul Rogers, of McHenry, Illinois. In all, the top 22 teams shared $68,710 in cash, sponsor bonuses and Big Fish Pot winnings.
The team-format tournament offered two days of competition on the Winnebago Chain's world-class walleye fishery, with one day reserved in case of bad weather. Each day, teams were allowed to bring their best five walleyes to the scale. A total of 568 walleyes weighing 1,659 pounds, 12 ounces crossed the stage during the tournament. Of those, 564 were returned to Lake Winnebago under the Cabela's MWC's time-tested catch-and-release format. Big fish was a 6-pound, 9-ounce walleye caught by the Wisconsin team of Pete Petta, of Tomahawk, and David Cooper, of Schofield. The fish was worth $1,225 from the Big Fish Pot.
Weigh-ins were held at Menominee Park in Oshkosh. The Cabela's MWC, National Professional Anglers Association, Pure Fishing and Zippo Outdoor Brands presented a Youth & Family Fishing Clinic immediately after the first day's weigh-in. The first 50 youths received rod-and-reel combos courtesy of the NPAA.
This was the seventh of 10 Cabela's MWC qualifying tournaments in 2013. The remaining schedule includes Devils Lake, North Dakota, August 2-4; the St. Mary's River at Sault Ste. Marie, Michigan, August 22-23; and Cass Lake, Minnesota, out of Stony Point Resort, Sept. 13-15.
Cabela's, the World's Foremost Outfitter for hunting, fishing and outdoor gear, is in its 11th season as title sponsor of the MWC. Official sponsors include: Berkley Gulp!, Lowe Equipment Attachments, Lowrance, Mercury Marine, MotorGuide, Ranger Boats, The Walleye Federation and Zippo Outdoor Brands. Associate sponsors include: Berkley Trilene, Church Tackle, Optima Batteries, O2 Marine Technologies and Sea Grant.
Based in Ponca City, Oklahoma, the Cabela's MWC is oldest running national walleye circuit in America. Cabela's MWC is owned by The Walleye Federation and is open to two-person teams regardless of club or sponsor affiliation. Entry fees are $650 per tournament, of which more than 100 percent is returned to anglers at the qualifiers, World Championship and Team of the Year races. Registration remains open through the Sunday night prior to each tournament. For more information, visit masterswalleyecircuit.com, email info@masterswalleyecircuit.com, or call (580) 765-9031.
For complete standings… CLICK HERE
FOR over 800 Pictures of the event…CLICK HERE
Be sure to "Like Us " On Facebook!
###