Johnson and Rhoads Breeze to a Win on Lake Huron
 Presented by Lowe Equipment Attachments
Oscoda, Mich — July 20, 2020 — When Dan Johnson (Fayetteville,OH) and Larry Rhoads (Milford, OH) found themselves facing a mighty Southwest wind on Lake Huron Friday afternoon, they knew they had to make every cast count and more importantly, every bite. Launching out of the AuSable River for the two-day Bass Pro Shops and Cabela's Masters Walleye Circuit, presented by Lowe Equipment Attachments, Dan and Larry headed south toward Saginaw Bay to find what they needed to hoist the trophy at the end of the weekend.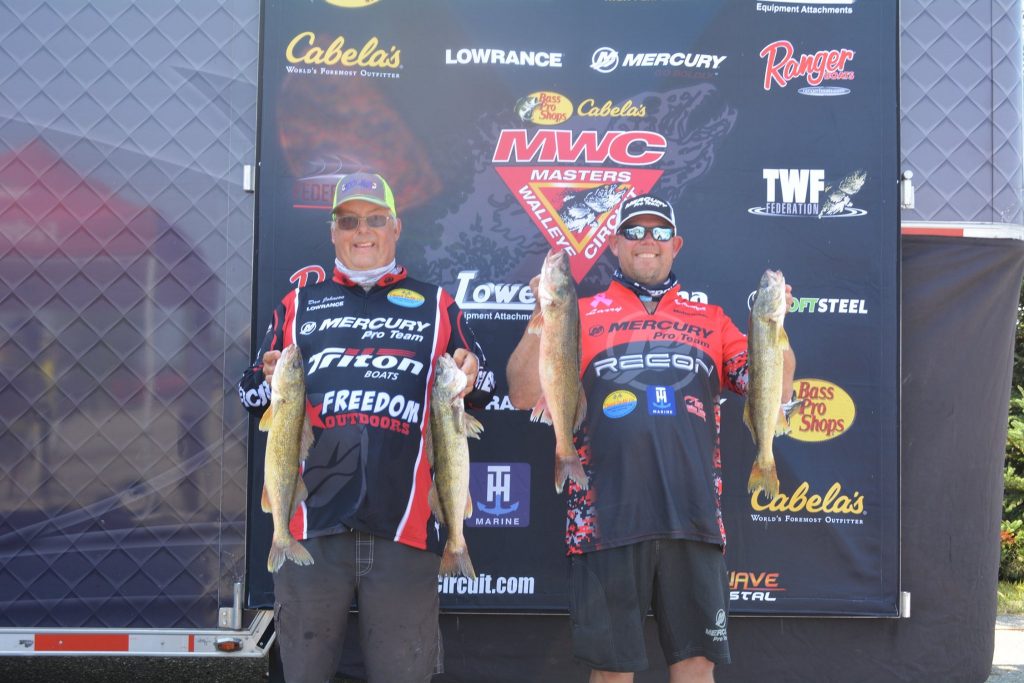 "We finally had consistent wind and weather both today and yesterday." Said Larry after Saturday's weigh-in at the AuSable River Harbor. "We only caught nine fish today and I knew Steve (Vandermark) and Jerry (Fox Jr.) were on good fish too, the same program actually." Dan and Larry lead after day one with a Friday weight of 19-01 and knew they would need a little luck to keep the lead. "The camera guy (Kevin) was our good luck charm, I think. We didn't catch many after he left our boat."
The event was the first of its kind for the communities of Oscoda/AuSable, MI. Originally scheduled for the Detroit River in April of 2020 the Masters Walleye Circuit was forced to move and reschedule selecting Oscoda as the replacement destination for the Michigan event. "The atmosphere in town was exciting, every single marquee in town had a message to our anglers wishing them luck and welcoming them to town. "Jeff Kelm, tournament announcer said. "They had volunteers handing out free coffee and donuts at the launch, free hot dogs at weigh-in, everyone in town was asking "what can we do to help and when are you coming back?"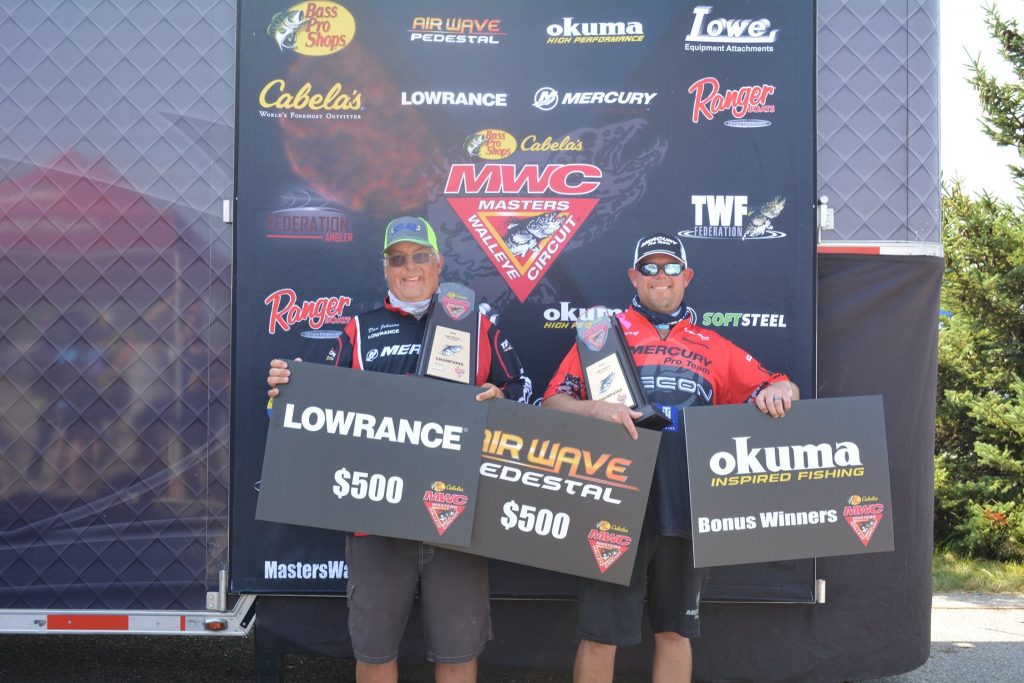 Dan Johnson and Larry Rhoads weighed a total of 35-11 and brought home over $13,400 in cash and prizes, including the $7,200 first-place cash payout, $3,200.50 option pot cash, $500 Lowrance bonus, $500 AirWave certificate, $200 in Okuma reels, a TH Marine Atlas Awards bonus and a $1,000 Bass Pro Shops and Cabela's National Team Championship Prize Package, including paid entry into the Bass Pro Shops and Cabela's NTC, travel stipend, team jerseys and plaques.
The rest of the top five teams:
2nd: Steve Vandemark & Jerry Fox Jr. 34-04, $3,700 cash, $1,000 Ranger Cup bonus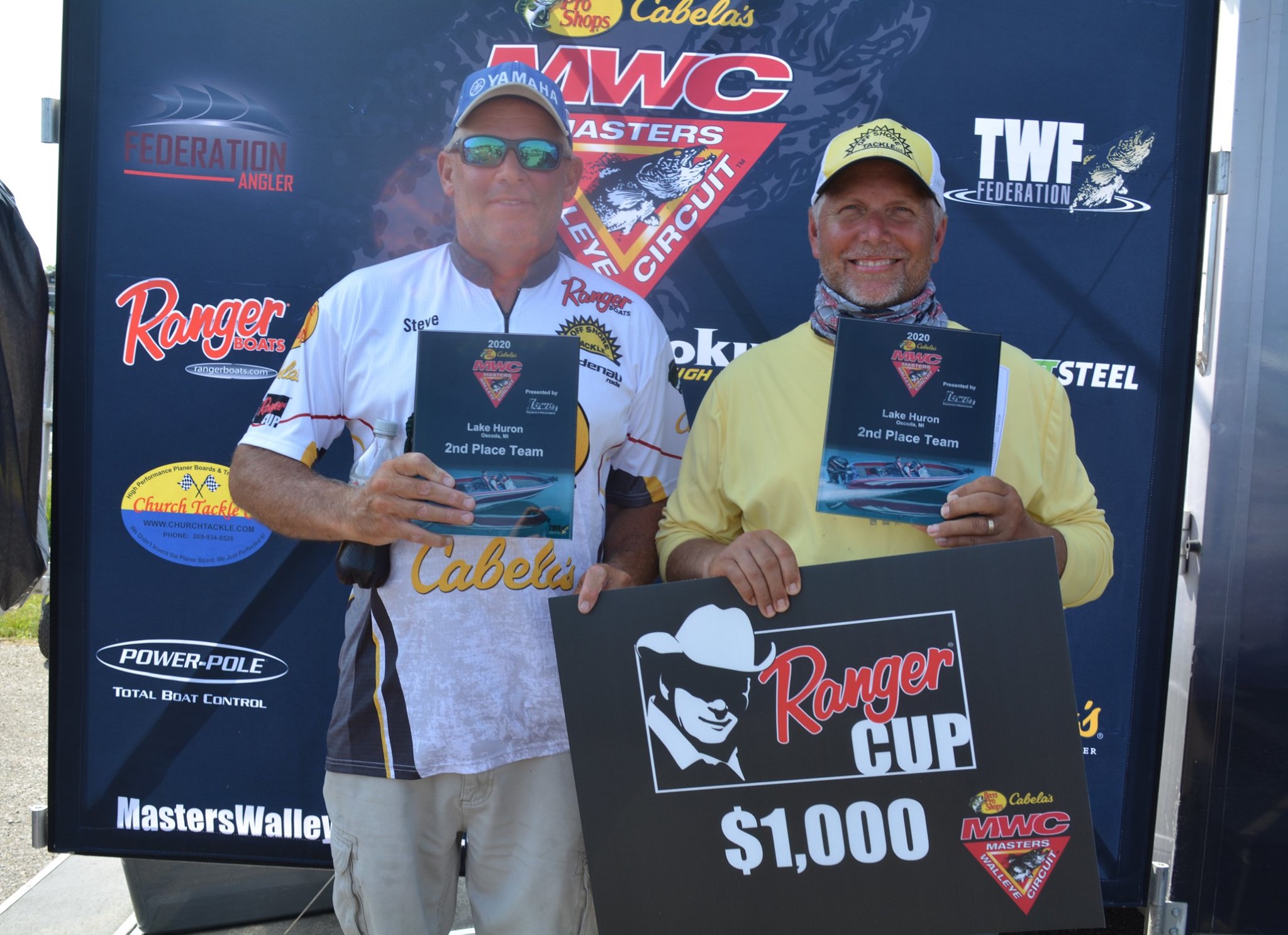 3rd: Kevin Dahl & Travis Pisarek 30-08, $2,450 cash, $2,000 option pot cash
4th: Rodger Riggs & Jason Kopf 29-10, $1,600 cash, $1,250 option pot cash
5th: Dennis Pisha & Tyler Schuiteman 29-07, $1,500 cash
All together the Bass Pro Shops and Cabela's Masters Walleye Circuit awarded $29,080.50 in cash and prizes at Oscoda/AuSable, MI.
252 fish weighed a total of 725 lbs. 09 oz. during the event.
Under the umbrella of The Walleye Federation (TWF), the Bass Pro Shops and Cabela's Masters Walleye Circuit is North America's longest-running and undisputed leader in team walleye tournaments and as an inductee into the freshwater fishing hall of fame, has set the standard for competitive walleye fishing for 36 years and is open to avid walleye anglers from all walks of life. The 2020 schedule includes 7 qualifiers in seven states, plus the 2021 Bass Pro Shops and Cabela's MWC World Walleye Championship.
Bass Pro Shops and Cabela's – The World's Foremost Outfitters, are in their 19th season as title sponsor of the Masters Walleye Circuit. Official sponsors include: Lowe Equipment Attachments, Lowrance Electronics, Mercury Marine, Ranger Boats and The Walleye Federation. Associate sponsors include: AirWave Pedestals, Berkley, Church Tackle, Soft Steel, Okuma, Power-Pole and T-H Marine. For more information, email info@masterswalleyecircuit.com, or call (580) 765-9031.