Ponca City, Okla. — July 20, 2020 — Anticipation grows as anglers prepare to converge on a favorite across the circuit, the Bay of Green Bay, this time launching out of Marinette, WI. August 7-8 the "Toughest Walleye Teams on Planet Earth" will pit themselves against the elements to bring to the scales their five largest walleyes. Presented by Wisconsin-based Mercury Marine, the Bass Pro Shops and Cabela's Masters Walleye Circuit (MWC) looks to showcase the incredible fishery "the bay" continues to be.
"The Masters Walleye Circuit has a long history of conservation efforts on Green Bay over the last three decades, as well as many other bodies of water." Jack Baker, tournament director said. "A quick search will show up many articles that link the Masters Walleye Circuit to a multitude of conservation efforts to support walleye fishing over the years." MWC's continued pledge of giving back a portion of all entry fees to walleye conservation, preservation and restoration has resulted in over $360,000 direct dollars being donated to numerous walleye projects to date.  Much of those MWC funds were matched three dollars to every one dollar with federal sport fish restoration funds which resulted in well over one-million dollars being directed to walleye fishing. "On a popular body of water like Green Bay where hundreds of guides and charter boats operate daily, multiple events are held each year and tens of thousands of angler days are logged annually, it is important for us all to help support the resource.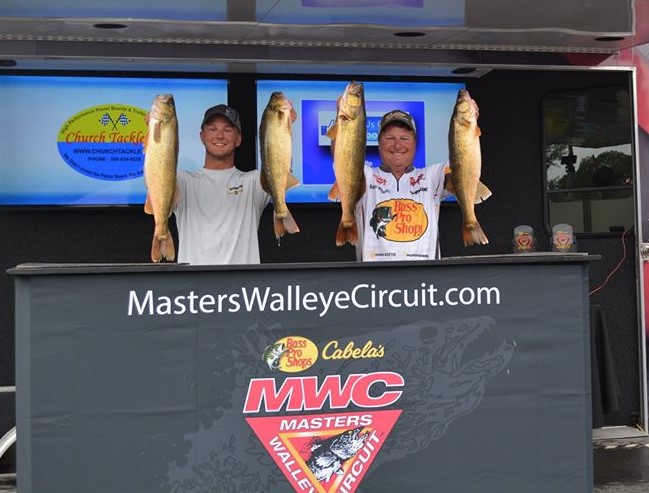 The MWC has been doing just that longer than anyone else in the industry. "We are so proud to have state of the art weigh-in equipment, including top-of-the-line release boats that are the envy of any state agency or fishery biologist. We look back years ago and thanks to the efforts of many, including the DNR and fisheries biologists, the MWC family of anglers and staff long before I got here, the weights and the fishery continues to stay healthy and shine year after year."
Due to the Covid 19 pandemic, this tournament was moved to the August 7-8 dates after originally being scheduled as a May 2020 event. Baker commented on the disappointment of having to reschedule. "We know anglers were looking forward to a spring event here, and frankly, so was I, but we will have a great time and I know the competitors have their summertime spots picked out."
Each MWC event has a lucrative payout which is based on the number of teams entered into that event, and is awarded to 20% of the field, providing more inspiration to sign up and join the fun. In addition, to a hefty check, the first-place team also earns a $1,000 Bass Pro Shops/Cabela's National Team Championship (NTC) prize package including paid entry, travel stipend, team jerseys and plaques. Additionally, the big-fish pot, option pot and sponsor bonuses from Ranger Cup, Lowrance, Okuma, AirWave and T-H Marine Atlas Awards add thousands more for distribution among the field.
Qualified teams from the 2020 season earning points in at least three qualifiers compete for coveted berths in the 2021 World Walleye Championship, set for October 2021 on the Mississippi River in Lake City, MN. Those earning points in at least four qualifiers compete for Team of the Year honors, including a $10,000 sponsorship package and thousands more in cash and prizes to the top 10 teams in the final "best of 4" final standing each year.
Daily live weigh-ins will be held at Menekaunee Habor beginning at 3:00pm both days August 7, 8.  We encourage you to watch the weigh-ins live, online, at masterswalleyecircuit.com or on our Facebook page facebook.com/MastersWalleyeCircuit.
Under the umbrella of The Walleye Federation (TWF), the Bass Pro Shops and Cabela's Masters Walleye Circuit is North America's longest-running and undisputed leader in team walleye tournaments and as an inductee into the freshwater fishing hall of fame, has set the standard for competitive walleye fishing for 36 years. MWC is open to walleye anglers from all walks of life. The 2020 schedule includes seven qualifiers in seven states, plus the 2021 Bass Pro Shops and Cabela's MWC World Walleye Championship. Registration is now open for all events, and the registration deadline for the Marinette tournament is close of business Monday, August 3. Visit masterswalleyecircuit.com for full details.
Bass Pro Shops & Cabela's – The World's Foremost Outfitters, are in their 19th season as title sponsor of the Masters Walleye Circuit. Official sponsors include: Lowe Equipment Attachments, Lowrance Electronics, Mercury Marine, Ranger Boats and The Walleye Federation. Associate sponsors include: AirWave Pedestals, Church Tackle, Berkley Fishing, Okuma, Power-Pole, Soft Steel and T-H Marine. For more information, email info@masterswalleyecircuit.com, or call (580) 765-9031.
###