Lorain, Ohio — June 8, 2020 — The new season finally dawned on the 2020 Bass Pro Shops and Cabela's Masters Walleye Circuit and Lorain, Ohio opened its doors to anglers from across the country. Participants from 12 states converged on the shoreline of Lake Erie to battle for the top spot and the $12,000 first-place cash prize. One such team, from Oscoda and Greenbush Michigan, of Adam Hume and Mike Karner fought through adversity to claim the weekend's title of champion.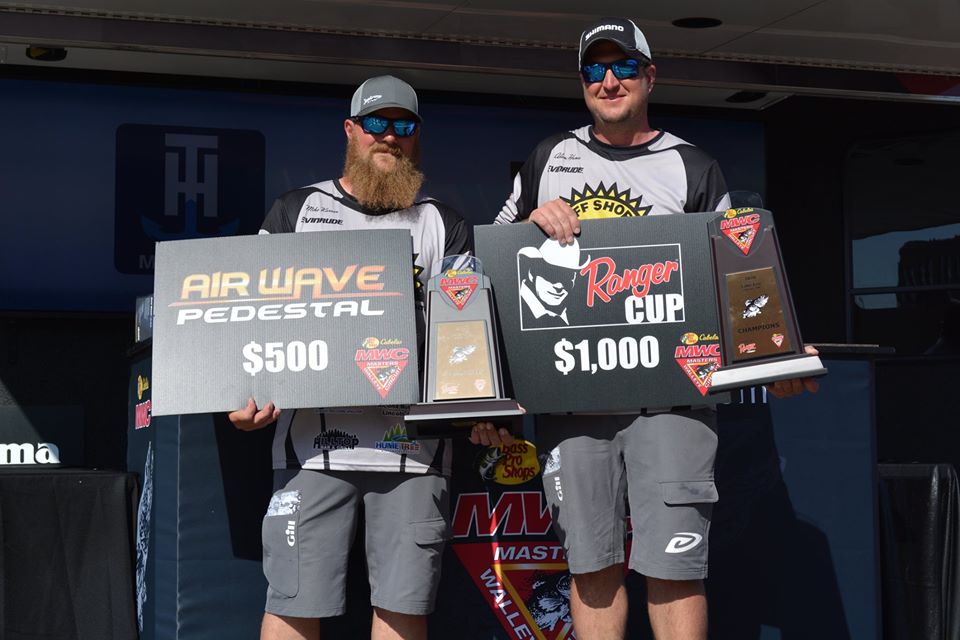 Adam and Mike arrived early on Monday to begin pre-fishing the tournament waters but within two days of preparation, hopes of participating quickly diminished. Motor problems troubled the team on Wednesday and they spent their day pondering their next plan. Fortunately for Adam and Mike, the issue was minor and back to the grind they went on Thursday to finalize the plan for the 2-day event starting the following day.
"One of our home programs in deep water is pulling bandits deep." said Hume on stage as the weigh-in wrapped up Saturday. "We were fishing deeper than most." The team knew what they were comfortable doing and found the right location to fill the livewell with over 44lbs of fish on day-one, including the "Big Fish" of 10-06.  The duo caught over 39lbs of fish on the final day to end with a total weight of 83-13, over ten pounds more than second place.
Hume and Karner walk away with $14,700 in cash and prizes, including the $12,000 first-place cash payout, $1,000 Ranger Cup Bonus, $500 AirWave certificate, $200 in BPS/Cabela's gift cards for day-one "Big Fish" and a $1,000 Bass Pro Shops and Cabela's National Team Championship Prize Package, including paid entry into the Bass Pro Shops and Cabela's NTC, travel stipend, team jerseys and plaques.
The rest of the top five teams:
2nd: Chris Bradway & Kody Hill 73-01, $6,050 cash
3rd: Randell Gaines & Mark Wilmont 68-09, $3,750 cash, $3,800 option pot cash, $200 of Okuma reels
4th: Paul Kerr & Francis Ball 67-00, $2,760 cash
5th: Gary Kisel & Alex Kisel 66-10, $2,280 cash, $2,750 option pot cash, $500 Lowrance bonus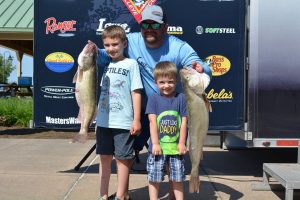 All together the Bass Pro Shops and Cabela's Masters Walleye Circuit awarded $62,589.50 in cash and prizes in Lorain, OH.
832 fish weighed a total of 4,072 lbs. 12 oz. during the event. Jason Zsebik and Timothy Johnson took home "Big Fish" honors on Saturday with their 10-15 walleye on Saturday.
Under the umbrella of The Walleye Federation (TWF), the Bass Pro Shops and Cabela's Masters Walleye Circuit is North America's longest-running and undisputed leader in team walleye tournaments and as an inductee into the freshwater fishing hall of fame, has set the standard for competitive walleye fishing for 36 years and is open to avid walleye anglers from all walks of life. The 2020 schedule includes 7 qualifiers in seven states, plus the 2021 Bass Pro Shops and Cabela's MWC World Walleye Championship.
Bass Pro Shops and Cabela's – The World's Foremost Outfitters, are in their 19th season as title sponsor of the Masters Walleye Circuit. Official sponsors include: Lowe Equipment Attachments, Lowrance Electronics, Mercury Marine, Ranger Boats and The Walleye Federation. Associate sponsors include: AirWave Pedestals, Berkley, Church Tackle, Soft Steel, Okuma, Power-Pole and T-H Marine. For more information, email info@masterswalleyecircuit.com, or call (580) 765-9031.