Hernesman, Colter Win Cabela's Masters Walleye Circuit Cass Lake Tournament
Presented by Lowe Equipment Attachments
Cass Lake, Minn.—Sept. 15, 2018— Dave Hernesman and Sean Colter of Grand Rapids, Minnesota, made the big bites count to top the leaderboard at the Cabela's Masters Walleye Circuit's regular season finale on Minnesota's Cass Lake out of Stony Point Resort, September 14-15, 2018.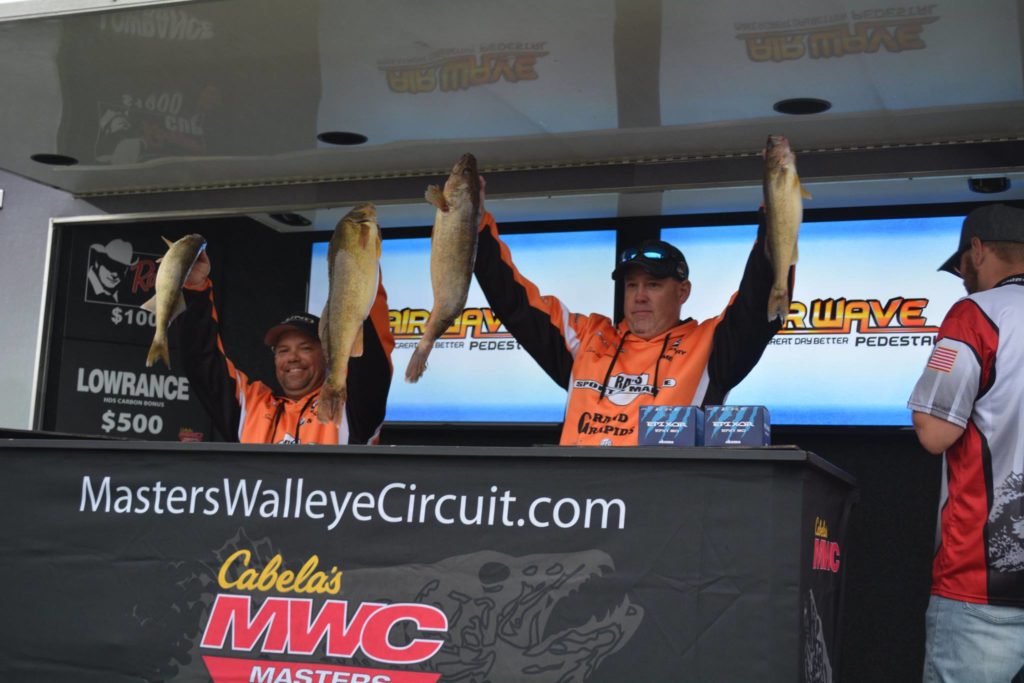 "This is awesome," said Colter. "We've fished the Cass Lake MWC since 2012 and been in the top 10 before, but winning feels amazing. It's going to take awhile to sink in."
"It's great," added Hernesman. "We were locked in a three-way tie for first place on day one and got a monster bag today. We felt pretty good about our chances coming in today, but felt that if someone was going to beat us, more power to them."
Presented by Lowe Equipment Attachments and headquartered at scenic Stony Point Resort, the two-day event featured 80 two-person teams.
Hernesman and Colter brought in a 5-fish MWC limit weighing 16 pounds, 2 ounces on day one. The weight put them in a tie with two other teams for first place in the daily standings. They upped the ante on day two with an 18-pound, 5-ounce basket for a 34-pound, 7-ounce tournament total.
They reported live-bait rigging large redtails and chubs on steep-breaklines in 32 to 40 feet of water on the main body of Cass Lake. "The way the big fish were biting, when we got a bite, we had to open the bail, turn the boat around and drive toward the fish while reeling to keep from losing them," Colter noted.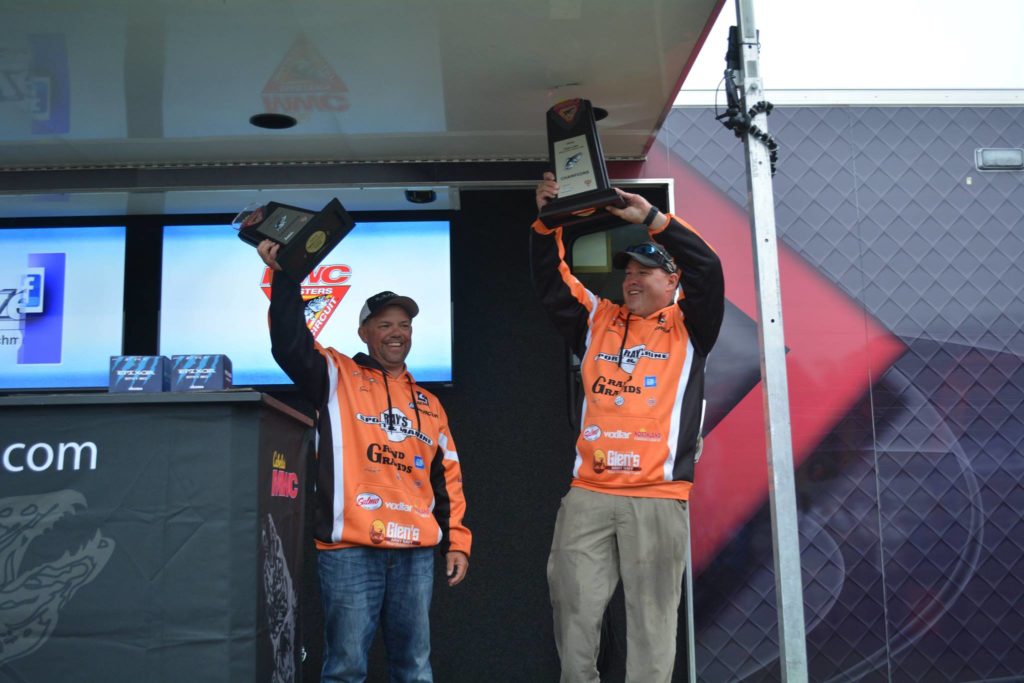 Hernesman and Colter collected $16,858 in cash and prizes for their efforts, including the $11,000 first-place cash payout, $3,658 cash from the option pot, $500 Lowrance Electronics bonus, $500 AirWave certificate, $200 Okuma reel bonus and a $1,000 Cabela's National Team Championship Prize Package including paid entry into the Cabela's NTC, travel stipend, team jerseys and plaques.
Rounding out the top five were:
2nd: Travor Diegel, Paul Steffen, 29-12, $5,850 cash plus $1,000 Ranger Cup bonus and $2,758 cash from the option pot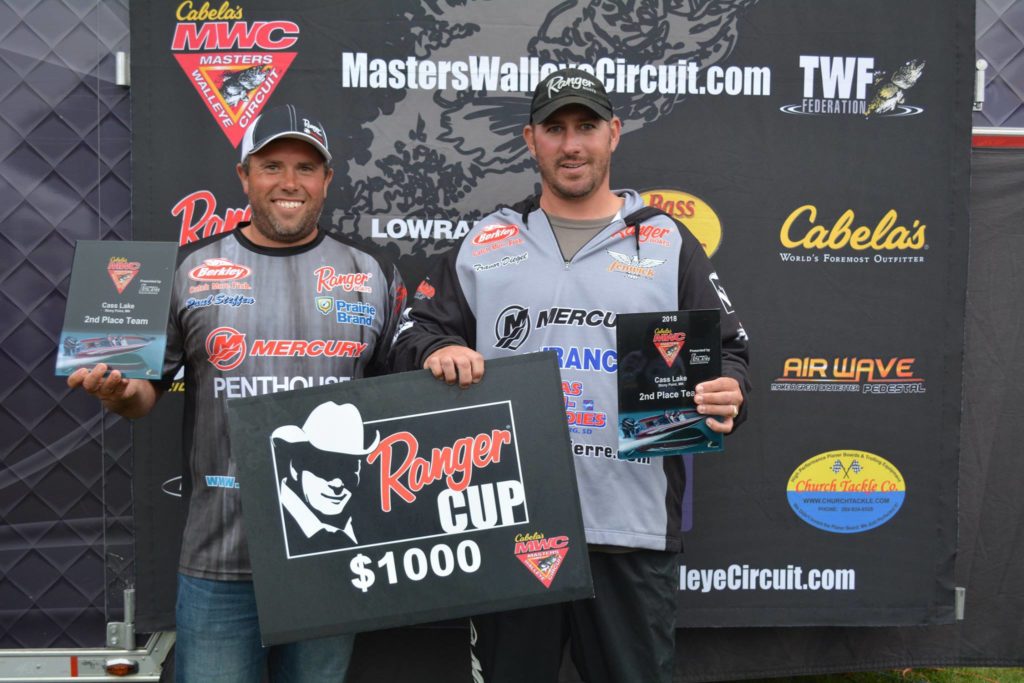 3rd: Troy Rahn, Jeremy Wildeman, 28-00, $3,700 cash
4th: Steve Weickert, Joe Balcer, 27-12, $2,700 cash plus $1,686 from the option pot
5th: Dylan Maki, Colt Anderson, 27-10, $2,200 cash
In all, the Cabela's MWC awarded $57,845.50 in cash and prizes at the Cass Lake event.
A total of 701 walleyes weighing 1,356 pounds, 8 ounces crossed the scale during the tournament. Big fish was a 7-pound, 3-ounce beauty caught by Steve Stanius and Dan Fitzpatrick. Adding to the fun, the Cabela's MWC and National Professional Anglers Association presented a Youth & Family Fishing Clinic immediately after the day-one weigh-in, with participating youths receiving rod-and-reel combos courtesy of the NPAA.
North America's longest-running and undisputed leader in team walleye tournaments, the Cabela's MWC has set the standard for competitive walleye fishing since 1984. Operated under the umbrella of The Walleye Federation (TWF), the Cabela's MWC is open to avid walleye anglers from all walks of life. The 2018 tournament schedule included eight qualifiers in seven states, plus the 2019 Cabela's MWC World Walleye Championship. Visit masterswalleyecircuit.com for updates, official rules and registration information.
Cabela's, the World's Foremost Outfitter for hunting, fishing and outdoor gear, is concluding its 17th season as title sponsor of the MWC. Official sponsors include: Bass Pro Shops, Lowe Equipment Attachments, Lowrance Electronics, Mercury Marine, Ranger Boats and The Walleye Federation. Associate sponsors include: AirWave Pedestals, Church Tackle, MotorGuide, Okuma, Power-Pole and T-H Marine. For more information, email info@masterswalleyecircuit.com, or call (580) 765-9031.
###