Gibson and Beck Take Top Honors at Bass Pro Shops / Cabela's Masters Walleye Circuit's Event Hosted by Lowe Equipment on Lake Erie
Sandusky, Ohio – April 26, 2022 – It was a tail of two different stories between what the anglers on Lake Erie encountered on day one of the event verses day two. On the first day, anglers were handed some pretty tough conditions with chilly temps and a strong north-east wind bringing some tall waves and rollers into the Sandusky Bay along the south shores of Lake Erie. Day two brought some very welcome changes in the weather as the wind subsided and changed from the south, bringing with it some very warm temps and a little less of a "walleye chop". Despite the changing weather, partners Joseph Gibson (Avon Lake, OH) and Bryan Beck (Lakewood, OH) took home the win at the second stop of the 2022 Bass Pro Shops and Cabela's Masters Walleye Circuit (MWC) event presented by Lowe Equipment Attachments. on Lake Erie out of Sandusky OH.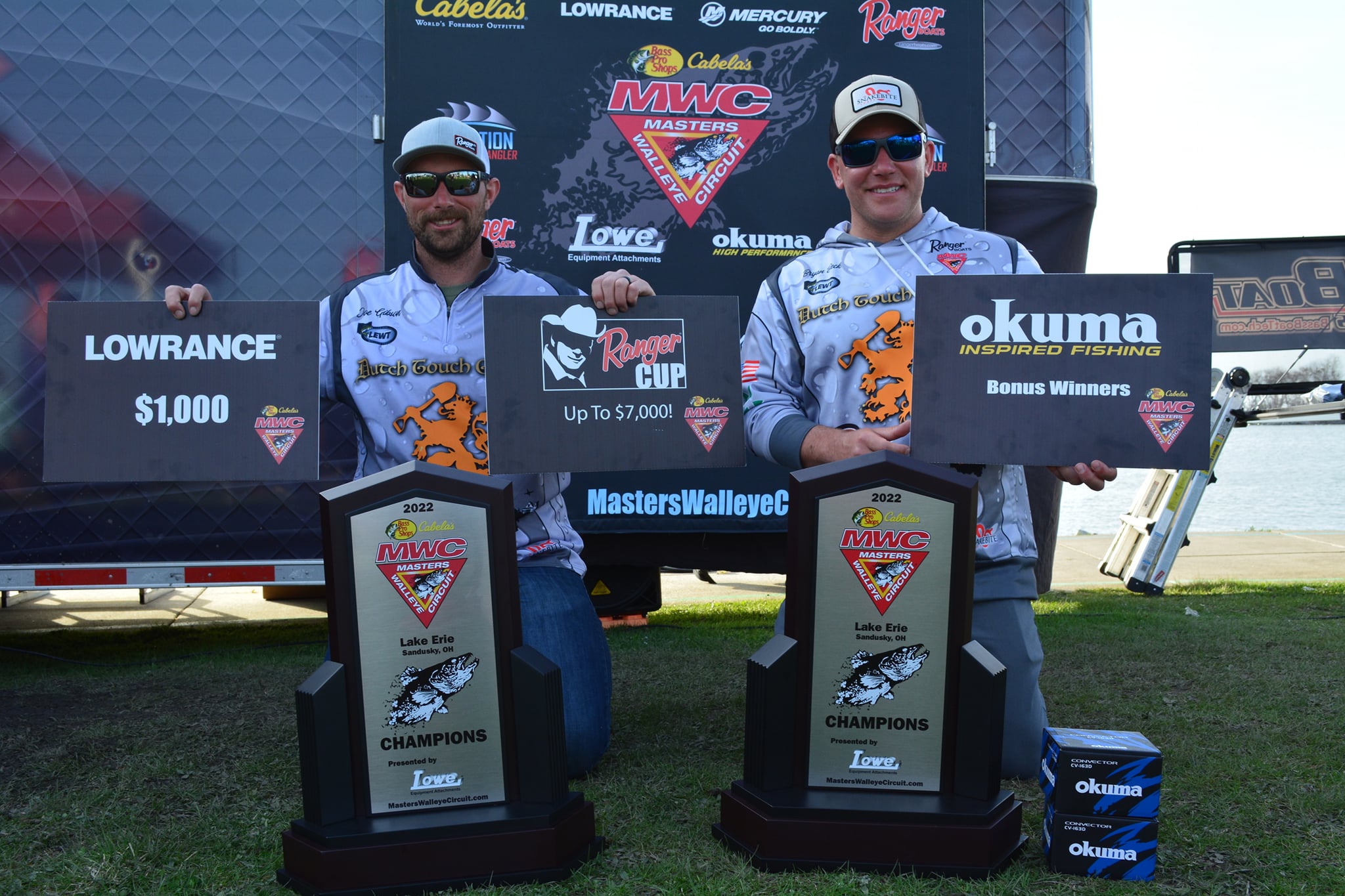 Gibson and Beck brought in a heavy bag of 36-03 lbs. on day 1 that landed them nearly a pound behind the day 1 leaders of Steve Hendricks and Brian Ulmer and with a respectable lead of nearly 3 ponds over third place team of Jason Kopf and Ryan Buddie.
On day two the stars aligned and Lake Erie gave the eventual champions another great limit to bring across the MWC stage of 31-11 lbs. The team's two-day total weight of 67-14 lbs of Lake Erie gold was good enough to take home the top prize of $17,600 along with $6,300 for the MWC option pot, $7,000 in cash from Ranger Cup, $1,000 cash from Lowrance, (2) Okuma Reels, and other prizes totaling a whopping $32,985!
On top of all of that, an affiliate of The Walleye Federation (TWF), the Lake Erie Walleye Trail (LEWT) partnered with MWC to hold one of their regular season events alongside the MWC event and bring their anglers across the MWC Main stage. As members of the LEWT, Gibson and Beck won that event also pushing their grand total to over $50,000 between both events!
Here's a break down of what the rest of the top 5 MWC teams brought to the scale:
2nd. Steve Hendricks and Brian Ulmer 67-13, $7,400 cash and $3,260 option pot
3rd. Jason Kopf and Ryan Buddie 65-04, $4,960 cash and $2,500 option pot
4th. Dennis Hunter and Jesse Guerra 62-01, $3,960 cash
5th. Steve and Wally Neumann 61-02, $3,360 cash and $2,063.50 option pot
The total payout in cash and prizes for this Lake Erie event, presented by Lowe Equipment was $111,973 paid between 27 places out of 136 MWC teams. The anglers caught a total of 1,338 fish weighing a total of 7051lbs 13 oz. during the event. The biggest fish of the event was caught by Gary and Alex Kisel and weighed a whopping 11 lbs. 9 oz.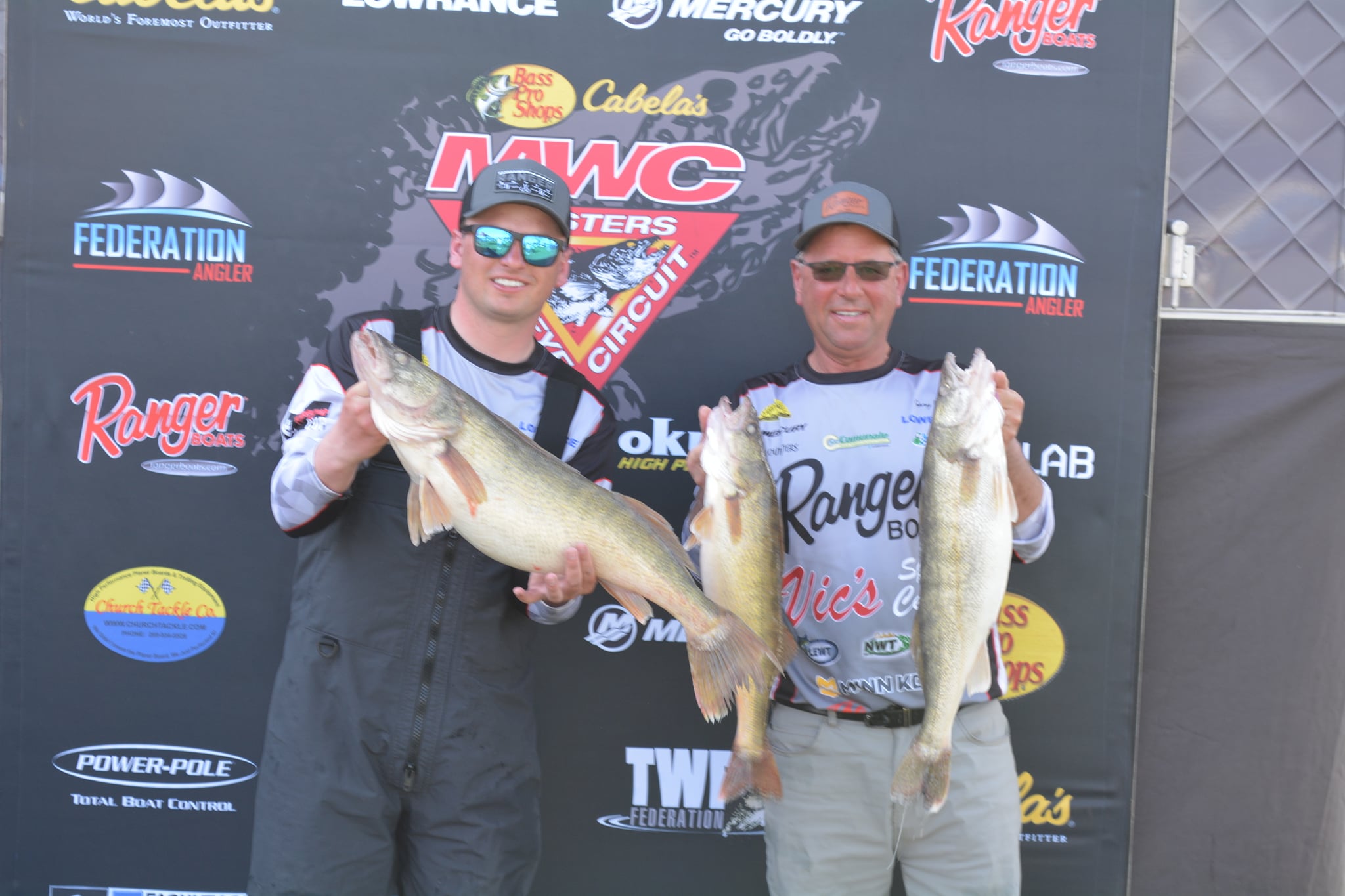 The anglers were excited to compete in this large dual event with new teams coming from across the country, and are eager to partner up again in the future with the LEWT and other TWF affiliated clubs and local trails to further solidify an ongoing partnership between The Walleye Federation and walleye clubs everywhere.
The anglers and staff of the Bass Pro Shops and Cabela's Masters Walleye Circuit would like to thank the city of Sandusky and Ohio's Lake Erie Shores and Islands for hosting this event and for the hospitality when coming into their beautiful city!  We and our partners for this event from LEWT would also like to give a big THANK YOU to Victory Kitchen of Sandusky for taking all of the fish from this weekend and providing much needed assistance to families in need from all around the area. These events take a lot of time to plan and working with these great places made the entire process seem seamless. Thank you again!
Under the umbrella of The Walleye Federation (TWF), the Bass Pro Shops and Cabela's Masters Walleye Circuit is North America's longest-running and undisputed leader in team walleye tournaments and as an inductee into the freshwater fishing hall of fame, has set the standard for competitive walleye fishing for the past 38 years and has directly donated hundreds of thousands and helped raise millions of dollars to support walleye & conservation programs nationwide. The MWC is open to walleye anglers from all walks of life. The 2022 schedule includes seven qualifiers in six states, plus a berth into the 2023 Bass Pro Shops and Cabela's MWC World Walleye Championship.
Bass Pro Shops & Cabela's – The World's Foremost Outfitters, are in their 21th season as title sponsor of the Masters Walleye Circuit. Official sponsors include: Lowe Equipment Attachments, Lowrance Electronics, Mercury Marine, Ranger Boats. Associate sponsors include: The Walleye Federation, Church Tackle, FishLab, Okuma, Power-Pole and T-H Marine. For more information, email support@masterswalleyecircuit.com, or call (580) 765-9031.