Presented by The Walleye Federation
For Immediate Release –
Cass Lake, Minn.—Sept. 14, 2013—Pierre, South Dakotans Travor Diegel and Paul Steffen brought a pair of carbon-copy catches to the stage to score a convincing victory at the Cabela's Masters Walleye Circuit's regular season finale on Minnesota's Cass Lake Chain September 13-14.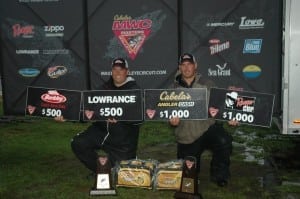 The feat was notable for a number of reasons. First, their Day One and Day Two baskets weighed exactly the same at 16 pounds, 1 ounce apiece, for a 32-pound, 2-ounce total that was more than four pounds higher than the closest competitors. It was also the team's second Cabela's MWC victory of the year, after winning the Devils Lake, North Dakota, event in August.
But finally, it marked their third straight Cabela's MWC win on Cass Lake, a feat that shocked the walleye world, as well as Diegel and Steffen themselves. Having won the Circuit's 2011 and 2012 Cass qualifiers, scoring three in a row nearly left them speechless. "Winning two straight here was incredible, but this hasn't sunk," a stunned Steffen smiled moments after topping the 76-team field in front of an awestruck crowd gathered at Stony Point Resort on Cass Lake.
The win earned them the $10,500 first-place cash purse, plus a $1,000 Cabela's National Team Championship Prize Package featuring a paid NTC entry, travel stipend, team jerseys and plaques. They also won a $1,000 Cabela's gift card from the Cabela's Angler Cash Program, $1,000 Ranger Cup contingency, $500 Berkley Tackle Package, $500 Lowrance Electronics award for being the highest-finishing team using a Lowrance HDS Gen2, HDS Gen2 Touch or Elite-7 unit, and $638 from the Big Fish Pot for total winnings of $15,138 in cash and prizes.
"It's unbelievable, I don't know how to describe it," added Diegel. He explained that they trolled spinner rigs tipped with a mix of live bait and 4-inch Berkley Gulp! Crawlers in depths of 24 to 50 feet. Steffen credited the DownScan sonar imaging on their Lowrance HDS electronics for highlighting active walleyes that teams relying on ordinary fishfinders missed. "We could identify the fish we wanted to target by the way they appeared on screen, which was a huge part of our game plan," he said.
Darrell Peters and Christopher Lewis, both of Slayton, Minnesota, finished second with 27 pounds, 11 ounces. The Circuit's $200 Optima True Blue contingency went to Minnesotans Kyle Minke, of Lindstrom, and Todd Minke, of Forest Lake. In all, the top 15 teams shared more than $42,000 in cash, sponsor bonuses and Big Fish Pot winnings.
The team-format tournament offered two days of competition on the structure-rich system, with one day reserved in case of bad weather. A total of 498 fish weighing 966 pounds, 10 ounces crossed the stage, of which 99 percent were released alive back into the Cass Lake Chain. Big fish of the tournament was a 6-pound, 5-ounce walleye caught by David Nikkel and Ryan Neuruer, both of Grand Rapids, Minnesota. Their catch was worth $638 from the Circuit's Big Fish Pot. Adding to the fun, the Cabela's MWC, National Professional Anglers Association, Pure Fishing and Zippo Outdoor Brands presented a Youth & Family Fishing Clinic immediately after the first day's weigh-in. The first 50 youths received rod-and-reel combos courtesy of the NPAA.
The Cass Lake event was the last of 10 Cabela's MWC qualifying tournaments in 2013. The season concludes Oct. 17-19 with the 2013 Cabela's MWC World Walleye Championship at Escanaba, Michigan, which features top teams from the Circuit's 2012 trail.
Cabela's, the World's Foremost Outfitter for hunting, fishing and outdoor gear, is in its 11th season as title sponsor of the MWC. Official sponsors include: Berkley Gulp!, Lowe Equipment Attachments, Lowrance, Mercury Marine, MotorGuide, Ranger Boats, The Walleye Federation and Zippo Outdoor Brands. Associate sponsors include: Berkley Trilene, Church Tackle, Optima Batteries, O2 Marine Technologies and Sea Grant.
Based in Ponca City, Oklahoma, the Cabela's MWC is oldest running national walleye circuit in America. Cabela's MWC is owned by The Walleye Federation and is open to two-person teams regardless of club or sponsor affiliation. Entry fees are $650 per tournament, of which more than 100 percent is returned to anglers at the qualifiers, World Championship and Team of the Year races. For more information, visit masterswalleyecircuit.com, email info@masterswalleyecircuit.com, or call (580) 765-9031.
###