Van Dyke, Carlson Win Cabela's Masters
Walleye Circuit's St. Marys River Tournament
Presented by Cabela's
For Immediate Release –
Sault Ste. Marie, Mich.—August 23, 2013—Michigan's Wayne Van Dyke and Erich Carlson led wire-to-wire to win the Cabela's Masters Walleye Circuit's qualifier on the St. Marys River out of Sault Ste. Marie, Michigan, August 22-23.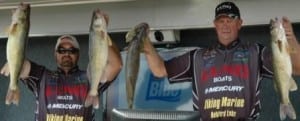 "It feels great," said Van Dyke, of Spruce. "We put a lot of work into figuring out our pattern, and it's nice to see it pay off." That payday included the $14,800 first-place cash purse, plus a $1,000 Cabela's National Team Championship Prize Package featuring a paid NTC entry, travel stipend, team jerseys and plaques. They also won a $1,000 Cabela's gift card from the Cabela's Angler Cash Program, $500 Berkley Tackle Package, $500 Lowrance Electronics award for being the highest-finishing team using a Lowrance HDS Gen2, HDS Gen2 Touch or Elite-7 unit, and $1,100 from the Big Fish Pot for total winnings of $18,900 in cash and prizes.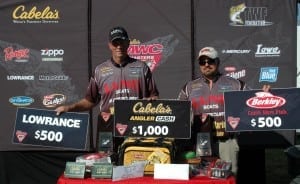 On Day One, they brought a five-fish MWC limit weighing 28 pounds, 13 ounces to the stage, enough to put them solidly atop the leaderboard more than three pounds ahead of their closest rivals in the 114-team field. They raised the bar again on Day Two, bringing in 31 pounds, 5 ounces for a total weight of 60 pounds, 2 ounces. The tally extended their lead to more than 8 pounds over second-place finishers Dennis Lantzy and Steve VandeMark, and was more than 23 pounds heavier than the winning weight at the 2012 Cabela's MWC's St. Marys qualifier.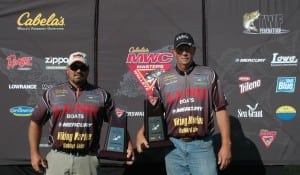 "This is awesome!" added Carlson, of Presque Isle. "Wayne is a great fishing partner, and we love fishing the MWC together." A schoolteacher by trade, he added that it's a dream to compete against—and enjoy camaraderie with—the walleye world's top anglers on the Circuit.
Lantzy, of Warren, Michigan, and VandeMark, of Linwood, Michigan, claimed $6,500 cash for second place, plus the $1,000 Ranger Cup contingency. In fourth place, Pennsylvanians Doug Yohe, of Bradford, and Charlie Brant, of Russell, earned the $200 Optima True Blue contingency. In all, the top 20 percent of the field shared $65,865 in cash and prizes.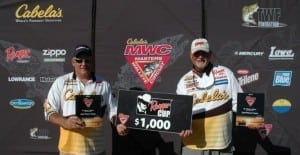 The tournament was held in conjunction with the first two days of the Cabela's National Team Championship, which saw 190 teams from across the country fighting to make the cut and join the top 25 NTC teams competing on Saturday, August 24 for a $30,000 cash first-place check, plus a brand-new, custom-rigged, Evinrude-powered Ranger 621 valued at $60,000. A second, similarly decked-out Ranger and $5,000 Cabela's Angler Cash gift card will be awarded to the top Ranger Cup team in the Cabela's NTC.
Since Van Dyke and Carlson were headed into that competition, they were understandably tight-lipped about their winning tactics on the MWC side of the dual event. "We were trolling spinners on structure," Van Dyke grinned, noting that Berkley Gulp! Crawlers and Gulp! Alive! Attractant were key components of the presentation.
A total of 546 fish weighing 1,577 pounds, 13 ounces crossed the stage during the two-day event, of which 94 percent were released alive back into the St. Marys system. Big fish of the tournament was an 8-pound, 8-ounce beauty caught by the Michigan team of Ron Gordon, of Sault Ste. Marie, and Brian Schwiderson, of Brimley. Their catch was worth $1,100 from the Circuit's Big Fish Pot.
Weigh-ins were held riverside at William Gregory Park in Sault Ste. Marie. The Cabela's MWC, National Professional Anglers Association, Pure Fishing and Zippo Outdoor Brands presented a Youth & Family Fishing Clinic immediately after the first day's weigh-in. The first 50 youths received rod-and-reel combos courtesy of the NPAA. Adding to the excitement, the event was filmed for airing on national television on the NBC Sports Network.
This was the ninth of 10 Cabela's MWC qualifying tournaments in 2013. The regular schedule wraps up on Cass Lake, Minnesota, out of Stony Point Resort, Sept. 13-15. The season concludes Oct. 17-19 with the Cabela's MWC World Walleye Championship at Escanaba, Michigan.
Cabela's, the World's Foremost Outfitter for hunting, fishing and outdoor gear, is in its 11th season as title sponsor of the MWC. Official sponsors include: Berkley Gulp!, Lowe Equipment Attachments, Lowrance, Mercury Marine, MotorGuide, Ranger Boats, The Walleye Federation and Zippo Outdoor Brands. Associate sponsors include: Berkley Trilene, Church Tackle, Optima Batteries, O2 Marine Technologies and Sea Grant.
Based in Ponca City, Oklahoma, the Cabela's MWC is oldest running national walleye circuit in America. Cabela's MWC is owned by The Walleye Federation and is open to two-person teams regardless of club or sponsor affiliation. Entry fees are $650 per tournament, of which more than 100 percent is returned to anglers at the qualifiers, World Championship and Team of the Year races. Registration remains open through the Sunday night prior to each tournament. For more information, visit masterswalleyecircuit.com, email info@masterswalleyecircuit.com, or call (580) 765-9031.
###