2014 World Walleye Championship Teams Announced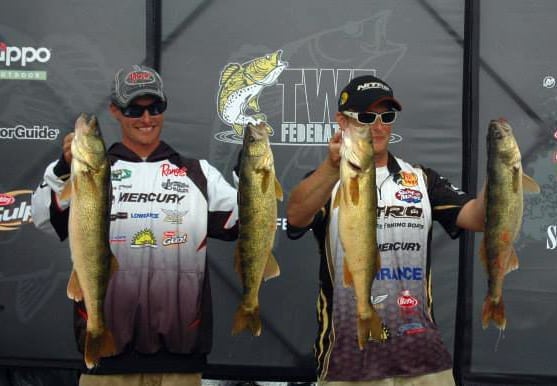 SEPTEMBER 17, 2013—PONCA CITY, OK—With the conclusion of its 2013  ten-tournament regular season on the legendary waters Minnesota's iconic Cass Lake, the Cabela's Masters Walleye Circuit awarded its 2013 Team of the Year title to the two-person team accumulating the highest point total from four qualifying events.
The highly competitive Wisconsin team of Derek Navis of Waupun and Korey Sprengel of Beaver Dam claim the Team of the Year crown and hefty prizes that include  "Living the Dream" package for fishing either the Cabela's National Walleye Tour or Masters Walleye Circuit. Package includes paid entry fees, travel stipend, team jerseys and use of a 600 series Ranger boat for the 2014 tournament season. Navis and Sprengel fished 5 events with strong finishes at the Oconto/Lake Michigan, Winnebago, Sault Ste Marie/St. Mary's River and Cass Lake tournaments.
Navis and Sprengel fished 5 circuit events, 4 of which earned them 822 team points for the year to edge out the 2011 Team of the Year, Jim Preissner and Mike Olson by 11 points. Priessner and Olson fished 7 circuit events for the year. Finishing third in TOY this year was David Kolb and Paul Rogers with 810 points for the year.
CLICK HERE FOR FINAL TOY STANDINGS
The prestigious award comes with serious bragging rights in the walleye world as well, since to claim the title a team must top a field of more than 1,000 anglers competing in tournaments from all over the US and Canada. The 2013 schedule included Detroit, Illinois and St. Mary's rivers, along with lakes Erie, Michigan, Winnebago, Cass, Devils, Oahe and Pueblo.
With the regular season wrapped up, the Circuit moves on to the 2013 Cabela's MWC World Walleye Championship, set for Oct. 17-19 at Bays de Noc in Escanaba, MI. The no-entry fee event offers $100,000 in cash and prizes. The invitation-only event will feature the top 45 teams in the season's overall and Premier (earlybird) points races, based on each team's best three finishes.
World Walleye Championship Teams Named
The 2014 World Walleye Championship teams have been named. These teams qualified for Championship by earning points during the 2013 Cabela's MWC season at world-class walleye destinations from Lake Oahe to Lake Erie. The standings are based on the team's best 3 tournaments for the 2013 MWC season .Each spot in the field is by invitation-only, carries no entry fee, and is coveted amongst walleye tournament anglers. Devils Lake, North Dakota will be the host for next year's tournament.
CLICK HERE FOR QUALIFIED TEAMS | BEST OF 3 STANDINGS
Cabela's, the World's Foremost Outfitter for hunting, fishing and outdoor gear, is in its 11th season as title sponsor of the MWC. Official sponsors include: Berkley Gulp!, Lowe Equipment Attachments, Lowrance, Mercury Marine, MotorGuide, Ranger Boats, The Walleye Federation and Zippo Outdoor Brands. Associate sponsors include: Berkley Trilene, Church Tackle, Optima Batteries, O2 Marine Technologies and Sea Grant.
Based in Ponca City, Oklahoma, the Cabela's MWC is oldest running national walleye circuit in America. Cabela's MWC is owned by The Walleye Federation and is open to two-person teams regardless of club or sponsor affiliation. Entry fees are $650 per tournament, of which more than 100 percent is returned to anglers at the qualifiers, World Championship and Team of the Year races. For more information, visit masterswalleyecircuit.com, email info@masterswalleyecircuit.com, or call (580) 765-9031.