Colter and Hernesman Pull Off a Huge Win to finish off the 2022 MWC Season on Cass Lake
Presented by Ranger Boats
Cass Lake, MN – Sept 20, 2022 – Going into the last Bass Pro Shops Cabela's Masters Walleye Circuit (MWC) qualifying event at Stony Point Resort on Cass Lake, not only was there more than $63,500 in cash and prizes on the line for just the 74 teams from 11 states who competed for the Cass Lake Payout, this event would also decide the 2022 Team of the Year and the more than $22,500 dollars in cash and prizes that goes to the top 10 teams in the MWC Team of the Year Standings.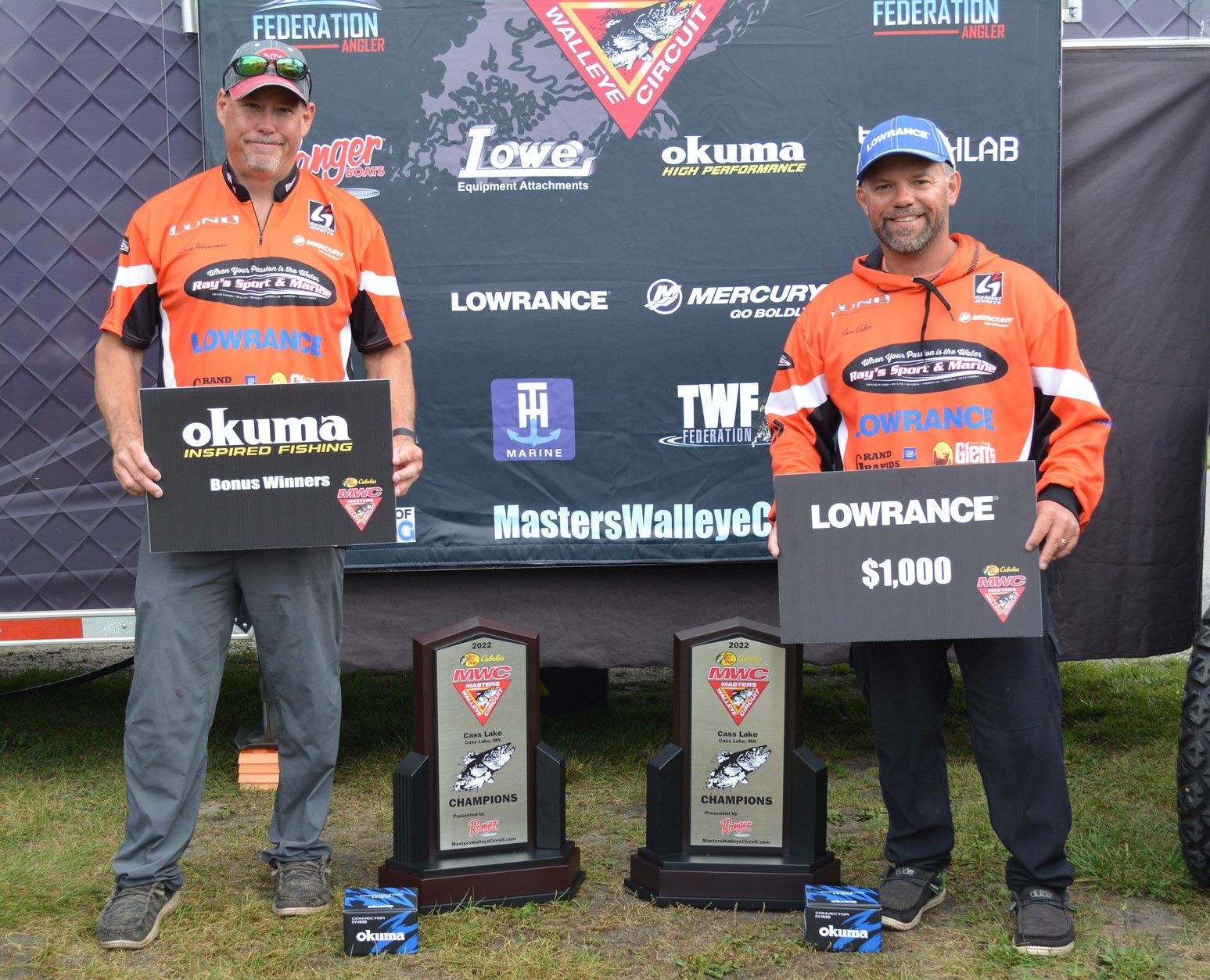 For some of the anglers, the pressure was building from all sides to do well.
It was a real battle between all of the teams that made the trek to the north woods of Minnesota. Cass Lake is an extremely healthy fishery and there are a lot of fish from every year class present in the system with a lot of food for the walleyes to eat. Almost every team was able to find fish to bring across the stage. As is always the case, one team stood out and found some of the biggest fish that this famed lake has to offer. Sean Colter (Grand Rapids, MN) and Dave Hernesman (Cohasset, MN) were able to bring in a very impressive two-day total of 37-15 lbs. Coulter and Hernesman are no strangers to the lake having won a MWC qualifier event here once before and knew how to make these fish and where to find them this time of year. On the stage after day two, the duo shared with the crowd how they targeted their winning fish. They used a mixture of a few different techniques that are classic fall presentations: rigging, jigging, and slip bobbers. The key was watching their Lowrance electronics and how the fish were reacting to the offerings and adjusting accordingly.
Along with a couple shiny 1st place trophies, Colter and Hernesman's 37-15 lbs. bag took home a grand total of a nearly $16,000 that included a $1,000 NTC price package, $3,822 Option Pot cash, a $1,000 Lowrance bonus, a couple Okuma reels worth $200.
Here's a look at how the rest of the top 5 teams faired after this weekend:
2nd  Will Pappenfus and Stephen Roller 36-09 lbs. $5,530 cash
3rd Dylan Maki and Joe Bricko 35-10 lbs. $3,750 cash, $2,750 option pot
4th Andrew Soderholm and Ben Hittle 33-05 lbs. $2,650 cash, $1,750 option pot
5th Tyler Wolden and Brock Anderson 32-14 lbs. $2,150 cash, $1,250 option pot
The anglers caught a total of 541 walleyes that weighed 1,314-14 lbs. combined. Big fish of the weekend was caught by Mike Dorris and Douglas McDonough that weighed 7-09 lbs. The biggest sack of the weekend was caught by the winners, Colter and Hernesman on day two of the event, totaling 20-02 lbs.
Wayne Butz and Joseph Sommers from Abrams, WI and Stevens Point, WI were leading the national MWC Team of the Year race coming into this last qualifier. Right on their heels and only 5 points behind the leaders was the 2021 Team of the Year, Dan Johnson and Larry Rhodes, who were looking to repeat their accomplishment.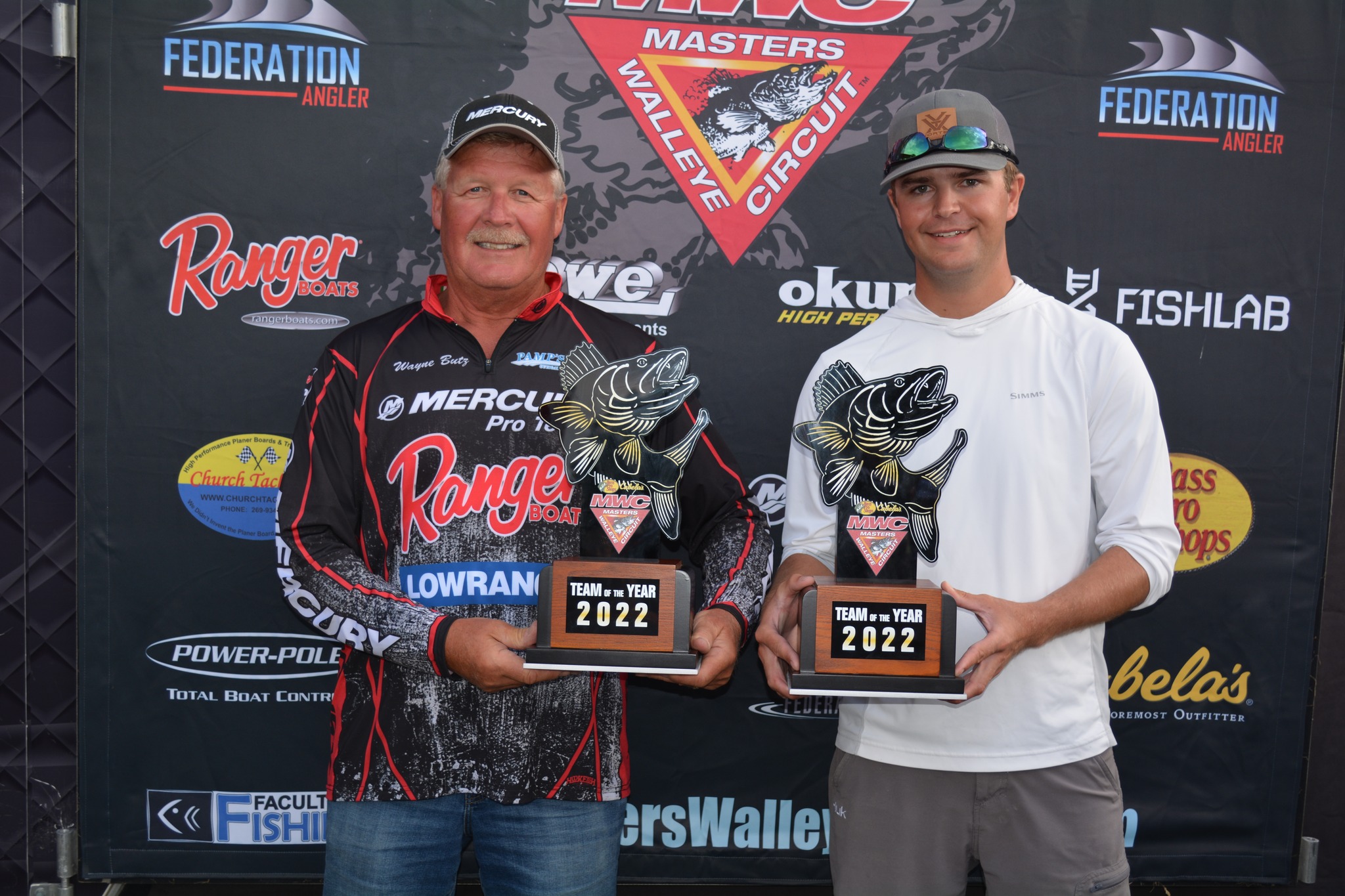 The competition was stiff for this prestigious award that highlights the most consistent anglers on the circuit all year between the top teams. Leading into this final event. Wayne Butz, a seasoned tournament veteran competed this year with a new and upcoming walleye slayer, Joseph Sommers. The combination of Wayne's years of experience from fishing professional events across the country and Joe's unmatched drive and willingness to learn, took them to the top of competitive field in team walleye fishing. The central Wisconsin duo's tenacity and drive rewarded them the title of Team of the Year for the 2022 Masters Walleye Circuit season.
Rounding out the top 10 in the MWC Team of The Year Standings:
2nd  Larry Rhodes and Dan Johnson – 592 pts
3rd Tom and Scott Albrecht – 590 pts
4th Dan Stier and Carl Adams – 566 pts
5th Kevin Dahl and Travis Pisarek – 563 pts
6th Joe Miller and Mark Barden – 534 pts
7th Peter and Ted Mart – 530 pts
8th Casey Williams and Kent Leibhart – 527 pts
9th Mike Dorris and Douglas McDonough – 521 pts
10th Kaiden Dorris and Mark Schoning – 513 pts
Cass Lake aways draws a great crowd at the daily weigh ins as the surrounding community shows up in support of this event. The anglers and their families appreciate the support and cheering fans throughout the weigh in and during the final awards ceremony where at total of $86,562 in cash and prizes was awarded to the anglers.
Under the umbrella of The Walleye Federation (TWF), the Bass Pro Shops and Cabela's Masters Walleye Circuit is North America's longest-running and undisputed leader in team walleye tournaments and as an inductee into the freshwater fishing hall of fame, has set the standard for competitive walleye fishing for the past 38 years and has directly donated hundreds of thousands and helped raise millions of dollars to support walleye & conservation programs nationwide. The MWC is open to walleye anglers from all walks of life. The 2023 schedule published online and includes seven qualifiers in six states, plus a berth into the 2024 Bass Pro Shops and Cabela's MWC World Walleye Championship.
Bass Pro Shops & Cabela's – The World's Foremost Outfitters, are in their 21st season as title sponsor of the Masters Walleye Circuit. Official sponsors include: Lowe Equipment Attachments, Lowrance Electronics, Mercury Marine, Ranger Boats. Associate sponsors include: The Walleye Federation, Church Tackle, FishLab, Okuma, Power-Pole and T-H Marine. For more information, email support@masterswalleyecircuit.com, or call (580) 765-9031.
###