Freiburger, Bisdorf Rally To Win Cabela's Masters
Walleye Circuit's Illinois River Tournament
Presented by Ranger Boats
By Dan Johnson – ACOM Media
For Immediate Release –
Spring Valley, Ill.—March 24, 2013—Iowans Clayton Freiburger and Mike Bisdorf rallied from third place on Day One to finish atop the 131 teams battling for their share of more than $70,000 in cash and prizes March 23-24 as the Cabela's Masters Walleye Circuit kicked off its 29th season on the Illinois River at Spring Valley, Illinois.
"It's surreal, it hasn't sunk in yet," beamed Bisdorf, of Dubuque, moments after he and Freiburger scored their first MWC victory. "This is our fourth season fishing the Circuit together—and our first win feels incredible!"
After weighing three fish totaling 7.02 pounds on their first trip to the stage during the two-day, two-person team event, they raised the bar with 11.13 pounds on Day Two. Anchored by a 3.10-pound sauger, which was big fish of the day, it turned out to be the heaviest basket of the tournament.
The 18.15-pound total weight earned them $20,575 in cash and prizes, including the $16,000 first-place cash purse, $1,000 Ranger Cup contingency, $500 Lowrance Electronics award for being the highest-finishing team using a Lowrance HDS Gen2, HDS Gen2 Touch or Elite-7 unit, $500 Berkley Tackle Package, $1,375 in cash from the Big Fish Pot, and $200 Optima Batteries True Blue bonus. They also claimed a $1,000 Cabela's National Team Championship Prize Package that includes paid NTC entry, travel stipend, team jerseys and plaques.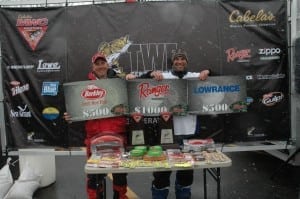 "It turned out to be a real nail-biter," grinned Freiburger, also of Dubuque. He explained they targeted large female saugers holding in 16- to 18-foot depths on the river's famed Clambeds. Jigs were their weapon of choice, with the most productive presentation being a 5/8-ounce leadhead tipped with a 3-inch Berkley PowerBait Ripple Shad and a minnow rigged piggyback-style.
A slow jigging hand was key, Freiburger noted, as fish were finicky in the 40-degree water. "It was a tough bite. We used a slow lift-hold-drop cadence, raising the jig a couple inches off bottom, holding it a second, then dropping it," he explained. "You wouldn't feel a strike, just weight on the line." Ten-pound-test Berkley FireLine, tied direct to the jig, aided in detecting subtle takes.
Ryan Vecchia of Ladd, Illinois, and Bill Elliott, of Spring Valley, finished a close second with 18.01 pounds, worth $7,000 plus a $1,000 Cabela's gift card from the Cabela's Angler Cash Program. In all, the top 25 teams shared more than $70,000 in cash, sponsor bonuses and Big Fish Pot winnings.
Despite wintry weather and frigid water temperatures, the Illinois River yielded a total of 374 fish—mostly saugers with a few walleyes in the mix—weighing 667.07 pounds. Illinois Department of Natural Resources fishery staff were on hand to utilize the fish for the state's stocking efforts before releasing the fish alive back into the Illinois River. To date, the Cabela's MWC tournament has helped the DNR produce more than 100 million saugers for stocking in the Illinois River.
As it has for the past quarter century, the Spring Valley Walleye Club supplied an army of volunteers to host tournament operations, led by site coordinator Mike Hurless. Weigh-ins were held riverside at Barto Landing in Spring Valley. The Cabela's MWC, National Professional Anglers Association, Pure Fishing and Zippo Outdoor Brands presented a Youth & Family Fishing Clinic immediately after Saturday's weigh-in. Youths attending the clinic received rod-and-reel combos courtesy of the NPAA.
This was the first of 10 Cabela's MWC qualifying tournaments in 2013. The remaining schedule includes the Detroit River at Trenton, Michigan, April 12-14; Lake Pueblo at Pueblo, Colorado, May 17-19; Lake Erie at Huron, Ohio, May 17-19; Green Bay of Lake Michigan at Oconto, Wisconsin, May 31-June 2; Lake Oahe at Spring Creek, South Dakota, June 7-9; Lake Winnebago at Oshkosh, Wisconsin, June 28-30; Devils Lake, North Dakota, August 2-4; the St. Mary's River at Sault Ste. Marie, Michigan, August 22-23; and Cass Lake, Minnesota, out of Stony Point Resort, Sept. 13-15.
Cabela's, the World's Foremost Outfitter for hunting, fishing and outdoor gear, is entering its 11th season as title sponsor of the MWC. Official sponsors include: Berkley Gulp!, Lowe Equipment Attachments, Lowrance, Mercury Marine, MotorGuide, Ranger Boats, The Walleye Federation and Zippo Outdoor Brands. Associate sponsors include: Berkley Trilene, Church Tackle, Optima Batteries, O2 Marine Technologies and Sea Grant.
Based in Ponca City, Oklahoma, the Cabela's MWC is oldest running national walleye circuit in America. Cabela's MWC is owned by The Walleye Federation and is open to two-person teams regardless of club or sponsor affiliation. Entry fees are $650 per tournament, of which more than 100 percent is returned to anglers at the qualifiers, World Championship and Team of the Year races. Registration remains open through the Sunday night prior to each tournament. For more information, visit masterswalleyecircuit.com, email info@masterswalleyecircuit.com, or call (580) 765-9031.
Complete event standings are located on the Tournament Results page HERE
###