To put it mildly day at at the season opener of the Cabela's MWC did not go well for most of the 130 teams entered.   The final Day 1 standings show that only 70 teams manged to weigh in even a single fish and there were but two limits of sauger brought to the scales.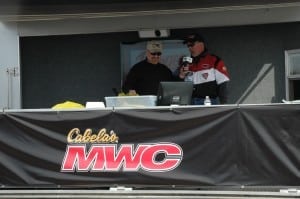 In the end it was Derek Boeger and Ron Demus from Illinois who had four fish that weighed in at exactly eight pounds that took the lead for Day 1.
Tonight and tomorrows forecast for Spring Valley is for snow, ice, cold and more snow……………..
Full Day 1 Standings
| | | | | |
| --- | --- | --- | --- | --- |
| | Cabela's Masters Walleye Circuit | | | Spring Valley Event 2013 |
| Place | Team | Boat | Day1Fish | Day1Total |
| 1 | DEREK BOEGER-RON DEMUS | 34 |  4/4 | 8 |
| 2 | RYAN VECCHIA-BILL ELLIOTT | 105 |  5/5 | 7.13 |
| 3 | CLAYTON FREIBURGER-MIKE BISDORF | 125 |  3/3 | 7.02 |
| 4 | MARC HOSTER-DOUG HOSTER | 89 |  5/5 | 7.01 |
| 5 | DAVE KLESZYK-DAVE ZURAWSKI | 85 |  3/3 | 5.1 |
| 6 | KEVIN DAHL-STEVE STACK | 30 |  3/3 | 5.08 |
| 7 | JASON WROSCH-MICHAEL KRUSWICKI | 80 |  3/3 | 4.11 |
| 8 | THOMAS GIACHETTO-TOM GIACHETTO, JR. | 93 |  2/2 | 4.11 |
| 9 | TOM NORDYKE-THOMAS NORDYKE JR. | 17 |  3/3 | 4.06 |
| 10 | CHARLES HILL-JOHN HILL | 88 |  2/2 | 4.05 |
| 11 | JOHN KOPCOK-MICHAEL KOPCOK | 65 |  2/2 | 4.04 |
| 12 | JACOB LAPINE-JIM LAPINE | 13 |  3/3 | 4.01 |
| 13 | JAY WALSH-DAVE GOSSAR | 121 |  3/3 | 4 |
| 14 | DENNIS CLARK-KENT EIDE | 71 |  3/3 | 4 |
| 15 | JIM ERDMAN-CHRIS ANDERSON | 113 |  3/3 | 4 |
| 16 | DAVID KOLB-PAUL ROGERS | 66 |  2/2 | 4 |
| 17 | JEFF KOESTER-SCOTT RHODES | 5 |  2/2 | 3.14 |
| 18 | ROY PEREZ-MICHAEL PEREZ | 90 |  2/2 | 3.12 |
| 19 | CHRIS CLEMMONS-BOB HAUSLER | 76 |  2/2 | 3.11 |
| 20 | DEREK NAVIS-KOREY SPRENGEL | 79 |  2/2 | 3.11 |
| 21 | TROY NELSON-JULIE NELSON | 14 |  3/1 | 3.09 |
| 22 | TIM AHRENS-MICKEY STUEFEN | 64 |  2/2 | 3.08 |
| 23 | NATHAN ZELINSKY-DAVID HARRISON | 91 |  2/2 | 3.07 |
| 24 | CHAD WARRINER-MIKE MEANS | 62 |  1/1 | 3.06 |
| 25 | MIKE ACTIS-MIKE STUCKERT | 106 |  2/2 | 3.05 |
| 26 | JIM PREISSNER-MIKE OLSON | 83 |  1/1 | 3.04 |
| 27 | JASON KOPF-SCOTT GEITGEY | 7 |  2/2 | 3.03 |
| 28 | BRIAN MAZUR-MARK MAZUR | 69 |  1/1 | 3.03 |
| 29 | DAVID MCCARTY-JOHN VANDERBRINK | 23 |  2/2 | 3.02 |
| 30 | ZACH HORTON-BEN BAUNE | 128 |  2/2 | 3 |
| 31 | ADAM SANDOR-STEVE SANDOR | 73 |  1/1 | 2.15 |
| 32 | MICHAEL HILDAHL-JAY JANNY | 87 |  2/2 | 2.14 |
| 33 | BRADLEY WEST-STEVE GARLOCK | 100 |  2/2 | 2.13 |
| 34 | DOUG SCHLENZ-BRIAN ERNAT | 38 |  2/2 | 2.12 |
| 35 | ROB CROWE-JIM PASSO | 1 |  1/1 | 2.11 |
| 36 | STEVE TYSZKO-KENNY LOOKINGBILL | 127 |  1/1 | 2.11 |
| 37 | VINCE RAIMONDI-DOUG LARSEN | 130 |  1/1 | 2.11 |
| 38 | MICHAEL A GALLIGAN-STUART WELLS | 119 |  2/2 | 2.1 |
| 39 | STEVE BODINGER-DAN BODINGER | 107 |  1/1 | 2.1 |
| 40 | KEN DAGE-DAWN DAGE | 98 |  1/1 | 2.09 |
| 41 | KEVIN BLANCK-MIKE BLANCK | 95 |  1/1 | 2.04 |
| 42 | MARTY STUEFEN-CARL HOLTEN | 82 |  1/1 | 2.01 |
| 43 | BOB HORVATH-MIKE THOMAS | 117 |  1/1 | 2.01 |
| 44 | RON LEVIN-QUENTIN MCCARTHY | 41 |  1/1 | 2.01 |
| 45 | MICHAEL WALTERS-DAVE WALTERS | 97 |  1/1 | 2 |
| 46 | TIM MCFARLAND-GEOFF CHURCH | 94 |  1/1 | 2 |
| 47 | DENIS KREZE-TONY KREZE | 19 |  1/1 | 2 |
| 48 | CODY DECKER-WAYNE MILLMAN | 21 |  1/1 | 2 |
| 49 | DON OLSON-RANDY CARROLL | 99 |  1/1 | 1.15 |
| 50 | GLENN DAUGHERITY-DEREK ANIOLKOWSKI | 46 |  1/1 | 1.15 |
| 51 | NEIL HAMMARGREN-DOUG NEWHOFF | 47 |  1/1 | 1.15 |
| 52 | RYAN FELDOTT-SCOTT TRUMPINSKI | 8 |  1/1 | 1.15 |
| 53 | DAN STANKEVITZ-TRAVIS MAC DONALD | 44 |  1/1 | 1.14 |
| 54 | JERRY FOX JR-KEN FOX | 115 |  1/1 | 1.14 |
| 55 | JEFFREY T. FORE-TODD OLIVER | 36 |  1/1 | 1.14 |
| 56 | PAUL MATHEWS-TED MATHEWS | 32 |  1/1 | 1.13 |
| 57 | KEITH DANIELS-TOM HOINACKI | 57 |  2/2 | 1.12 |
| 58 | DAVID WALDECK-NATHAN CAPTON JR | 111 |  1/1 | 1.12 |
| 59 | JOE MILLER-MARK BARDEN | 77 |  1/1 | 1.12 |
| 60 | RICKY PEREZ JR.-ED DOLDER | 24 |  1/1 | 1.11 |
| 61 | STEVE SKUPIEN-JEREMY SKUPIEN | 101 |  1/1 | 1.1 |
| 62 | MATT DAVIS-DAN GIES | 10 |  1/1 | 1.09 |
| 63 | KYLE COLBERT-ADAM BENTZ | 122 |  1/1 | 1.09 |
| 64 | RANDY HARWOOD-BRAD SKUPAS | 103 |  1/1 | 1.08 |
| 65 | WILLIAM BANKS-LESLIE BANKS | 123 |  1/1 | 1.08 |
| 66 | KEVIN OYEN-STEVE KOPP | 37 |  1/1 | 1.06 |
| 67 | JERRY EIBEN-B.J. EIBEN | 43 |  1/1 | 1.06 |
| 68 | ERIK SESKO-BRUCE SESKO | 35 |  1/1 | 1.05 |
| 69 | RICK PARROTT-KEVIN O`MALLEY | 26 |  1/1 | 1 |
| 70 | FRANK ZATOR-BARRY O`FLYNN | 61 |  1/1 | 0.14 |
| 71 | SHAWN RITCHIE-TRAVIS HARTMAN | 108 | | |
| 71 | DAVID SCHMIDT-MARK ZILLGES | 9 | | |
| 71 | KENNETH CLARK-DAN HASSEVOORT | 50 | | |
| 71 | MARK LEMKE-WALTER PRICE | 52 | | |
| 71 | CONRAD GRUBBS-JAMIE GRUBBS | 126 | | |
| 71 | MICHAEL L GALLIGAN-JERROD MEINEN | 42 | | |
| 71 | CHET BABCOCK-TROY WALWOOD | 11 | | |
| 71 | GREG GUSTIN-THOMAS BINKOWSKI | 49 | | |
| 71 | EDDIE BUTTS-PATRICK MORACK | 33 | | |
| 71 | DOUG YOHE-CHARLIE BRANT | 28 | | |
| 71 | BRAD LAABS-LEROY HOWARD | 3 | | |
| 71 | B.J. LIEBE-DAN ENGLEHAUPT | 124 | | |
| 71 | SCOTT ANZULAS-ROBERT E JONES | 102 | | |
| 71 | MIKE OLETZKE-RICH HUEBNER | 31 | | |
| 71 | DON PAPE-PAUL PANKOWSKI | 39 | | |
| 71 | BILL VAN ORNUM-TRAVIS WAGNER | 6 | | |
| 71 | MIKE HANSON-MATT WOHEAD | 74 | | |
| 71 | DANNY PLAUTZ-BARB PLAUTZ | 78 | | |
| 71 | LARRY RISING-ERNIE ANDERSON | 63 | | |
| 71 | WAYNE BUTZ-DON FREDERICK | 114 | | |
| 71 | WITOLD NIEMIEC-JACEK ROSTEK | 110 | | |
| 71 | TROY SKORICH-BRIAN KJOBERG | 72 | | |
| 71 | MICHAEL MCCARDLE-LEROY ARVIN | 84 | | |
| 71 | GLENN CHENIER-CAROL CHENIER | 51 | | |
| 71 | MARK BUTKE-DANIEL DUBE | 54 | | |
| 71 | WASYL MIRUTENKO-RICHARD DUDLEY | 53 | | |
| 71 | DUSTIN SHELTON-MATT LOCKE | 86 | | |
| 71 | BRETT COURNOYER-ADRIAN CLIFFE | 96 | | |
| 71 | MATT PITZ-BRENT ROTHGARN | 70 | | |
| 71 | LARRY RHOADS-DAN JOHNSON | 29 | | |
| 71 | TOMMY SKARLIS-JEFF LAHR | 68 | | |
| 71 | JASON MUCHE-RYAN OLSON | 18 | | |
| 71 | RJ HARWOOD-GREGG GOLLIHER | 56 | | |
| 71 | PATRICK PRENDERGAST-JIM LUKANCIC | 60 | | |
| 71 | ROY VIVIAN-SCOTT PIRNSTILL | 16 | | |
| 71 | GERRY OBERBROCKLING-TIMOTHY WARE | 59 | | |
| 71 | MARK MERAVY-TOM BRUNZ | 118 | | |
| 71 | STEVEN JONES-NICK MANKOS | 15 | | |
| 71 | STEVE TAUSCHER-LES ROEMIG | 4 | | |
| 71 | RICHARD SHEW-MIKE GIBSON | 2 | | |
| 71 | GUY LOPEZ-PAUL DIMOCK | 112 | | |
| 71 | NICK LARY-FRANK MAUSSER | 22 | | |
| 71 | TONY PUCCIO-MERVIN LANGKAMP | 81 | | |
| 71 | JASON THIES-DAVE PUETZ | 129 | | |
| 71 | JEFF WADE-CORY WADE | 48 | | |
| 71 | MARTY BERNS-MAURY SCHMERBACH | 120 | | |
| 71 | ROBERT APPLE-BRADLEY LINTON | 27 | | |
| 71 | JOHN MASCARELLO-WILLIAM BREWER | 75 | | |
| 71 | NATHAN HUEBNER-JOHN OAKES | 25 | | |
| 71 | DON KENIK-MIKE LAURIE | 92 | | |
| 71 | JOE JOCHMAN-JESSE QUALE | 45 | | |
| 71 | DAVID RIESS-SCOTT CARLSON | 116 | | |
| 71 | DAVE ADKINS-MIKE LEWICKI | 12 | | |
| 71 | DAVE NICHOLS-LARRY NICHOLS | 67 | | |
| 71 | KENNETH BRENNER-DAN BRENNER | 20 | | |
| 71 | STEVE LOTZ-DAVE DAUGHENBAUGH | 40 | | |
| 71 | JAY COUCH-STEVE HAMMONS | 109 | | |
| 71 | SCOTT DOUCETTE-MIKE DOUCETTE | 55 | | |
| 71 | JOE PEREZ-TROY TREGONING | 104 | | |
| 71 | JASON KLINE-BEN MILLER | 58 | | |
| 131 | | | | |