Ponca City, Okla.—July 9, 2015—A high-stakes, big-water walleye battle of epic proportions will break out when the Cabela's Masters Walleye Circuit returns to the world-class waters of Little Bay de Noc out of Escanaba, Michigan, for a regular-season qualifier July 31-August 1.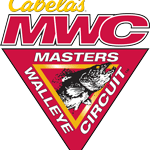 Launching from scenic Gladstone Harbor, the event offers two-person teams two full days of competition on both Big and Little Bays de Noc, along with the adjoining Michigan waters of Lake Michigan. Collectively, the fisheries offer incredible walleye opportunities. In fact, the destination is so stellar, it was just selected to host the 2016 Cabela's National Team Championship—which draws hundreds of grassroots walleye anglers from across North America.
Judging by past tournament results, the upcoming Cabela's MWC qualifier should yield great fishing and more than a few behemoth baskets. For example, when the Circuit visited Escanaba in 2011 for a regular-season event combined with the Cabela's NTC, it took more than 30 pounds per day to claim the crown. Circuit vets Korey Sprengel and Derek Navis eventually claimed top honors with a 64.41-pound, 10-fish limit. Thanks to the Circuit's lucrative payback program, Sprengel and Navis earned more than $20,000 for their MWC victory in cash and sponsor contingencies.
Payouts are based on the number of teams entered in each event. In 2014 the Circuit rewarded anglers with a total payback of more than 127 percent, and that trend continues this season. Plus, the MWC Big Fish Pot and sponsor bonuses from Ranger, Lowrance, Abu Garcia, Zippo Outdoor Brands and Okuma add thousands more to the total.
As an added incentive, the first-place team will win a $1,000 Cabela's National Team Championship Prize Package including paid NTC entry, travel stipend, team jerseys and plaques. And new for 2015, the creation of an option pot adds even more chances to cash in. At the recent Petenwell Lake qualifier, for example, tournament champions Barb and Danny Plautz added $2,730 in option pot cash to their total winnings.
Adding to the excitement, all Cabela's MWC tournaments are designated as "State Championship Qualifying Events." Teams from the state where the event is held are eligible, along with teams from a state not hosting an MWC event in 2015 (provided at least 10 teams from their state are competing in the event). Besides bragging rights, state champions will earn a $1,000 prize package including custom trophies, custom State Champions rings by Tight Lines Jewelry, decals, a berth in the Cabela's NTC, and a spot on the MWC website's Wall of Fame. In states hosting two events, teams must fish both tournaments to be in the running, which means Michigan teams must have fished the Detroit River qualifier along with the Bays de Noc event for a shot at the state title.
Teams will be allowed to weigh five walleyes measuring 15 inches and over each day, and the team with the heaviest two-day total weight will be crowned the winners. Weigh-ins, which are free and open to the public, will be held at Gladstone Harbor beginning at 3 p.m. daily. As a bonus to budding tournament fans, the Cabela's MWC, National Professional Anglers Association, Pure Fishing and Zippo Outdoor Brands will present a Youth & Family Fishing Clinic immediately after the day-one weigh-in. The first 50 youths will receive rod and reel combos courtesy of the NPAA.
Under the umbrella of The Walleye Federation (TWF), the Cabela's MWC is open to avid walleye anglers from all walks of life. Deadline to register for the Bays de Noc tournament is Monday, July 27th.
Cabela's, the World's Foremost Outfitter for hunting, fishing and outdoor gear, is in its 14th season as title sponsor of the MWC. Official sponsors include: Berkley Gulp!, Abu Garcia, Lowe Equipment Attachments, Lowrance Electronics, Mercury Marine, Ranger Boats, The Walleye Federation and Zippo Outdoor Brands. Associate sponsors include: Yellow Bird Fishing Products, Okuma, T-H Marine and Tight Lines Jewelry. For more information, visit masterswalleyecircuit.com, email info@masterswalleyecircuit.com, or call (580) 765-9031.
###