Cabela's Masters Walleye Circuit Heads To Lake Erie at Lorain, OH.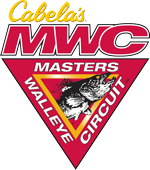 Presented By Lowrance
Ponca City, Okla.—May 24, 2016—Big water walleye action and thousands in cash and prizes will be on hand when the Cabela's Masters Walleye Circuit returns to legendary Lake Erie out of Lorain, Ohio, for a qualifying tournament June 3-4.
The massive Great Lake and its world-class trophy walleye fishery have hosted many Cabela's MWC events over the years, producing heavy baskets, record fish and exciting team tournament action.
Launching from Black River Wharf, the Circuit's 2016 Lake Erie event offers teams two full days of competition. Teams will be allowed to weigh five fish measuring 15 inches and over each day, and the team with the heaviest two-day total weight will be crowned the tournament champions.
The Cabela's MWC offers lucrative payouts, which are based on the number of teams entered in each event. Plus, the MWC Big Fish Pot and MWC side pot payouts, along with sponsor bonuses including Ranger Cup, Abu Garcia, Lowrance Electronics and Okuma add thousands more to the total. Additional bonuses can push the tally even higher. And as an added incentive, the first-place team will win a $1,000 Cabela's National Team Championship Prize Package including paid NTC entry, travel stipend, team jerseys and plaques.
Adding to the excitement, Cabela's MWC qualifiers also serve as "State Championship Events." All teams fishing the event are eligible for the State Champions title in that state, and any event with more than 10 teams registered from any state where the MWC is not holding a qualifier that year will offer a State Champions title for that state as well.
Besides serious bragging rights, state champions will earn, at minimum, custom state champions' prizes and awards, a berth in the Cabela's NTC, and a spot on the MWC website's Wall of Fame.
The tournament also offers anglers a chance to practice for the 2017 Cabela's National Team Championship, which will be held June 8-10 on Lake Erie out of Lorain, Ohio. Considered the walleye world's premier grassroots championship, the event is comprised of teams that qualified through competition in local tournaments organized by walleye clubs sanctioned by The Walleye Federation.
The Cabela's NTC offers a lucrative payback of more than 400 percent; in 2016 the 190 qualifying teams vied for more than $249,000 in cash and prizes, plus 50 custom Cabela's All-American rings, trophies, plaques and more. 2016 Cabela's NTC winners Adam Adler and Ryan Dempsey collected more than $165,000 including $25,000 in first-place cash plus a brand-new Ranger boat rigged with a Power-Pole shallow–water anchor. They also claimed a second Ranger-Power-Pole combo for winning the Ranger Cup contingency.
As a bonus at the MWC qualifying event, the MWC will award a total of five berths into the 2017 Cabela's NTC. The winners will receive the regular $1,000 prize package, with the next four teams earning a coveted invitation to compete.
Walleye fans of all ages are invited to the weigh-ins, which begin at 3 p.m. daily at the Black River Landing. As a bonus to budding tournament fans, the Cabela's MWC, National Professional Anglers Association and Pure Fishing will present a Youth & Family Fishing Clinic immediately after the day-one weigh-in. The first 50 youths will receive rod and reel combos courtesy of the NPAA.
Along with great payouts at each event, teams fishing three or more tournaments in 2016 will battle for coveted berths in the 2017 Cabela's MWC World Walleye Championship, set for September on Minnesota's Cass Lake out of Stony Point Resort. Teams fishing at least four qualifiers compete for Team of the Year awards, including thousands in cash and Cabela's Cash cards, as well as fully paid entries into a full season of great walleye action.
Under the umbrella of The Walleye Federation (TWF), the Cabela's MWC is open to avid walleye anglers from all walks of life. In all, the 2016 schedule includes seven qualifiers in six states and includes a diverse selection of the Walleye Belt's finest rivers, inland lakes and big-water fisheries. Deadline to register for the Lake Erie tournament is Monday, May 30.
Cabela's, the World's Foremost Outfitter for hunting, fishing and outdoor gear, is in its 15th season as title sponsor of the MWC. Official sponsors include: Berkley Gulp!, Abu Garcia, Lowe Equipment Attachments, Lowrance Electronics, Mercury Marine, Ranger Boats and The Walleye Federation. Associate sponsors include: AirWave Pedestals, G-Juice, MotorGuide and Okuma. For more information, visit masterswalleyecircuit.com, email info@masterswalleyecircuit.com, or call (580) 765-9031.
###