Johnson, Zsebik Win Cabela's Masters
Walleye Circuit Lake Erie Tournament
Presented By Lowrance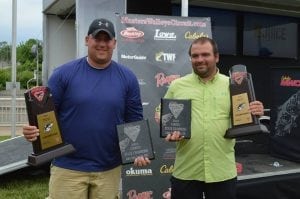 Lorain, Ohio—June 4, 2016—Timothy Johnson and Jason Zsebik put together a solid two-day total weight of 84 pounds, 11 ounces to win the Cabela's Masters Walleye Circuit's regular season qualifier on Lake Erie presented by Lowrance June 3-4.
On day one of the two-day team tournament, which featured 111 of the Midwest's top walleye anglers battling for thousands in cash and prizes, the Vermilion, Ohio, teammates boated a 5-fish limit weighing 44 pounds, 14 ounces to position themselves in second place and within striking distance of leaders Gary Zart and Joe Nadzam, who boated 47 pounds, 2 ounces. Johnson and Zsebik added another 39 pounds, 13 ounces on day two to jump past Zart and Nadzam for the victory.
"This is awesome!" said Johnson, who was fishing his first MWC tournament. "I've been successful in local tournaments but never anything of this magnitude. I really don't know what to think yet."
"I still can't believe it either," added Zsebik. "Fishing against all these impressive anglers and coming out on top—we're really happy right now."
Based at the Black River Landing in Lorain, the event offered two-person teams two full days of competition on the legendary fishery, which has a well-deserved reputation for producing trophy walleyes.
Johnson and Zsebik trolled crankbaits throughout the tournament. They used 2-ounce snap-on weights to zero in on bottom-hugging walleyes, and kept their speed between 1.8 and 2 mph. "It was actually a grind," Johnson noted. "We struggled to put three fish in the box for much of day one, and today ended up boating nine total. Erie is usually a lot more generous."
Their persistence paid off with more than $10,000 in winnings, including the $9,000 first-place cash award and $200 Okuma Inspira reel bonus. They also claimed a $1,000 Cabela's National Team Championship Prize Package including paid entry into the 2017 NTC, travel stipend, team jerseys and plaques.
Because all 2016 Cabela's MWC tournaments are designated as "State Championship Qualifying Events," Johnson and Zsebik also earned the title of Ohio State Walleye Champions. Besides bragging rights, they claimed custom state champions' prizes and awards, a berth in the Cabela's 2017 NTC, and a spot on the MWC website's Wall of Fame.
Rounding out the top five were:
2nd: Joseph Zelei, Daniel Smith, 80-04, $4,500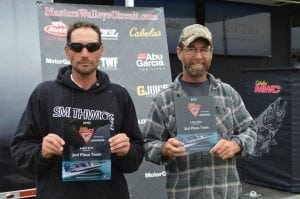 3rd: Dan Johnson, Larry Rhoads, 78-04, $3,150 plus $3,360 from the option pot and $500 Lowrance Electronics bonus
4th: Gary Zart, Joe Nadzam, 70-12, $2,400 plus $2,520 from the option pot
5th: Paul Holzheimer, Dan Niese, 70-03, $1,900
In other awards and contingencies, sixth-place finishers Jason Kopf and Rodger Riggs claimed the $1,000 Ranger Cup Award, while Kevin Dahl and Steve Stack won the $200 Abu Garcia award for 11-pound, 1-ounce big fish of the tournament.
In all, the Cabela's MWC awarded $41,680 in cash and prizes.
A total of 443 walleyes weighing 2,560 pounds crossed the scale during the catch-and-release event. Adding to the fun, the Cabela's MWC, National Professional Anglers Association and Pure Fishing presented a Youth & Family Fishing Clinic immediately after the day-one weigh-in, with participating youths receiving rod-and-reel combos courtesy of the NPAA.
The tournament also gave anglers a chance to practice for the 2017 Cabela's National Team Championship, which will be held June 8-10 on Lake Erie out of Lorain. Considered the walleye world's premier grassroots championship, the event is comprised of teams that qualified through competition in local tournaments organized by walleye clubs sanctioned by The Walleye Federation.
The Cabela's NTC offers a lucrative payback of more than 400 percent; in 2016 the 190 qualifying teams vied for more than $249,000 in cash and prizes, plus 50 custom Cabela's All-American rings, trophies, plaques and more. 2016 Cabela's NTC winners Adam Adler and Ryan Dempsey collected more than $165,000 including $25,000 in first-place cash plus a brand-new Ranger boat rigged with a Power-Pole shallow–water anchor. They also claimed a second Ranger-Power-Pole combo for winning the Ranger Cup contingency.
As a bonus at the MWC qualifying event, the MWC awarded a total of five berths into the 2017 Cabela's NTC. The winners received the regular $1,000 prize package, with the next four teams earning a coveted invitation to compete.
Johnson and Zsebik were excited about earning their bid to the championship. "We're pumped up about it making the NTC; we'll be here for sure," said Zsebik. "It's definitely worth the trip for anyone who hasn't fished Lake Erie before," added Johnson. "This is by far the best trophy walleye fishery I've ever seen."
Under the umbrella of The Walleye Federation (TWF), the Cabela's MWC is open to avid walleye anglers from all walks of life. The 2016 schedule includes seven qualifiers in six states on a diverse selection of the Walleye Belt's finest rivers, inland lakes and big-water fisheries. Up next on the 2016 Cabela's MWC qualifier circuit is an added prize payout event presented by Lowe Equipment on the Bay of Green Bay out of Oconto, Wisconsin July 8-9.
Cabela's, the World's Foremost Outfitter for hunting, fishing and outdoor gear, is in its 15th season as title sponsor of the MWC. Official sponsors include: Berkley Gulp!, Abu Garcia, Lowe Equipment Attachments, Lowrance Electronics, Mercury Marine, Ranger Boats and The Walleye Federation. Associate sponsors include: AirWave Pedestals, G-Juice, MotorGuide and Okuma. For more information, visit masterswalleyecircuit.com, email info@masterswalleyecircuit.com, or call (580) 765-9031.
###