Arndts Win Cabela's Masters
Walleye Circuit Big Stone Lake Tournament
 Presented By The Walleye Federation
Ortonville, Minn.—April 30, 2016—The father-and-son team of Artie and Tanner Arndt rallied to win the Cabela's Masters Walleye Circuit's regular season qualifier on Big Stone Lake April 29-30.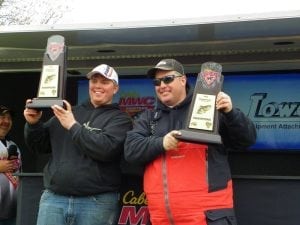 On day one of the two-day team tournament, which featured 120 of the Midwest's top walleye anglers battling for thousands in cash and prizes, the Ortonville, Minnesota, duo boated a 5-fish limit weighing 18 pounds, 3 ounces to position themselves in second place and within striking distance of leaders Mike Dorris and Brian Tordsen, who boated 19 pounds, 2 ounces.
The Arndts added another five fish weighing 11 pounds, 9 ounces to their tally on day two for a 29-pound, 12-ounce total weight.
"It's pretty exciting," said MWC veteran Artie Arndt after the dust settled on day two. "I've been fishing tournaments for 22 years and it's always been a dream to win a major event like an MWC. To win it with my son is extra special."
"It was a blast," added Tanner Arndt, who was competing in his first MWC tournament. "It brought back a lot of good memories of fishing with my dad."
Based in Ortonville, the event offered two-person teams two full days of competition on the historic border waterway separating Minnesota and South Dakota. Many MWC tournaments have played out on the reservoir over the years, with more than a few exciting finishes—and this was no exception.
The Arndts started the tournament trolling shad-style crankbaits in 11 feet of water, and put a 6-pound, 13-ounce beauty in the livewell. But when the trolling bite fizzled, they quickly switched to soaking leeches on jigs below slip bobbers in 4½ feet of water near Big Stone's storied islands area.
"Walleyes were periodically moving up onto the rocks to feed, so we decided to anchor up and wait them out," Artie explains.
As fate would have it, the rest of their keepers came on that program. "Day two was a slow day," Tanner added. "But we put all of our marbles in one jar and stuck with that particular spot."
Their persistence paid off with more than $13,500 in winnings, including the $9,300 first-place cash award plus $2,975 from the option pot, $200 Okuma Inspira reel bonus and $230 from the MWC Big Fish Pot. They also claimed a $1,000 Cabela's National Team Championship Prize Package including paid entry into the 2017 NTC, travel stipend, team jerseys and plaques.
Because all 2016 Cabela's MWC tournaments are designated as "State Championship Qualifying Events," the Arndts also earned the title of South Dakota State Walleye Champions. Besides bragging rights, they claimed custom state champions' prizes and awards, a berth in the Cabela's 2017 NTC, and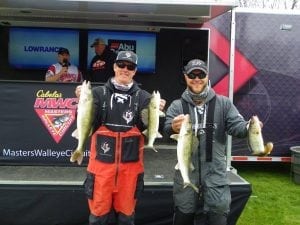 a spot on the MWC website's Wall of Fame.
Rounding out the top five were:
2nd: Jarrod Fredericks, Derek Garner, 28-05, $4,650 plus $500 Lowrance Electronics bonus
3rd: Mike Dorris, Brian Tordsen, 26-09, $3,150 plus $1,750 from the option pot, $1,000 Ranger Cup award and $575 from the MWC Big Fish Pot
4th: Steve Weickert, Chad Friederichs, 25-10, $2,400 plus $200 Abu Garcia award for 9-pound, 11-ounce big fish of the tournament
5th: Troy Morris, Corey Heiser, 23-12, $1,900 plus $1,190 from the option pot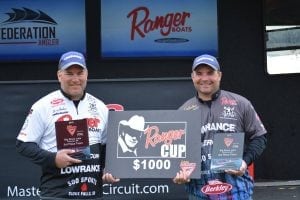 In all, the Cabela's MWC awarded $41,930 in cash and prizes.
A total of 184 walleyes weighing 510 pounds, 6 ounces crossed the scale at scenic Lakeside Park during the catch-and-release event. Adding to the fun, the Cabela's MWC, National Professional Anglers Association and Pure Fishing presented a Youth & Family Fishing Clinic immediately after the day-one weigh-in, with participating youths receiving rod-and-reel combos courtesy of the NPAA.
Under the umbrella of The Walleye Federation (TWF), the Cabela's MWC is open to avid walleye anglers from all walks of life. The 2016 schedule includes seven qualifiers in six states on a diverse selection of the Walleye Belt's finest rivers, inland lakes and big-water fisheries. Up next is the Lake Erie qualifier out of Lorain, Ohio, June 3-4.
Cabela's, the World's Foremost Outfitter for hunting, fishing and outdoor gear, is in its 15th season as title sponsor of the MWC. Official sponsors include: Berkley Gulp!, Abu Garcia, Lowe Equipment Attachments, Lowrance Electronics, Mercury Marine, Ranger Boats and The Walleye Federation. Associate sponsors include: AirWave Pedestals, G-Juice, MotorGuide and Okuma. For more information, visit masterswalleyecircuit.com, email info@masterswalleyecircuit.com, or call (580) 765-9031.
###