Ponca City, Okla.—March 24, 2016—A chance to enjoy some of North America's finest trophy walleye fishing while competing for hefty prizes awaits when the Cabela's Masters Walleye Circuit returns to one of the anglers' favorite circuit stops, the legendary Detroit River, for a qualifying tournament April 15-16.
Based in scenic Elizabeth Park in Trenton, Michigan, the event offers two-person teams two full days of competition on the U.S. and Canadian sides of the 32-mile waterway, along with downstream hotspots on mighty Lake Erie.
"The tournament coincides with the spring spawning run of Lake Erie walleyes, giving MWC anglers some of the best chances anywhere at catching trophy walleyes," said Cabela's MWC Senior Tournament Director Dan Palmer.
Case in point: At the 2015 MWC Detroit River tournament, winners Steve and Dan Bodinger sacked a two-day, 10-fish MWC limit weighing an incredible 90 pounds, 11 ounces. In the process, they broke the circuit's all-time two-day basket record of 87 pounds, 3 ounces and topped the leaderboard just an ounce ahead of second-place finishers Curtis Olivier and Doug Galant, who weighed in 90 pounds, 10 ounces.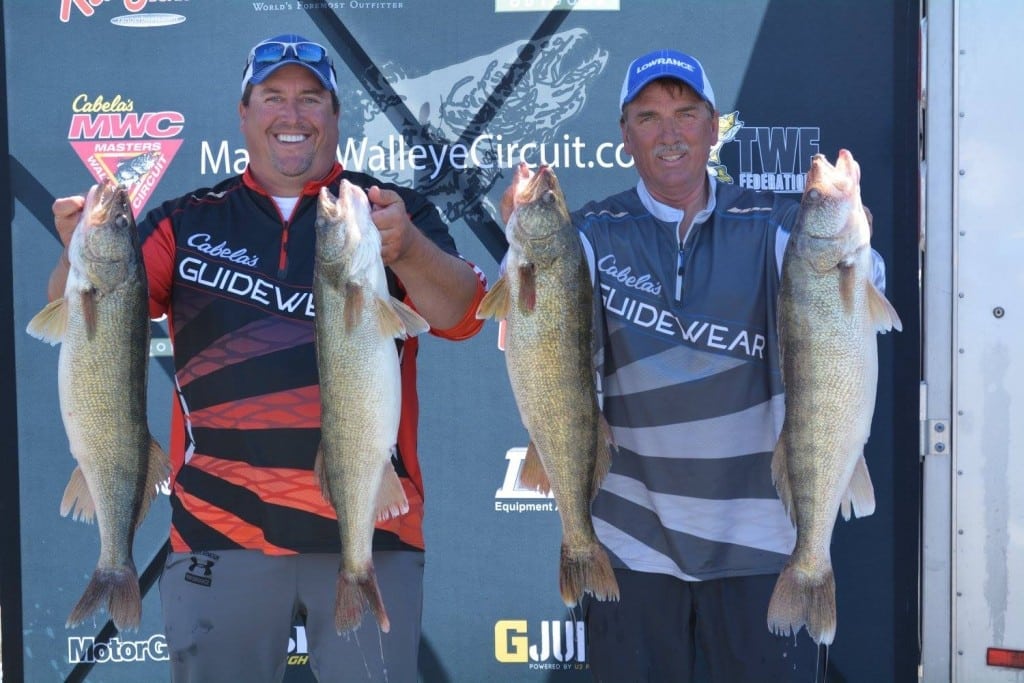 Anglers can use a variety of presentations on the Detroit River. Jigging is a favorite, and in 2015 the Bodinger brothers targeted a rocky straightaway lying in 22 to 25 feet of water on the Canadian side of the river, about a mile from Lake Erie. Their winning tactics hinged on fishing beefy jigs tipped with shad-tailed Berkley softbaits. But when the Bodingers won the event in 2010, the hot bite was downstream in Lake Erie, where trolling spinner rigs was key to success.
The Cabela's MWC offers lucrative payouts, which are based on the number of teams entered in each event. Plus, the MWC Big Fish Pot and MWC side pot payouts, along with sponsor bonuses including Ranger Cup, Abu Garcia, Lowrance Electronics and Okuma add thousands more to the total. Additional bonuses can push the tally even higher. And as an added incentive, the first-place team will win a $1,000 Cabela's National Team Championship Prize Package including paid NTC entry, travel stipend, team jerseys and plaques.
Inspections and weigh-ins will be held at Elizabeth Park. Teams will be allowed to weigh five fish measuring 15 inches and over each day, and the team with the heaviest two-day total weight will be crowned the tournament champions.
Weigh-ins are free, open to the public and begin at 3 p.m. As a bonus to budding tournament fans, the Cabela's MWC, National Professional Anglers Association and Pure Fishing will present a Youth & Family Fishing Clinic immediately after the day-one weigh-in. The first 50 youths will receive rod and reel combos courtesy of the NPAA.
Cabela's MWC qualifiers also serve as "State Championship Events" which adds more excitement to every event. All teams fishing the event are eligible for the State Champions title in that state, and any event with more than 10 teams registered from any state where the MWC is not holding a qualifier that year will offer a State Champions title for that state as well.
Besides bragging rights, state champions will earn, at minimum, custom state champions' prizes and awards, a berth in the Cabela's NTC, and a spot on the MWC website's Wall of Fame.
Along with great payouts at each event, teams fishing three or more tournaments in 2016 will battle for coveted berths in the 2017 Cabela's MWC World Walleye Championship, set for September on Minnesota's Cass Lake out of Stony Point Resort. Teams fishing at least four qualifiers compete for Team of the Year awards, including thousands in cash and Cabela's Cash cards, as well as fully paid entries into a full season of great walleye action.
Under the umbrella of The Walleye Federation (TWF), the Cabela's MWC is open to avid walleye anglers from all walks of life. Deadline to register for the Detroit River tournament is Monday, April 11.
In all, the 2016 schedule includes seven qualifiers in six states and includes a diverse selection of the Walleye Belt's finest rivers, inland lakes and big-water fisheries.
Cabela's, the World's Foremost Outfitter for hunting, fishing and outdoor gear, is in its 15th season as title sponsor of the MWC. Official sponsors include: Berkley Gulp!, Abu Garcia, Lowe Equipment Attachments, Lowrance Electronics, Mercury Marine, Ranger Boats and The Walleye Federation. Associate sponsors include: AirWave Pedestals, G-Juice, MotorGuide and Okuma. For more information, visit masterswalleyecircuit.com, email info@masterswalleyecircuit.com, or call (580) 765-9031.
###