Perez, Tregoning Win Cabela's Masters
Walleye Circuit Illinois River Tournament
Presented By Mercury
Spring Valley, Ill.—March 19, 2016—Joe Perez and Troy Tregoning tapped a shallow-water pattern to beat a tough bite and win the Cabela's Masters Walleye Circuit season opener on the Illinois River at Spring Valley, Illinois.
"It feels amazing," said Perez, of Spring Valley. "This is my sixth Illinois River MWC and I really can't describe what it's like to finally accomplish this."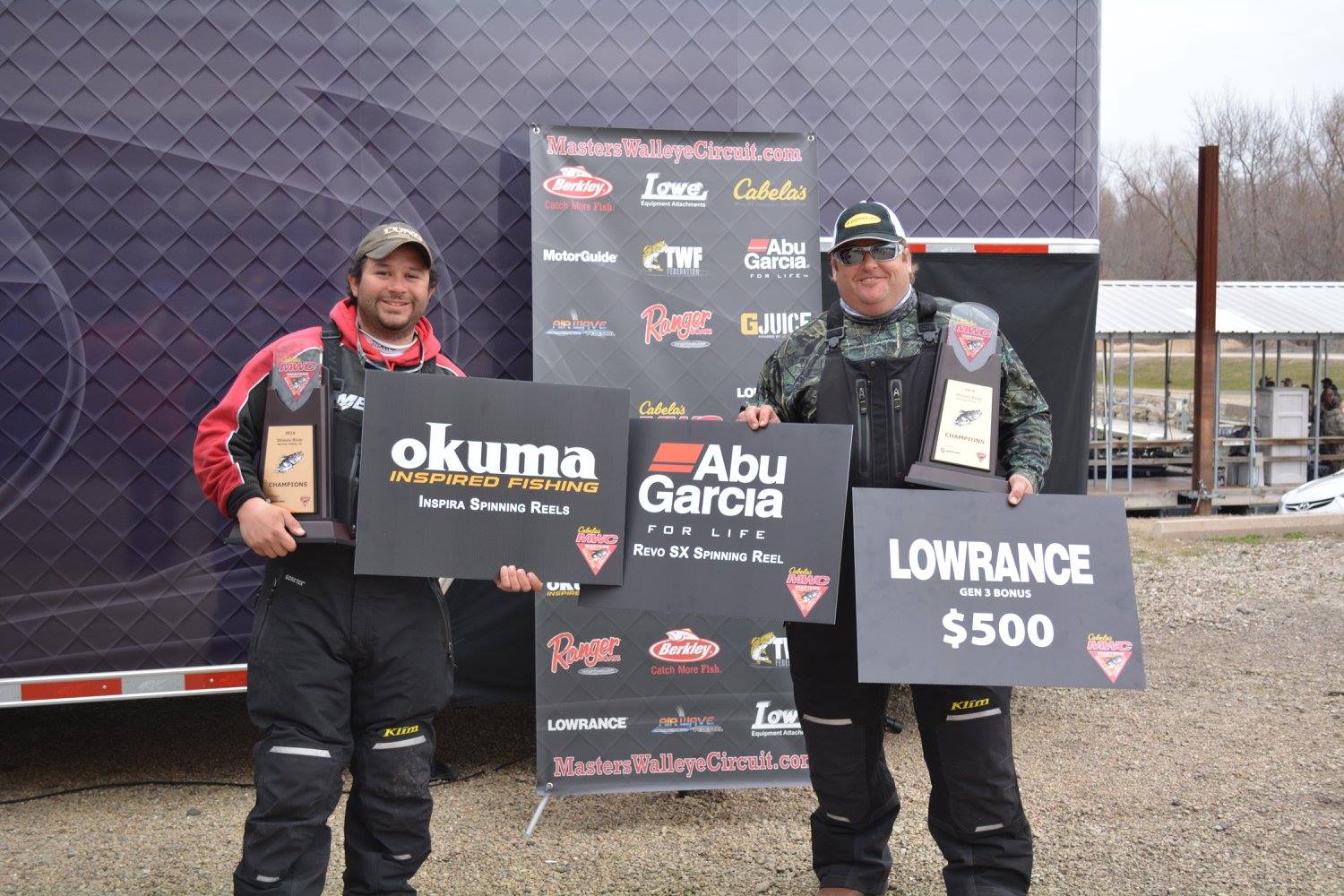 He and Tregoning, also of Spring Valley, sacked a 5-fish limit weighing 13 pounds, 1 ounce on day one of the two-day event to land in second place. They vaulted to first on day two with two fish weighing 6 pounds, 11 ounces for a 19-pound, 12-ounce total.
They collected the $11,650 first-place cash payout, plus the $500 Lowrance Electronics contingency, $160.99 Abu Garcia Revo SX Spinning reel bonus, $160 Okuma Inspira Reel bonus, $1,710 in Big Fish Pot winnings and a $1,000 Cabela's National Team Championship Prize Package including paid entry into the 2017 NTC, travel stipend, team jerseys and plaques.
Because all 2016 Cabela's MWC tournaments are designated as "State Championship Qualifying Events," Perez and Tregoning also earned the title of Illinois State Walleye Champions. Besides bragging rights, they claimed custom state champions' prizes and awards, a berth in the Cabela's 2017 NTC, and a spot on the MWC website's Wall of Fame.
"This is very special," added Tregoning. "I lost my father last November and he was shining down on me today."
While many of the 88 two-person teams struggled to find fish after recent rains swelled the river and muddied its waters, Perez and Tregoning hit paydirt in just five feet of water. "We fished jigs and floater rigs in a riprap area that had the right combination of current and baitfish," Perez explained.
With water temperatures hovering just above 50 and walleyes in prespawn mode, the pair gingerly finessed their baits over the rocky bottom. "We didn't get a lot of bites, but we made them count," said Tregoning.
Rounding out the top five were:
2nd: Curt and Justin Olivier, 17-11, $5,800 plus $3,650 in side pot winnings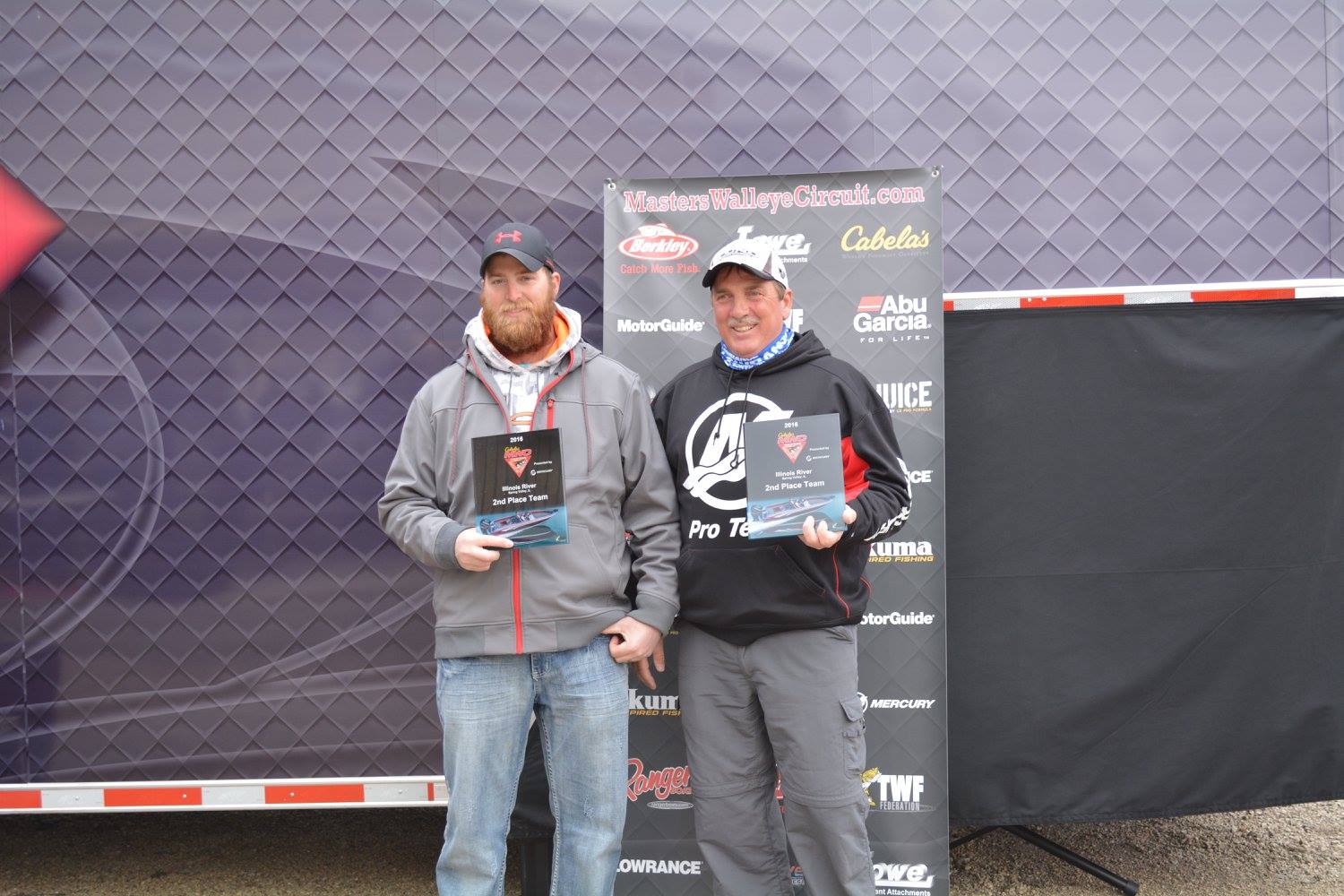 3rd: Steve Vandemark, Jerry Fox Jr., 16-00, $3,900 plus $1,000 Ranger Cup bonus and $2,850 from the side pot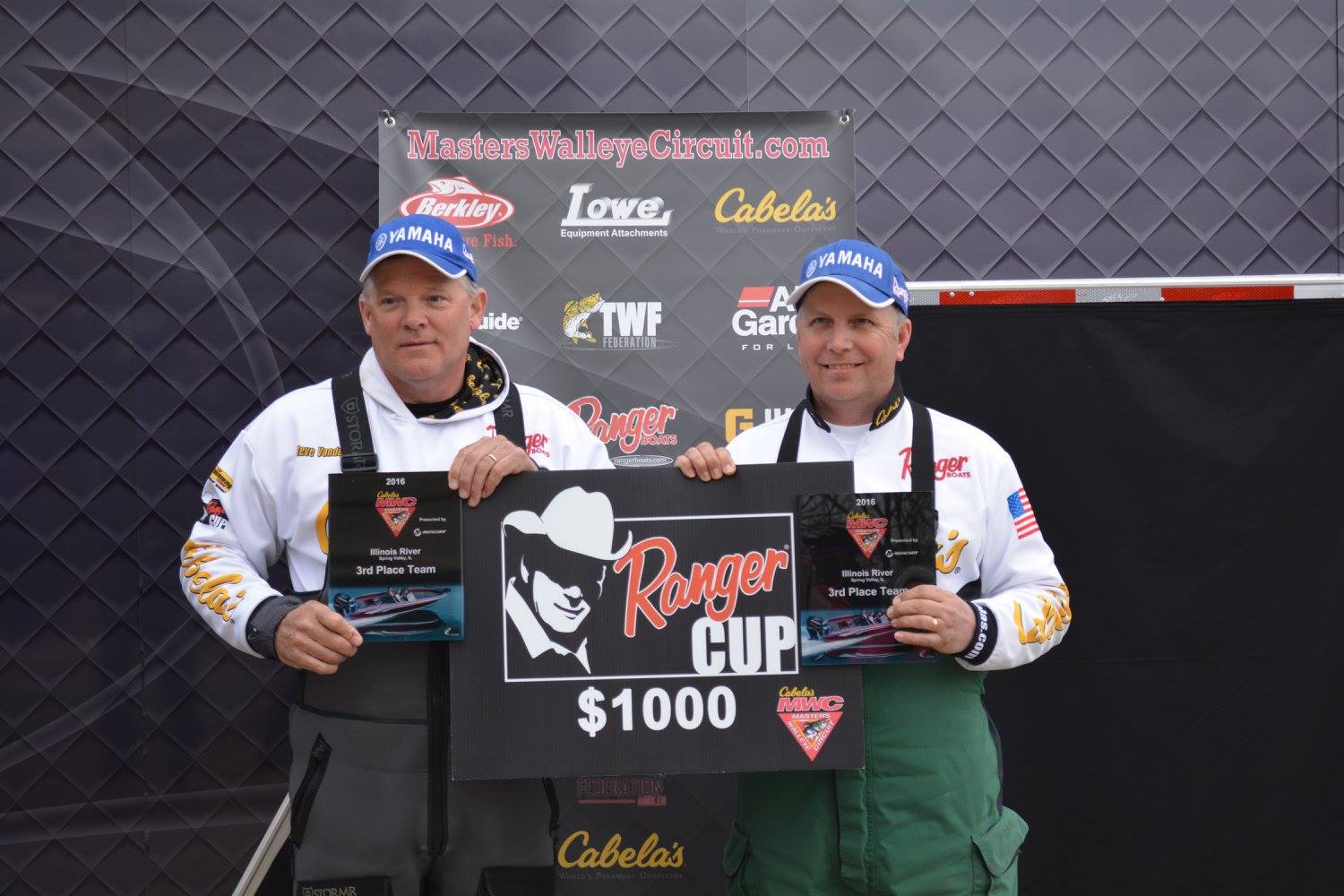 4th: Jerry Eiben, Joe Knight, 12-07, $2,950 plus $760 Big Fish Pot and Iowa State Champions Prize Package
5th: Glenn Daugherity, Kathleen Hohn, 12-02, $2,300
In all, the Cabela's MWC awarded $64,000 in cash and prizes.
A total of 108 walleyes and saugers weighing 243 pounds, 5 ounces crossed the scale at the Spring Valley Boat Club during the event. Adding to the fun, the Cabela's MWC, National Professional Anglers Association and Pure Fishing presented a Youth & Family Fishing Clinic immediately after the day-one weigh-in, with participating youths receiving rod-and-reel combos courtesy of the NPAA.
Under the umbrella of The Walleye Federation (TWF), the Cabela's MWC is open to avid walleye anglers from all walks of life. The 2016 schedule includes seven qualifiers in six states on a diverse selection of the Walleye Belt's finest rivers, inland lakes and big-water fisheries.
Cabela's, the World's Foremost Outfitter for hunting, fishing and outdoor gear, is in its 15th season as title sponsor of the MWC. Official sponsors include: Berkley Gulp!, Abu Garcia, Lowe Equipment Attachments, Lowrance Electronics, Mercury Marine, Ranger Boats and The Walleye Federation. Associate sponsors include: AirWave Pedestals, G-Juice, MotorGuide and Okuma. For more information, visit masterswalleyecircuit.com, email info@masterswalleyecircuit.com, or call (580) 765-9031.
###