Dougherty, Stier Win Cabela's Masters
Walleye Circuit Detroit River Tournament
Presented By Abu Garcia
Trenton, Mich.—April 16, 2016—Mitch Dougherty and Dan Stier led wire to wire to win the Cabela's Masters Walleye Circuit regular season qualifier on the Detroit River April 15-16.
"It feels awesome to come out on top against such great fishermen," said Stier, of Mina, South Dakota. "Last year we finished just out of the money at a couple of MWC events, so it's great to have our program come together."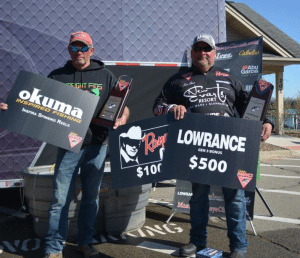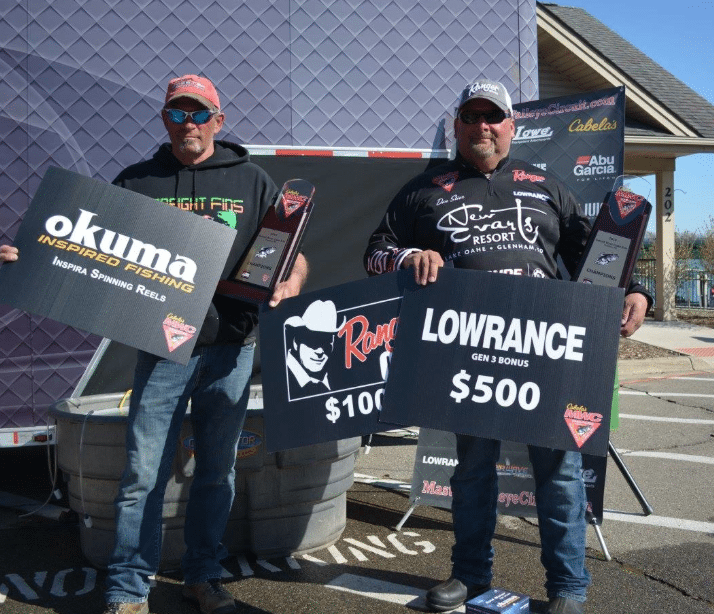 "It's very satisfying feeling," added Dougherty, of Fergus Falls, Minnesota, "Last season we missed bites and lost fish, but this time everything clicked."
Based in Elizabeth Park in Trenton, Michigan, the event offered two-person teams two full days of competition on the U.S. and Canadian sides of the 32-mile waterway, along with downstream hotspots on mighty Lake Erie.
Dougherty and Stier sacked a 5-fish limit weighing 43 pounds, 15 ounces to top the leaderboard on day one of the two-day event. They held onto the lead with a 41-pound, 14-ounce limit on day two, which gave them an impressive 85-pound, 13-ounce tournament tally.
After trying the river during practice, they focused on 38 feet of water in Lake Erie during competition. Trolling diving crankbaits at varying speeds—including stalling the baits with S-turns—was key to triggering strikes, they said, noting the fish were suspended anywhere from 6 to 18 feet beneath the surface depending on light conditions and boat traffic.
Dougherty and Stier collected a total of $20,670 in winnings, including the $13,500 first-place cash award plus the $1,000 Ranger Cup bonus, $500 Lowrance Electronics contingency, $160 Okuma Inspira Reel bonus and $660 for taking second place in the MWC Big Fish Pot on day one with an 11-6 beauty. They also won $3,850 in cash from the MWC Option Pot and claimed a $1,000 Cabela's National Team Championship Prize Package including paid entry into the 2017 NTC, travel stipend, team jerseys and plaques.
Because all 2016 Cabela's MWC tournaments are designated as "State Championship Qualifying Events," Dougherty and Stier also earned the title of Michigan State Walleye Champions. Besides bragging rights, they claimed custom state champions' prizes and awards, a berth in the Cabela's 2017 NTC, and a spot on the MWC website's Wall of Fame.
Rounding out the top five were:
2nd: Steve Vandemark, Jerry Fox Jr., 66-6, $6,300 plus $3,100 in option pot winnings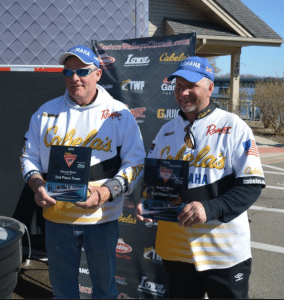 3rd: Mike Sitko, Erick Schenavar, 64-11, $4,200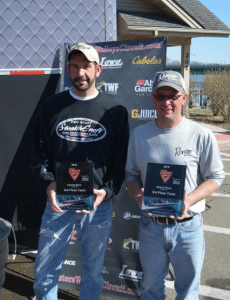 4th: Scott Rhodes, Jeff Koester, 64-00, $3,400 plus $2,050 from the option pot
5th: Bret and Corey Tirpak, 61-5, $2,800
In all, the Cabela's MWC awarded $75,930 in cash and prizes.
A total of 642 walleyes and saugers weighing 3,243 pounds, 5 ounces crossed the scale at Elizabeth Park during the event. Adding to the fun, the Cabela's MWC, National Professional Anglers Association and Pure Fishing presented a Youth & Family Fishing Clinic immediately after the day-one weigh-in, with participating youths receiving rod-and-reel combos courtesy of the NPAA.
Under the umbrella of The Walleye Federation (TWF), the Cabela's MWC is open to avid walleye anglers from all walks of life. The 2016 schedule includes seven qualifiers in six states on a diverse selection of the Walleye Belt's finest rivers, inland lakes and big-water fisheries. Up next is the Big Stone Lake qualifier out of Ortonville, Minn., April 29-30.
Cabela's, the World's Foremost Outfitter for hunting, fishing and outdoor gear, is in its 15th season as title sponsor of the MWC. Official sponsors include: Berkley Gulp!, Abu Garcia, Lowe Equipment Attachments, Lowrance Electronics, Mercury Marine, Ranger Boats and The Walleye Federation. Associate sponsors include: AirWave Pedestals, G-Juice, MotorGuide and Okuma. For more information, visit masterswalleyecircuit.com, email info@masterswalleyecircuit.com, or call (580) 765-9031.
###